Andre Villas-Boas says Chelsea are pursuing 'damage limitation'
Last updated on .From the section Football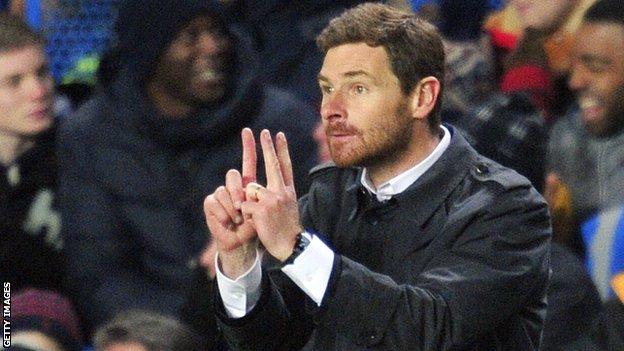 Chelsea boss Andre Villas-Boas says his side are engaged in "damage limitation" in the Premier League but that owner Roman Abramovich remains supportive.
"[In the league] we have to dilute the damage and try to finish fourth, at least, which is not a very honourable position for... this club," he said.
But he said the Blues were pursuing trophies on two fronts and that he had a three-year plan for further success.
And he insisted meetings with Abramovich had been "very positive".
Chelsea travel to Everton on Saturday in fourth position after being held 3-3 at Stamford Bridge by Manchester United last weekend despite taking a 3-0 lead.
Owner Abramovich has been at the club twice in recent weeks, and the Blues manager said the Russian had showed "empathy and motivation for next year's project".
Chelsea's billionaire owner paid Porto £13.3m in compensation to bring in Villas-Boas in the summer but there has been criticism of the Portuguese's performance so far, in particular in the wake of the 5-3 home defeat to Arsenal in October.
"Roman is always very interested in the running of events," said Villas-Boas.
"At the moment [the relationship] has been very good, very positive. He is a good person to share knowledge with, ask questions and try to give answers regarding what I do.
"I think it's legitimate, and would compare it to a normal club president-manager relationship."
Chelsea are 14 points behind Premier League leaders Manchester City and Villas-Boas hinted the club's focus would be on the FA Cup and the Champions League, in which the Blues face Napoli later this month.
"When we set up with this team, we believed the team was ready for four trophies," he said.
"Now we have a Champions League objective. We still play [for] two prestigious trophies.
"We have two competitions where we look better, and another competition where we have to dilute the damage and try to finish fourth, at least, which is not a very honourable position for the dimension of this club."
Villas-Boas signed a three-year contract at Stamford Bridge in the summer and is confident success can be achieved within that time-frame.
"The reality is that in the last years there was a pattern of managers shifting," said the 34-year-old, who became Chelsea's fourth manager in three years following the departures of Avram Grant, Luiz Felipe Scolari and Carlo Ancelotti.
"In the end, you have to agree that from 2004 Chelsea has been massively successful. It has been the best period of Chelsea's history.
"Hopefully we can progress that within the three-year range with me here."