Kettering Town 'all but dead', says supporters trust
Last updated on .From the section Football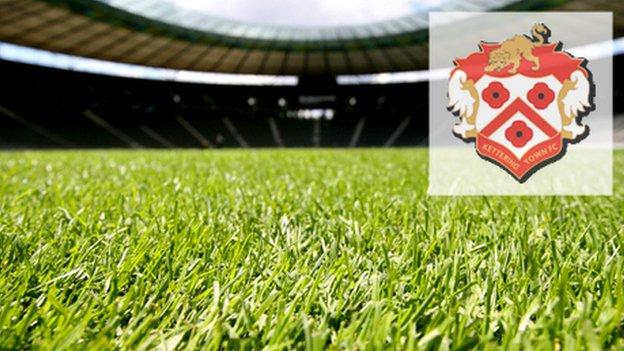 The Kettering Town Supporters Trust says the club are running out of time to avoid going out of business and has urged potential investors to act.
Saturday's visit of Telford would have been played behind closed doors had it not been postponed due to the weather.
Northamptonshire Police say Kettering had missed successive payment deadlines for policing costs to cover the Blue Square Bet Premier game.
"[We] now fear that KTFC is all but dead," read a statement from the Trust.
Tuesday's home fixture against Forest Green Rovers had been postponed after freezing conditions at Nene Park.
The statement continued: "The two home games this week were to be the launch pad for the Trust to commence very serious money raising."
Karen Spencer, from the Trust, told BBC Radio Northampton: "I understand [the club's total debts] are in excess of £300,000.
"I'd like to think Kettering is saveable, but the feeling is that with the amount of debts we have, which seem to be building up day by day, the Trust can't see any way out of those debts.
"The chairman isn't paying any of those debts off and any possible investment - and the person we've agreed heads of terms with - seems very slow.
"I know these things take time but I don't think the club has that time now. I understand some of the debts need to be paid in the next week or two."
Staff and players at the crisis club have again not been paid their monthly salaries.
Former striker Leon McKenzie, who has been representing the Poppies players in negotiations to recoup owed money, has refused to rule out future strike action.
He told BBC Radio Northampton: "We're back to square one. I've got to have a meeting with the Conference because this, for me, is not good enough.
"There will be action that will be taken. The club isn't looking after the players. They've turned out every time, but who's to say how long this will go on for?
"But it's not over until it's over [for the club]."
The Trust, along with former directors Lee Thorn and Ken Samuel, are urging supporters and the business community to come forward with offers to take on the club or make donations.
With the postponement of the match against Telford, the Poppies have now missed the opportunity to take gate receipts from two home matches.
Supporters, organised by stadium manager Malcolm Harris, had been making efforts to clear the pitch of snow.