Fabio Capello 'should have gone in 2010' - FA councillor
By Stephan Shemilt
BBC Sport
Last updated on .From the section Football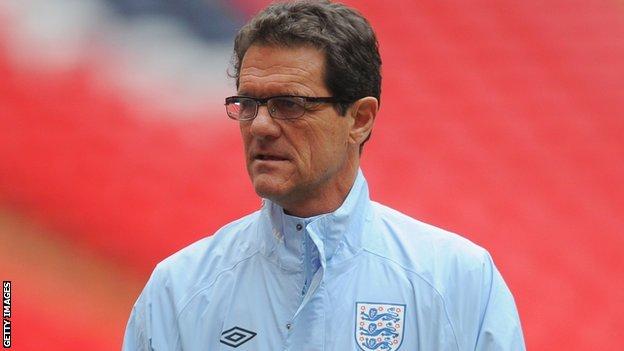 Fabio Capello should have been removed as England manager following the 2010 World Cup, according to Football Association councillor Peter Coates.
Coates told BBC Sport: "We had a terrible World Cup, he was responsible for that and he should have gone then."
The Stoke City chairman also criticised Capello for "never having bothered" to fully learn English.
Former Real Madrid and AC Milan manager Capello took charge of England in 2008, but after a successful World Cup qualifying campaign, his side were beaten 4-1 by Germany in the last 16 of the tournament.
The Italian also led England to qualification for the European Championship in Poland and Ukraine before resigning, but Coates feels that Capello's tenure was a failure.
"I don't see what we've gained under his term as manager," said Coates, who also sits on the FA's international committee.
"When they talk about qualifying for these competitions, I just can't go along with that. If we can't qualify for major tournaments, we are failing abysmally because we're seeded to get through. It should be a matter of course.
"I wouldn't give any manager great praise for achieving something that should be routine.
"You have to get into the last four [of major tournaments], if you've done that, you've done a good job."
Capello's resignation followed the FA's decision to strip John Terry of the England captaincy after he was charged with racially abusing Anton Ferdinand, claims the Chelsea defender denies.
Coates agreed with the FA's actions and feels Capello could have used the situation to engineer his exit.
"It was very difficult decision for the FA, and I think they got it right," he said.
"They should have had Capello as part of the discussion, that's what would normally happen at a football club.
"But the cynic in me says he might have manipulated this. He might have decided that was his opportunity to get out and he's taken it."
England Under-21s manager Stuart Pearce will take charge of the senior side for the friendly against the Netherlands, with the FA now beginning the search for Capello's permanent successor.
Coates says the FA needs to have learnt from Capello's reign, and joins the list of those calling for Tottenham boss Harry Redknapp to be appointed England manager.
"I hope lessons have been learnt because I would never have a manager who couldn't speak English. Capello never bothered to get himself proficient in the language, even though he said he would.
"I would never have a manager who had not had exposure to the English game. It has been proved that it doesn't work.
"I think the stand-out candidate is Harry Redknapp, every man and his dog knows that. He would be a good choice in my view and if a deal can be done I'm sure he'll get the job.
"Obviously it's complicated because he's got a big job at Spurs, but I'm sure he'd want the England job and it would be perfect for him.
"They sometimes ask you what you [the international commitee] think, but they know my views. It's their decision, and I hope they get it right."