'Dipsy' Selolwane set for Botswana retirement
By Mtokozisi Dube
BBC Sport, Gaborone
Last updated on .From the section Football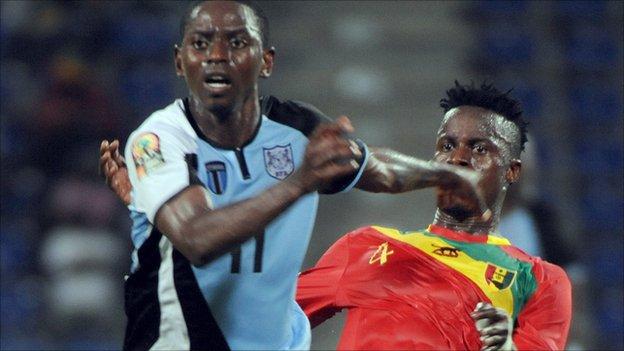 Botswana captain Diphetogo 'Dipsy' Selolwane is set to announce his international retirement.
"I didn't get a chance to call a presser when we came back from Gabon because I had to go into camp with my club," said the SuperSport United player.
"But I'll be issuing out a statement next week," he told BBC Sport.
Selolwane is currently in camp with his South African club SuperSport United as they prepare for the second half of the season.
The veteran, now 34, is expected to lift the lid on how the pre-tournament row over bonuses affected morale inside the Botswana squad.
Coach Stanley Tshosane, who has been blamed by some within the squad for not taking their concerns over the bonus row seriously enough, has confirmed the impending news.
"He told me that after the Nations Cup, he would not continue playing for the national team," Tshosane told BBC Sport.
The coach added that he was hoping his most experienced player would confirm his intentions soon so that he can plan for the forthcoming 2013 Nations Cup qualifiers.
Tshosane refused to comment directly on the reports of sour relations, but did indicate that there was dissatisfaction within his squad.
"I consider myself a parent to all these boys and I can feel it when one is unhappy - but I have to handle it like an adult," said the man who guided Botswana to their maiden Nations Cup.
Meanwhile, it has emerged that other players within the Zebras squad are keen to step down from international football - including goalkeeper Modiri Marumo.
"A number of other players told me they were retiring after the Nations Cup, but it appears some of them will change their minds," said the coach.
"I think they were a bit unhappy when they told me and there is a possibility they will change."
One man Tshosane is hoping will change his mind is Marumo, the Zebras' 35-year-old goalkeeper.
"Marumo's retirement is confirmed although I am still trying to convince him to stay on," said Tshosane. "The young goalkeepers still need his guidance."
Botswana were knocked out in the first round of the Nations Cup after losing all three of their Group D matches.
After an opening defeat to Ghana, Selolwane scored in the record-equalling 6-1 defeat by Guinea before the team lost 2-1 to Mali, with Mogakolodi Ngele finding the net on this occasion.
Botswana will be keen to keep their squad together as the Zebras try to qualify for the 2013 Nations Cup in neighbouring South Africa.