Caf President Issa Hayatou wants another four years
By Farayi Mungazi
BBC Sport, Libreville
Last updated on .From the section Football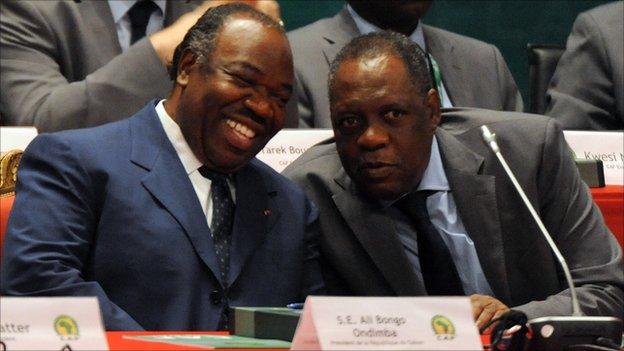 The Confederation of African Football's general assembly has backed President Issa Hayatou's desire to serve another four years.
Last month, the Cameroonian informed the Executive Committee of his wish for one last term.
At Friday's Caf Congress in Libreville, the general assembly backed Hayatou by proclamation, with many delegates saying they will back him next year.
Hayatou has led African football's governing body since 1988.
With so many delegates from the continental body's 53 member countries backing calls to keep Hayatou in office until 2017, next year's Caf congress in South Africa is set to be a coronation rather than an election.
Despite several allegations which have swirled around the 66-year-old former middle distance runner over the years, he retains rock-solid support in Africa.
In December 2011, Hayatou was reprimanded by the International Olympic Committee (IOC) following an ethics commission probe into a payment from a marketing firm in the 1990s.
The IOC said Mr Hayatou's decision to accept 100,000 French francs from a now-defunct marketing firm called ISL amounted to "a conflict of interest" - but a Caf statement made clear that it rejects that claim.
Hayatou has always maintained that money which was passed to him was intended to help Caf celebrate its 40th anniversary.
During his time in office, the Cameroonian has overseen the expansion of the Africa Cup of Nations from an eight-team finals to today's sixteen-team format - with the tournament widely covered around the world.