Gillingham fans angered by coach offer instead of refund
Last updated on .From the section Football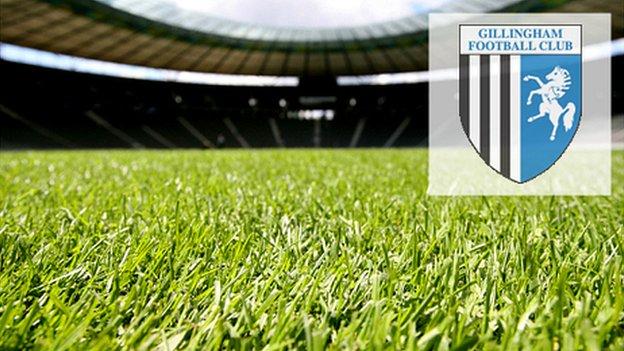 Gillingham fans have reacted angrily to an offer of discounted travel following a poor performance against Accrington.
Gary Liptrott, chair of the Gillingham Independent Supporters Club, insists the gesture is not enough.
"It doesn't disguise the fact that Hessy (Hessenthaler) said he'd refund everyone's expenses. We're still not happy," he told BBC Radio Kent.
"It's a totally different offer the club has come up with and we will get guidance from the Football Supporters' Federation.
"We will ask the 21 members of our supporters club that travelled up to Accrington and see what they want to do."
Instead of getting travel expenses back, supporters will receive a £20 voucher on the official team coach for any away game of their choice.
The club initially constrained the gesture solely to Gillingham's trip to Plymouth but decided to increase the choice for fans.
Chairman Paul Scally defended the club's original decision, saying: "I don't think they intended to give everyone their money back.
"What Hessy said was in the heat of the moment.
"It is a gesture of goodwill by the players. It is a gesture of the solidarity they have with the supporters and the disappointment with the performance on the day.
"We can only use our best endeavours to do what we think is right. If this gets turned on its head and criticised then it will be the last time I'm sure that the players will do it."
When the announcement was made last Wednesday it prompted an angry reaction from some of the 261 who made the trip to Lancashire only to see their team concede four first half goals.
While the club has records of those who used the official supporters coach, supporters who travelled by car, train or other means will have to provide proof of their attendance.
Liptrott says he understands this but feels it is unfair to force fans to travel on the coach if they do not want to.
"Some members of our supporters club go by train or live in different parts of the country. It's not much use to them. It doesn't interest them and they won't get any money back as promised.
"We would like club to honour their original agreement," he concluded.