Zambia coach seeks vindication in Nations Cup final
By Farayi Mungazi
BBC Sport, Libreville
Last updated on .From the section Football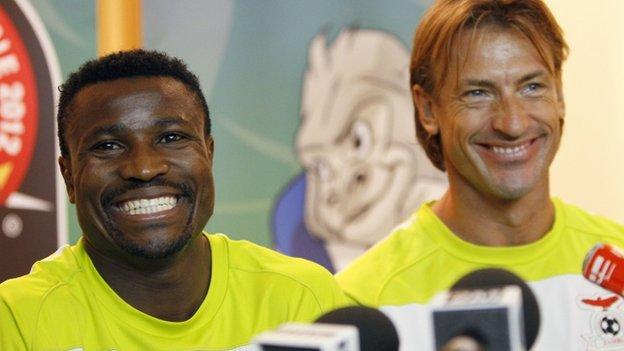 Herve Renard believes reaching the final of the Africa Cup of Nations has vindicated the decision to reappoint him as Zambia's national coach.
Speaking ahead of Sunday's showdown with Ivory Coast in Libreville, Renard said that he took up the job against a backdrop of split public opinion.
The Frenchman was re-hired for the second time to replace Dario Bonetti.
The Italian was fired in October, 48 hours after securing qualification for Gabon and Equatorial Guinea.
The reason given at the time by Kalusha Bwalya, president of the Football Association of Zambia (FAZ), was that the Italian was not up to the job.
If that was not controversial enough, Bwalya then asked Renard to come back - nearly two years after the former Ghana assistant coach had quit the Zambian job.
Renard was in charge of Zambia's 2010 Nations Cup campaign, leading them to the quarter-finals.
He left shortly afterwards to take charge of Angola but he only lasted a handful of months with the Palancas Negras, before trying his hand at club football in Algeria.
But as he prepares his squad for this year's grand finale, Renard is buzzing with excitement.
"Not everyone in Zambia understood why I left to go to Angola, and not everyone understood why I came back either," Renard told BBC Sport on Friday.
"People were upset when I left in 2010, but they don't even know the real reason why I left."
The Chipolopolo coach went on to praise the man who invited him to take up the Zambian reins once more, ahead of this Nations Cup campaign.
"If there was a problem between me and Kalusha or with the football association, I don't think Kalusha would have asked me to come back.
"I respect people's opinions but I'm sure they will look at what this team has done and see that it was a good decision for me to come back.
"People wanted to remove Kalusha from the presidency because of my appointment but I don't know anyone else who can do the job like him.
"For me personally, it's important to win the cup and give it to him on Sunday. He deserves it."
Although few people envisage a Zambian victory on Sunday, Renard said Ivory Coast players know that they can never underestimate his side.
The assistant coach of Ghana during the 2008 finals said, however, that he is under no illusions as to the size of the challenge facing his team on Sunday.
"It's like we're in front of one big mountain.
"We have to climb it but we don't have a helicopter and we don't have a car.
"We just need to have a lot of courage and to think 'yes, we can do it'. I'm one hundred percent sure we can do it."