Aston Villa manager Alex McLeish praises 'silent majority' of fans
Last updated on .From the section Football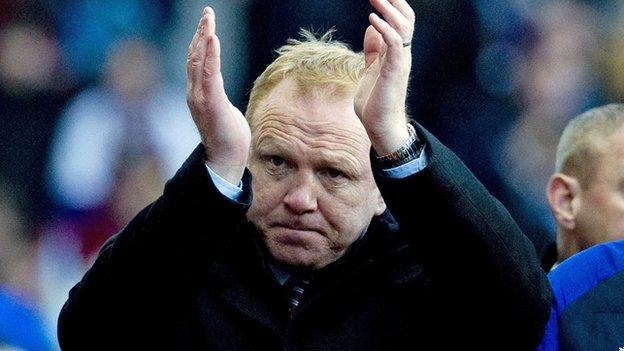 Aston Villa manager Alex McLeish praised the "silent majority" who he believes are backing him, ahead of a planned protest by fans on Sunday.
A Villa supporters' website posted a message calling for those opposed to the Scot's management to gather outside Villa Park an hour before their match against Manchester City.
He said: "There were some who expressed dissent at the start of the season.
"I know the silent majority have been tremendous in supporting the team."
Villa have recorded only six wins in 24 league games, with fans website 'Vital Villa' claiming this is "relegation form".
McLeish added: "I've met some of the fans and I really felt their passion, but I think they felt mine as well. I'm determined I'll get it right at this club.
"I do believe, in one or two other seasons, there have been sticky moments as well. This season is a bit of a rollercoaster but the points are there for us to climb the table."
As regards the intended protest, McLeish, whose Villa side are 13th in the Premier League, said: "It is out of my control, it is a modern-day fashion.
"There were rumours of a protest against [Arsenal manager] Arsene Wenger a couple of weeks ago, so I'm in pretty good company!
"At the same time, it's not something I'm going to say I enjoy because we all like to be popular.
"It's a minority and something out of my control. But the one thing I can control is the team and what effort they put in to get the best out of them because I am pretty good at that."
Striker Robbie Keane will make his final home appearance of his Villa loan spell, but McLeish has not ruled out bringing him back.
McLeish said: "I don't know. I am probably best to say you never know and maybe leave that one dangling.
"Would I get Keane back if there was a chance? I would like to have a crack, yes.
"He has been enlightening in terms of his performances. They have been great but he has been a great character around the place and has livened things up a bit."