Zambian footballers remember a lost generation of players
Last updated on .From the section Football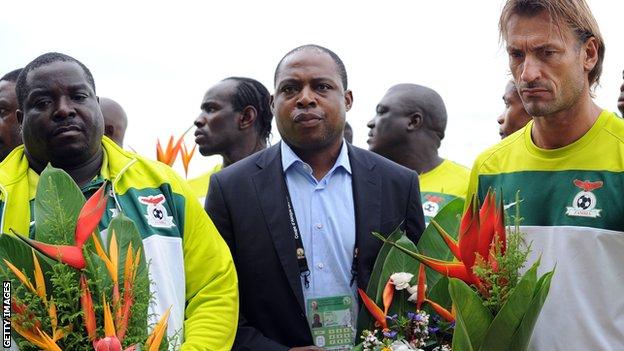 Too often in the world of football, events are described as a "tragedy" and "disaster".
But in the space of a few moments, late on 27 April 1993, Zambia's football dreams were extinguished by genuine tragedy.
After taking off from Libreville in Gabon, a Zambian military plane carrying most of the national squad crashed into the Atlantic Ocean, within a mile of the Gabonese coast, killing all 30 people on board.
Among those who perished were the coach, Godfrey Chitalu, and 18 players including Kelvin Mutale who had just scored a hat-trick against Mauritius in an Africa Cup of Nations qualifier.
The Zambians were en route to Senegal for a World Cup qualifier which they were expected to win. In fact, Zambia were expected to reach the World Cup for the first time in their history.
The country's football federation cast far and wide to gather players from the diaspora so they could continue their campaign and, in the end, they only missed out on a place at USA 1994 by a single point.
The former Chelsea manager Ian Porterfield took charge and led them to second place in the following year's Africa Cup of Nations.
For the best part of the next 20 years, Zambian football entered the doldrums.
Now they are back in the Africa Cup of Nations final and, in a twist of fate, the Zambia team is back in Libreville for the first time since the crash.
On Friday, the current generation of players gathered on the Gabonese beach, just a few hundred metres from the place where the plane went down, to pray and cast flowers into the surf.
With them was the captain of the 1993 squad, Kalusha Bwalya, who is now president of the Football Association of Zambia.
He was not on that flight. Because of his contract with PSV Eindhoven in the Netherlands, he had planned to make his own way to Senegal.
"I'm happy that the boys were able to come here on merit to reconnect with the past," he told BBC Sport.
"Some of the football that the old team played was marvellous and I think that the boys have done us proud in this Africa Cup of Nations."
Zambia, who have only one Europe-based player in their squad, shocked one of the pre-tournament favourites, Ghana, in the semi-finals and now meet the overwhelming favourites in the final, Ivory Coast.
"I am very happy that we come here to contest the final," said Bwalya.
"It is something that the boys, the fallen heroes, dreamed about and we're dreaming of bringing glory to our country. I couldn't have wished for a better time to come here. It's been a long journey."