Saturday's football as it happened
Last updated on .From the section Football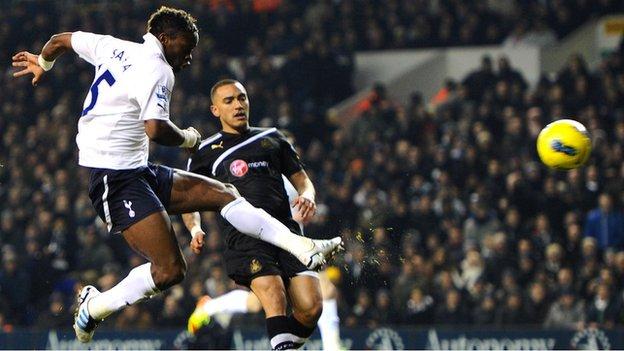 All times in GMT
GET INVOLVED: Tweet me @chrisbevan_bbc using the hashtag #bbcfootball or text me on 81111 (UK). Make sure YOU PUT YOUR NAME on those texts though.
By Chris Bevan
1957: Right, it's time for me to love you and leave you. Apologies again for those technical problems that hit us in mid-afternoon, but at least we were back with you to see Tottenham turn on the style against Newcastle. Be sure to watch all of today's Premier League action, including an explosive clash at Old Trafford, on Match of the Day at 2230 GMT tonight (on BBC One and this website) and then all the Football League goals afterwards on The Football League Show at 2355 GMT (ditto). See you on Sunday for a Black Country derby, Aston Villa versus Manchester City and the Africa Cup of Nations final. Should be fun.
FOOTBALL LEAGUE UPDATE: In the final game in the Championship tonight Stephen Crainey's curling free-kick salvages a point for Blackpool at home to a competitive Portsmouth side. That extends the Tangerines' unbeaten run to nine games and means they sit fifth in the division and six points off an automatic promotion spot. For Pompey, it's 17th place and a game against Ipswich on Tuesday night to look forward to.
Match of the Day running order tonight: 1)Spurs/Newc, 2)ManU/Liv, 3)Eve/Chel, 4)Sund/Ars, 5)Swans/Nor, 6)B'burn/QPR, 7)Bolt/Wig, 8)Ful/Stoke
FULL-TIME Tottenham 5-0 Newcastle MOTD's Steve Wilson at White Hart Lane: "Tottenham were outstanding in the first 45 minutes and there was no way back for Newcastle in the second half. The players and the fans really showed manager Harry Redknapp that they'd like him to stay."
FULL-TIME Swansea 2-3 Norwich MOTD's John Roder at Liberty Stadium: "Fantastic second half as Norwich hit three goals in 18 minutes to grab victory. Danny Graham and Steven Caulker almost secured a late draw as a breathless match ended with great drama."
FULL-TIME Sunderland 1-2 Arsenal MOTD's Guy Mowbray at Stadium of Light: "Sometimes it is just written in the stars. And one of the biggest stars in the Premier League is saying goodbye. He has played 258 games in the Premier League and scored 176 goals. It is au revoir again. Thierry Henry has written himself another little piece of Arsenal history. It is also all about the Arsenal substitutes as Aaron Ramsey equalises and then Henry scores the winner."
FULL-TIME Blackburn 3-2 QPR MOTD's Alistair Mann at Ewood Park: "Excellent 1st half by Blackburn today, awful first half by QPR. If they'd begun their fightback a bit earlier it may have been interesting."
Stoke manager Tony Pulis, who was furious with referee Chris Foy over Pavel Pogrebnyak's second half tackle on Wilson Palacios: "I've had a player who pulled out of a tackle last week and got a three match ban, Pogrebnyak's tackle was ten times as bad and he didn't even get booked. If Chris Foy didn't see it then Kevin Friend certainly did. I'm disappointed with the inconsistency in the Premier League - we need some clarification on tackles."
FULL-TIME Fulham 2-1 Stoke MOTD's Nigel Adderley at Craven Cottage: "Fulham were in total control until the loss of their new signing Pavel Pogrebnyak through injury. Stoke became more of a force after the introduction of Jermaine Pennant, and they set up a nervy finish for the home side."
Chelsea boss Andre Villas-Boas on his side's defeat by Everton: "That was one of our worst displays of the season - if not the worst. If there was one defeat that the manager should take the blame for, it should be this one. Everton's pressure was really hard on our back four but we should have prepared better. Normally we always manage to create chances but we fell short in terms of goal-scoring opportunities."
FULL-TIME Bolton 1-2 Wigan MOTD's Martin Fisher at the Reebok Stadium "Wigan take all three points from the Reebok Stadium, and rarely will they matter so much. Roberto Martinez's side have earned their upcoming break in Oman, but it's back to the drawing board for Bolton."
Everton defender Phil Neville on Twitter:"Good win-performance level was what is expected of an Everton team nothing less from now on! Move on Blackpool in the Cup now!!"
FULL-TIME Everton 2-0 Chelsea MOTD's Steve Bower at Goodison Park: "Everton limited Chelsea's clear-cut chances, and the new faces like the excellent Steven Pienaar added a spring to their step. Everton were energetic, got in Chelsea's faces and thoroughly deserved their win."
FULL-TIME Man Utd 2-1 Liverpool BBC Sport's Phil McNulty reports from Old Trafford: "Luis Suarez's refusal to shake hands with Patrice Evra overshadowed a crucial victory for Manchester United over Liverpool."
1935: Time for a quick recap of what has happened in the Premier League today, starting at Old Trafford...
Tottenham striker Emmanuel Adebayor, who made four goals and scored the fifth in his side's 5-0 win over Newcastle, on the future of his boss Harry Redknapp: "Harry is a special manager, the way he talks and the way he brings joy to the training ground. We love him and we want him to stay. We wish him the best of luck if he decides to take the England job."
Paul Wilkinson on Twitter:"Feel a bit sorry for Newcastle. Pardew has done a great job but utterly outclassed today."
Dave Whitmore on Twitter:"What a week for Harry. He has to stay @ Spurs. He's started something truly special and we need him to see us progress!"
Mike Flynn on Twitter:"Why is nobody suggesting Arry takes England to the Euros then comes back to Spurs afterwards? Everybody wins."
1925: That was pretty clear-cut, wasn't it? Tottenham were rampant. Newcastle were outclassed. Spurs stay third, five points behind leaders Manchester United - remember Manchester City play on Sunday. The Magpies remain sixth, a point behind Arsenal and Chelsea, who sit immediately above them.
1924: FULL-TIME Tottenham 5-0 Newcastle
1922: There will be three minutes of stoppage time at White Hart Lane. That chant of 'there's only one Harry Redknapp' has started up again. Considering it started with him missing his side's draw at Anfield, his week has just got better and better, hasn't it?
1919: We are into the last couple of minutes of the 90, so how about a Spurs penalty to wrap up a good night's work for Harry Redknapp's men? Jermain Defoe goes down as he tries to nip past Fabricio Coloccini in the box, but nothing is given.
1917: Tottenham are still making - and missing chances - with Emmanuel Adebayor wasteful this time after good work from Aaron Lennon. I don't think we can give him too much stick for that tonight though. By the way, Newcastle have made another change with Peter Lovenkrands on for Danny Guthrie.
Gavin on Twitter:"If the ref gives the penalty at 2-0 it's a different match altogether. Terrible decision."
I see your point but I'm not sure that it would have made too much difference in this case. There has been a huge gulf between the two sides.
SCOTTISH PREMIER LEAGUE UPDATE: Celtic end the weekend as they started it - four points clear at the top of the SPL table - after beating Inverness 1-0 in match that featured a red card for each side. Earlier in the day, closest challengers Rangers had beaten bottom club Dunfermline 4-1 and there was also a handsome win for Dundee United, who benefitted from two own goals in their 5-1 humbling of Tayside rivals St Johnstone. A man off each for Kilmarnock and Hearts as they drew 1-1 while there were goalless draws between Hibernian and Aberdeen in Edinburgh and St Mirren and Motherwell in Paisley.
1908: Spurs still look dangerous by the way. Emmanuel Adebayor fires wide before Tim Krul claws away a Luka Modric shot. Just 10 minutes to go now, so time for another goal or two.
1906: He's had virtually nothing to do all night, so WHAT A SAVE this is from Tottenham keeper Brad Friedel. Danny Guthrie whips in a wicked deep cross that Demba Ba, arriving late, nods goalwards from about eight yards out... only to somehow be denied by the American's instinctive stop. The ball drops for Dan Gosling who, under pressure, skies the follow-up over. It doesn't appear Newcastle will even get a consolation.
1905: Louis Saha has already made a splash tonight, and here comes another of Harry Redknapp's deadline day signings. Veteran Kiwi defender Ryan Nelsen, who replaces Ledley King, is on for his debut after joining from Blackburn.
1903: Tottenham could have six. Kyle Walker surges forward down the right, riding a challenge on his way into the box. He clips over a great cross too, which looks like it is perfect for Emmanuel Adebayor to leap and head home... but in the end it is just too high. The ball skims off Adebayor's head, is awkward for Jermain Defoe, and the Magpies eventually clear.
Will Pailer, via text: "Re Robin on Twitter. I'm an Everton fan and David Moyes would be a great successor to Harry Redknapp. They both always know the right tactics to play and Moyes would thrive with more offensive players than the likes of Phil Neville and John Heitinga."
1900: Dan Gosling has only just come on and he is already in referee Andre Marriner's book, earning a yellow card for clipping Aaron Lennon's heels.
OptaJoe on Twitter:"4 - Emmanuel Adebayor is the first player to assist 4 goals in a PL game since Cesc Fabregas for Arsenal v Blackburn in Oct 2009. Feat."
Adrian Donohue on Twitter: "This might be one of the shorter man of the match debates in history....#adebayor"
Peter Wood on Twitter:"Tottenham are on fire. For the league's sake I would hate to see Harry leave and go to England job."
1858: A couple of changes for Spurs. Louis Saha and Gareth Bale are off, Jermain Defoe and Aaron Lennon are on. Newcastle have made a switch too, with Dan Gosling on for Papiss Demba Cisse.
1856: This is the first time that Tottenham have scored five goals in the Premier League this season... and they want more. Gareth Bale has acres of space about 30 yards from goal but decides to let fly, fizzing a shot over the bar.
1853: GOALFLASH Tottenham 5-0 Newcastle (Emmanuel Adebayor)
It is fair to say that, after four assists, Emmanuel Adebayor deserves a goal tonight... and he has got one now. Benoit Assou-Ekotto's cross is nodded down by Louis Saha and Adebayor swivels to hammer home his first-time shot. Briefly, it appears Adebayor has been injured in the process, but he is back on his feet now.
1850: Half an hour left of what is turning into an exhibition game for Tottenham. Newcastle cannot keep hold of the ball and cannot win it back when they lose it. Not a great combo, really.
Andy Hudson on Twitter:"Alan Pardew has got his tactics wrong again against a top team. Gabriel Obertan was never going to track back. Newcastle have paid for it."
1847: Tottenham, on the other hand, have been pinging passes around all night, and don't seem in the mood to stop now. There have been plenty of flicks and tricks on display, too, but, even without the showboating, the likes of Luka Modric and Gareth Bale have been outstanding.
1844: Newcastle enjoy a decent spell of possession - and it's not often I've been able to write that sentence tonight. It doesn't last long, though. Danny Simpson hoists a cross into the Spurs area but it is nowhere near any of his team-mates, and Michael Dawson is able to coolly chest the ball back to Brad Friedel.
Robin on Twitter:"Chris, what worries me is that if Harry leaves Tottenham then they will pinch Moyes from Everton = relegation."
Callum J on Twitter: "Pearce = no idea of Tactics, Harry would hate the lack of games. Hiddink has proved himself internationally!"
Colm, a Newcastle fan in the Midlands, via text: "At 1-0 I was disappointed, at 2-0 I was annoyed, at 3-0 I was appalled and at 4-0 I was logging off my computer to go bang my head against a wall."
1839: Emmanuel Adebayor is having one of those games. No, not the ones where he flits around showing little or no interest, but the ones where he looks like one of the best strikers on the planet. Here, he holds the ball up brilliantly before feeding Gareth Bale and running into the area to receive a scooped return pass from the Welshman. Adebayor is crowded out before he can get a shot away, but Newcastle are struggling to handle him tonight.
Matt Blazey on Twitter:"Newcastle's performance lacks any sort of guts or courage, shows just how much we miss Tiote."
1835: Nope, Newcastle are still here. And play is back under way.
1833: So, is there anyway back for Newcastle now? Or are they better off pinning a note to referee Andre Marriner's door and hot-footing it back up the A1 without bothering with the second half?
From Ashley Evans, via text: "Re 1819. No - it is very rare a club manager makes a successful international manager (look at our former examples). Also, although Harry is a fantastic motivator, he lacks Mourinho's tactical nous; a prerequisite for success at international level."
From Jay in Newcastle, via text: "Re 1819. Harry should DEFINITELY take the England job. In fact, can we not go back in time and give him the job before this match is anywhere near to kick off? :( "
The way our live text was jumping around earlier, I think we might be able to fix that...
Joe in Kent via text: "Does Harry Redknapp like his football too much to play 5 matches a year with England instead of the 50 he does with Spurs? Regrettably I think so."
Ben Spratt on Twitter:"I don't want Redknapp as England manager. I'd have Stuart Pearce, knows about the younger players."
I also seem to remember Stuart Pearce forgetting to pick a keeper in his first game in charge of Nottingham Forest, and putting David James up front for Manchester City. Still, Psycho is handy to have around if a fuse blows, and, if he has Beanie the horse as his assistant, then England will probably win the World Cup...
From Simon, via text: "Re 1819. If Newcastle come back to 4-4 then it will be Alan Pardew and not Harry Redknapp for England!"
MOTD's Steve Wilson at White Hart Lane: "It is only a question of how many more Tottenham will score and they are in the mood. A magnificent first 45 minutes for Harry Redknapp's Tottenham. Newcastle leave the field bewildered.
1819: OK, is there anyone out there who DOESN'T think Harry Redknapp should be the next England manager? Apart from Spurs fans, of course... Tweet me @chrisbevan_bbc using the hashtag #bbcfootball or text me on 81111 (UK). Make sure YOU PUT YOUR NAME on those texts though.
1818: HALF-TIME Tottenham 4-0 Newcastle
1817: Tottenham are queuing up inside the Newcastle area, after another fast break. They waste a promising position because Luka Modric is offside, but I don't think they will get too much stick about it from their manager at the break.
Tom Watson on Twitter:"'There's only one Harry Redknapp' cry the fans. But that, unfortunately, is the very problem they face."
1815: Gareth Bale and Emmanuel Adebayor are both behind it, but it is Benoit Assou-Ekotto who hits it... high over the bar.
1814: Tottenham have a free-kick right on the edge of the area after Mike Williamson fouls Scott Parker. This could be interesting...
1813: We are into the last minute of the first half. This is going to have to be some half-time team-talk from Magpies boss Alan Pardew.
Chris Fairley on Twitter:"Newcastle to come back from 4-0 to draw 4-4, its happened before against a north London club, can always hope!"
1810: Newcastle are still struggling to get the ball off Tottenham, let alone think about a comeback. Spurs are spreading the ball around, with some slick and sharp inter-play. DEFINITELY international class.
Adam, Everton fan in Liverpool via text: "It just goes to show what Louis Saha can do with decent service."
1804: GOALFLASH Tottenham 4-0 Newcastle (Niko Kranjcar)
A few hours ago (on a different text commentary), I posed the question whether all this England talk will distract Tottenham's manager and their players. I think their performance in the last 35 minutes or so proves that the answer is a pretty resounding 'no'. Another lightning-quick break down the left ends with Tim Krul saving Emmanuel Adebayor's close-range shot, but Niko Kranjcar is in the right place to fire home the rebound.
Michael, a Sunderland fan, via text: "This time next week, after Arsenal are tired out following the AC Milan Champions League game and with no Thierry Henry, we'll get revenge!"
They meet again in the FA Cup fifth round, in case you were wondering...
Thierry Henry, Arsenal's match-winner against Sunderland in what could be his farewell appearance for the Gunners: "When you come on as sub you want to help your team and change the game. The guy who scores gets the credit but the cross from Andrey Arshavin was perfect. I know it was the last game in the Premier League and I wanted to say thanks. You can never say never (about whether it was his last game). I felt just like a kid who scores his first goal for the team he loves. If Arsenal need some help one day I will be around."
Blackburn boss Steve Kean on his side's 3-2 win over QPR: "We were really anxious that QPR did not settle into the game and wanted to prove the Arsenal game was a one-off. Since Yakubu has been here with us, he's scored all types of goals. He's got every type of finish in the book and we know if we give him the service he will produce."
1759: Half an hour gone at White Hart Lane and Tottenham are three goals up and completely in command.
Rob Porter on Twitter:"Louis Saha must love scoring against Newcastle as they had him on loan and decided he wasn't good enough back in 1999."
1754: Scott Parker is booked for a foul on Demba Ba and Newcastle have a free-kick right on the edge of the area. Ba takes it too, hammering a shot past the Spurs wall... and I think Brad Friedel gets a fingertip to it to help it on his way past the post. A goal-kick is given, though.
Benjy at White Hart Lane, via text: "I've never really though much of Louis Saha, but Harry Redknapp really has a knack of bringing out the best in players. Maybe he could do the same for England?"
1750: GOALFLASH Tottenham 3-0 Newcastle (Louis Saha)
Newcastle are chasing shadows at the moment, while Tottenham are unstoppable. If England play like this at the 2014 World Cup (and can arrange to play Newcastle in Brazil), then they might as well hand 'Arry the trophy now. Emmanuel Adebayor gets another assist, but Luka Modric plays a huge part too, dancing into the area, before Adebayor tees up Louis Saha to lash the ball home.
1748: In the 1500 GMT Premier League games, Chelsea's quest for a Champions League place hit a setback when they were beaten 2-0 by Everton at Goodison Park. Arsenal took advantage and moved fourth, Thierry Henry scoring an injury-time goal in a 2-1 win at Sunderland. Norwich came from behind to beat Swansea 3-2, while Blackburn won by the same scoreline against QPR to leapfrog Bolton at the bottom of the table. Owen Coyle's men 2-1 lost at home to Wigan. Fulham beat Stoke 2-1 thanks to Pavel Pogrebnyak's debut strike.
Andy McPheat on Twitter:"All those who questioned 'Arry's decision to bring in Louis Saha will probably be feeling a little silly right now."
1746: Another swift Tottenham attack leaves Newcastle exposed again. Gareth Bale surges down the left and his cross falls for Niko Kranjcar on the edge of the box. He has time to take a touch but blazes wildly over. A bit of a waste, really.
1744: Newcastle are still feeling their way into this game after an awful start but Tottenham almost - literally - handed them a route back into it. From a low Danny Guthrie corner, James Perch dummies and Emmanuel Adebayor clearly handles the ball after slipping over. Referee Andre Marriner is well placed to see it, but gives nothing.
From Ed Lloyd, via text: "Great victory for Everton today. I don't understand how we can beat teams like Chelsea, but then struggle against teams in the lower half of the table."
1741: And Liverpool manager Kenny Dalglish also had his say: "I never knew Suarez refused to shake Evra's hand. I wasn't there, I never saw it. It's contrary to what I've been told. I think you're bang out of order to blame Luis Suarez for anything that happened here today. The majority of the fans behaved very well today, with a bit of banter between them."
1740: Here's what Sir Alex Ferguson had to say about Suarez: "I couldn't believe Suarez refused Evra's handshake. Suarez is a disgrace to Liverpool football club. He should not be allowed to play for Liverpool again, the history of that club. He could have caused a riot. Racism is an important issue and football has come a long way since the days of bananas being thrown at John Barnes. Evra shouldn't have jumped in front of Suarez in celebration at the end. He shouldn't have done that."
1739: Manchester United beat Liverpool 2-1 in the early kick-off thanks to two second-half Wayne Rooney goals. Luis Suarez scored for the Reds but it was what happened before the game that ignited this clash. The Uruguayan refused to shake Patrice Evra's hand, leaving the Manchester United defender fuming. As well as the handshake controversy, the two sets of players reportedly clashed in the tunnel at half-time before Liverpool players reacted angrily to Evra's celebrations at the full-time whistle.
1738: Phew. It's been a fast and frenetic start at the Lane. If you're just joining us, there's lots to catch up on from later too...
1736: GOALFLASH Tottenham 2-0 Newcastle (Louis Saha)
Harry Redknapp was on his feet to celebrate Spurs' first goal and he is barely back in his seat when they score again. Emmanuel Adebayor makes this one too, getting down the right before sending over an enticing cross that Louis Saha, darting into the area, is able to meet first time and mark his home debut with a goal.
1733: GOALFLASH Tottenham 1-0 Newcastle (Benoit Assou-Ekotto)
Benoit Assou-Ekotto scores it, and Emmanuel Adebayor makes it - this is hardly a goal made in England, or for them. Adebayor and Gareth Bale combine with a quick one-two and Adebayor's low cross finds Assou-Ekotto running in unmarked to fire home at the back post.
1733: A cry of "There's only one Harry Redknapp" goes around the ground... and then this happens...
1732: MOTD's Steve Wilson at White Hart Lane: "A couple of weeks in court, now he's holding court. The fanfare of cry god for Harry, England and St George and the only people not on the bandwagon are perhaps the Tottenham fans after he has built arguably the most attractive side in the Premier League. Louis Saha makes his home debut for Spurs. Newcastle boss Alan Pardew could hardly leave out Papiss Cisse after his goal against Villa so it's a Senegal front two with Demba Ba."
1730: We are under way at White Hart Lane.
Matthew Lambert on Twitter: "Didn't think we'd be seeing Saha starting so early in his Spurs career. Defoe must be gutted."
Steve Powell on Twitter:"If Newcastle were to do the impossible and win at the Lane tonight, it'd throw the race for the Champions League wide open."
1727: Almost time for kick-off at White Hart Lane. Remember Demba-Demba? I think Aston Villa will. Tottenham will have been warned...
Final Score pundit Steve Claridge on Everton after their 2-0 victory over Chelsea: "Manager David Moyes has had a great January and done some great business. He got a couple of players out who I don't think he was particularly enamoured with and he's got a couple in, including Steven Pienaar, who have been fantastic. All of that has just given this club a lift."
AndyLeGoon in Edgbaston, via text: "Same time next year please Thierry! That parting gift of his could be huge in the race for 4th."
QPR boss Mark Hughes after his side's late fightback came too late to prevent a 3-2 defeat at fellow strugglers Blackburn: "In the first half we hold our hands up, the performance wasn't acceptable. The guys came out in the second half and they understood exactly what I wanted from them and did the hard yards and could easily have got back in the game but you cannot give any Premier League team a 3-0 start."
Phil Arundell on Twitter:"I've spotted Chelsea's cunning plan - you don't have to worry about UEFA financial fair play rules if you're not in Europe."
Chelsea were lacklustre, to say the least, against Everton earlier today. The Toffees won 2-0.
Final Score pundit Garth Crooks on Arsenal losing Thierry Henry: "When you have a player of that quality, it buys you a yard with defenders. If a chance falls to him, you can guarantee he will convert it. Henry has been a wonderful acquisition and that's a credit to Arsene Wenger. He has used the Frenchman without disrupting the mood in the dressing room and I think that has been a masterstroke."
1718: TEAM NEWS Tottenham v Newcastle
Louis Saha starts his first game for Tottenham following a deadline day move from Everton. He partners Emmanuel Adebayor up front in the absence of the injured Rafael van der Vaart. Papiss Cisse makes his first start for Newcastle, who also recall Gabriel Obertan in place of Ryan Taylor.
Arsenal boss Arsene Wenger on Thierry Henry's late winner against Sunderland on his farewell appearance: "Unbelievable - Thierry is most impressive than before - he only plays 20 minutes and he scores. Sunderland played well and we showed exceptional spirit and character. I'm sorry to be losing Thierry, but that is what we accepted at the start. But we are grateful for what he has done on the pitch and also in training. We tried to keep him, but he is the captain of the New York Red Bulls and their season starts in two weeks." Will he be back? "You never know. It is a shame that a player of that quality is not in England or in Europe.
FOOTBALL LEAGUE UPDATE: The Football League this afternoon was beset with postponements because of the freezing weather. The Championship match between Ipswich and Middlesbrough in Suffolk was abandoned after 40 minutes due to a hardening pitch. Three goals in the last 15 minutes saw Brighton prevail at managerless Leeds, while Nottingham Forest let their lead slip to claim only a point at home to Watford. In League One only three fixtures kicked off and Sheffield United thrashed lowly Wycombe 3-0 at Bramall Lane, while local rivals Wednesday lost 2-1 away at Exeter. Of the three games played in League Two Cheltenham go top after drawing 1-1 away at Hereford while Torquay beat Shrewsbury to climb to fourth, only outside the automatic promotion places on goal difference.
Daniel Jones on Twitter:"Bed-bound all day with flu. Last minute winner from King Henry much more effective than Paracetamol or Lemsip."
1710: Our technical problems have basically meant I've been writing away to myself for the last 90 minutes, with no-one able to see it. I've missed you, lots. So get involved now please. Tweet me @chrisbevan_bbc using the hashtag #bbcfootball or texting us on 81111 (UK). Make sure YOU PUT YOUR NAME on those texts though.
1708: Tottenham v Newcastle line-ups
Tottenham: Friedel, Walker, Dawson, King, Assou-Ekotto, Modric,Parker, Kranjcar, Bale, Adebayor, Saha. Subs: Cudicini, Lennon, Defoe, Rose, Livermore, Nelsen, Khumalo.
Newcastle: Krul, Simpson, Williamson, Coloccini, Santon, Obertan, Guthrie, Perch, Gutierrez, Ba, Cisse. Subs: Elliot, Ben Arfa, Lovenkrands, Abeid, Gosling, Shola Ameobi, Ferguson.
Referee: Andre Marriner (W Midlands)
1705: I'll be bringing you all the reaction from the earlier Premier League games too, including Thierry Henry's parting gift to Arsenal before he returns to New York. He got on the end of a delicious Andrey Arshavin cross in the dying seconds against Sunderland, to score a close-range winner that gave his side the three points.
1703: Yep, whether or not Tottenham boss Harry Redknapp is the future England manager, he is definitely in charge of a team that still holds genuine Premier League title aspirations. Could he win the league before steering England to Euro 2012 glory, or am I being a bit silly on both counts?
1701: It's been a frustrating afternoon for me too. But let's crack on because there is a really tasty game coming up at White Hart Lane.
1655: Clint Dempsey hits the post for Fulham, when it looked easier to score. Still the Cottagers look like they will collect all the points...
1653: Into stoppage time at Ewood Park and Blackburn are hanging on now. Rangers keep up the pressure and Jamie Mackie makes no mistake when the ball breaks to him on the right-hand side of the box, powering an unstoppable angled shot into the top corner.
1652: Chelsea have been average at best today. No invention and very little fight. Everton are completely comfortable with their 2-0 lead as we enter the final moments at Goodison Park.
1651: Danny Graham sees a shot roll a whisker wide as Swansea come again. That Stoke comeback seems to have petered out now, though. Fulham have resumed control and are enjoying the majority of possession.
1648: GOAL: Sunderland 1-2 Arsenal: Talk about a farewell gift. Thierry Henry is about to leave Arsenal, probably for good, to return to New York. He has signed off in the sort of style you would expect... with what looks like it will be the winner. The Frenchman ghosts into the area to meet Andrey Arshavin's clever cross, and beat Simon Mignolet from close range.
1644: PENALTY to Swansea: Swansea's third big penalty claim of the second half, and this one is given. Grant Holt is tugging Danny Graham's shirt in the box, and referee Martin Atkinson points to the spot.
1637: GOAL: Fulham 2-1 Stoke - Ryan Shawcross: Stoke have been largely awful today but they have a lifeline here. With 10 minutes to go, Ryan Shawcross gets on the end of a corner to head home and reduce the deficit. Moments later, Peter Crouch wasted a great chance to equalise but could not find the target with his own header from point-blank range.
1636: GOAL: Bolton 1-2 Wigan - James McArthur: Wigan are back in front. Victor Moses is behind it, bursting into the box and forcing Adam Bogdan to push away his shot... with the ball running for James McArthur, guilty of that bad miss earlier, to fire into the unguarded net.
1633: GOAL: Blackburn 3-1 QPR: Jamie Mackie comes off the bench to tuck in Taye Tawio's cross to give QPR a lifeline. But Blackburn's Bradley Orr will be disappointed he could not cut out the pass to the Nigerian before he centred.
1632 GMT: Hello, let me start by saying that I'm really sorry for the significant technical problems on the website this afternoon. Rest assured that everyone is working very hard to fix the new-look live text as soon as possible. In the meantime we'll be dealing with the rest of today's football in this page, which will require a manual refresh to see all my updates.