Hearts boss Paulo Sergio wishes Kenny Shiels well after snub
Last updated on .From the section Football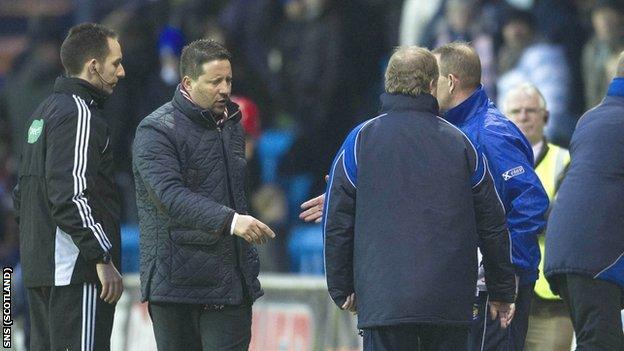 Hearts manager Paulo Sergio wished Kilmarnock boss Kenny Shiels well, despite refusing to shake his hand after the teams drew 1-1 at Rugby Park.
The Portuguese called Shiels "a clown" on Friday after the Rugby Park manager said he would not accept meddling by a club chairman in his team selections.
"I have to say, I wish him all the best. I don't want nothing bad for Kenny Shiels," said Sergio.
"But I can't shake hands with a guy who is talking about me all the time."
Suso Santana scored a 90th-minute equaliser for Hearts after Paul Heffernan had given the hosts the lead. Both sides had a man sent off.
But at the end of the match, Sergio was in no mood to make up with the Northern Irishman.
He told BBC Radio Scotland: "He came to shake my hand at the end of the game. It's another provocation because I refused before.
"I have all the respect for Kilmarnock, their supporters, their board, even for Kenny.
"But come on, let's be serious, a guy who is all the time saying things about me wanting to shake my hand? I don't want that.
"I take no pleasure at all in shaking his hand.
"He is not a kid. He is a guy who is 55 years old. This is what he has been doing all the time."
Hearts owner Vladimir Romanov has intervened in player selection in his reign at the club and recently insisted that Tynecastle goalkeeper Marian Kello should not feature in the top team after he refused a move to Austria Vienna.
Such a scenario, Shiels said earlier in the week, would be unacceptable to him, resulting in the Hearts manager saying on Friday: "This guy is talking about principles? Instead of sticking his nose into other teams he should look at what is happening inside his own.
"He is like a clown. I am saving money every day when I open the newspapers instead of going to the stand-up comedy and paying for a ticket."
But moments before Saturday's Scottish Premier League game, Shiels made light of the remarks.
"When I was a kid at school I was a wind-up merchant," he said.
"The people I would target would be people without a sense of humour. People take themselves too seriously. They should lighten up a bit.
"All I said was that Paulo should have walked. I'm sure he is a good guy. Hearts are a great club. But he has taken the bait."
And, following the draw, Sergio explained what happened when he came face to face with Shiels' son, Dean, a Killie forward.
He said: "On the pitch his son surprised me because I was saying all the best to the Kilmarnock players - honestly. I said that to the kid too.
"He gave his hand but then said a bad thing to me so I took out my hand, nothing more."
Killie assistant manager Jimmy Nicholl conducted the post-match interviews and said of his colleague: "He just says what he thinks. He's just like that, but I think he realises you've got to respect people in the game and not interfere with other people's problems at other clubs.
"He knows that but it is just the way he is."