Luis Suarez: Liverpool's owners should step in, says Gordon Taylor
Last updated on .From the section Football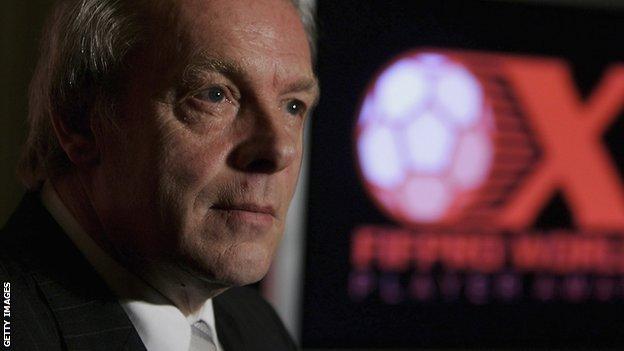 Professional Footballers' Association chief executive Gordon Taylor says Liverpool's owners should deal with the fall-out of Luis Suarez's refusal to shake the hand of Patrice Evra.
The club is owned by Fenway Sports Group,headed by John W Henry.
And Taylor said: "It is a matter for the owners. This has to be dealt with at the highest level to resolve this festering mess."
It was the first meeting of the two since Suarez was suspended for racially abusing Evra.
The Uruguayan served an eight-match ban over the incident at Anfield in October.
It had been thought that Suarez and Evra had agreed with their respective managers to take part in the mandatory pre-match handshakes - which are part of the FA's Respect campaign.
Taylor told BBC Radio 5 live: "If he [Suarez] is going to ignore the decision of a manager then he has to be disciplined - or you get the tail wagging the dog."
Taylor refused to be drawn into what sanction he thought the club should take but added: "I feel sick to the stomach that there were youngsters [mascots] who go on the pitch with the players and they would have wondered what was going on."
The PFA head said the support of Liverpool manager Kenny Dalglish and the club might have made the row worse.
He added: "Such a support and denial of any liability has probably encouraged what happened today. I'm extremely concerned that it has reached this level now.
"It's going to have to be sorted by the FA, the Premier League, the PFA, the League Managers' Association.
"There's great rivalry which is no bad thing between clubs and cities but this has escalated beyond that."
Asked if Liverpool had been responsive to their the PFA's approaches, Taylor said: "I would have to say that in the very beginning, no they weren't, so as a result this has developed into where it has.
"It's my job to try to stop such issues escalating.
"At the very beginning I approached both clubs but it wasn't possible to get that reconciliation or any acceptance of culpability or apology and, from that time on, it's just escalated."
PFA chairman Clarke Carlisle, who plays for Northampton Town, said the refusal to shake hands "undermined" the Respect campaign.
He said: "This was a chance to signal to thousands of fans in the ground that the two men had settled things in a sensible manner. This stupid snub has exacerbated things.
"I'm bitterly disappointed. This was a chance to draw a line in the sand.
"We expect all our members to cross over the white line and represent themselves, their club and our national game with an element of pride, dignity and respect."
Standard Chartered, the bank who pay around £20m a year to be Liverpool's shirt sponsor, said: "We were very disappointed by Saturday's incident and have discussed our concerns with the club."
Manchester United manager Sir Alex Ferguson branded Suarez "a disgrace" for his refusal to clear the air with Evra, but Liverpool boss Kenny Dalglish said any attempts to blame his forward were "bang out of order".
United won the game with two goals from Wayne Rooney, while Suarez scored an 80th-minute consolation.