Sunday's Premier League football as it happened
Last updated on .From the section Football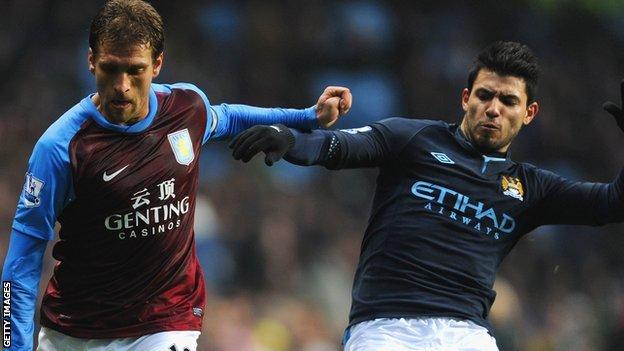 FULL-TIME: ASTON VILLA 0-1 MAN CITY
PLEASE MANUALLY REFRESH THIS PAGE
All times in GMT
GET INVOLVED: Tweet me @chrisbevan_bbc using the hashtag #bbcfootball or text me on 81111 (UK). Make sure YOU PUT YOUR NAME on those texts though.
By Chris Bevan
1812: Right, that's me done as far as the Premier League goes. Make sure you watch MOTD2 on BBC Two and this website at 2200 GMT and in the meantime, join me (elsewhere on this website) in about 45 minutes for Zambia versus Ivory Coast.
Manchester City boss Roberto Mancini on his side's win over Aston Villa: "I think we played very well, we were only missing a goal in the first half but when you have a team which has only defenders behind the ball it is difficult. They had only one chance but Joe Hart is there for this, he's one of the best keepers in Europe."
FULL-TIME Aston Villa 0-1 Man City
MOTD's Steve Wilson at Villa Park: "Manchester City were indebted to their goalkeeper Joe Hart right at the very end, when he made a fantastic save to deny Darren Bent. City have the win they wanted, the win they needed, and they are back on top with a two-point cushion. This could prove to be a very important victory for City."
FULL-TIME Wolves 1-5 West Brom
MOTD's Steve Bower at Molineux: "An amazing second half ensured a day that West Brom's fans or players will never forget. It was a thumping win in the end and could have been ever more had Wayne Hennessey not made several fine saves in the first half."
1809: Almost time for me to wrap this particular text commentary up. I'll be back at 1900 GMT for the Africa Cup of Nations final, but before I go here's a reminder of what happened in the Premier League today.
From Mike, via text: "Hart is a important to City's title hopes as Edwin Van der Sar and Peter Shilton were to Manchester United and Nottingham Forest respectively."
1807: Manchester City midfielder Gareth Barry on his side's win at Aston Villa: "Any away game in the Premier League is going to be tough so to come here and get three points is massive. We've got to back ourselves [for the title] now. Manchester United are a club who have won many championships recently but we are a team with massive experience, with players who have won titles in other countries, so we've got to use that to get through the business end of the season."
1805: The more I see of that last-gasp Joe Hart save from Darren Bent, the better it gets. He saw it very late, and still managed to claw it away. Crucial.
1802: Two games today, two away wins. City had to grind that victory out, but they won't care too much. West Brom and Peter Odemwingie enjoyed themselves, but it was a bleak afternoon for Mick McCarthy and his Wolves side.
Simon Bidwell on Twitter:"If only Villa tried to attack for 90 minutes instead of the last 10, would've made for an interesting game."
Dave on Twitter:"Without Joe Hart, City really would not be in the position they are today."
BBC 5 live pundit Graham Taylor at Villa Park: "I think City deserved to win. They were the more powerful attacking side. I thought Silva was absolutely superb today but if it hadn't been for Joe Hart's making a fantastic save, Villa would have got an equaliser."
1758: So, City end the weekend in the way they started it - on top of the Premier League, leading Manchester United by two points. It wasn't exactly a convincing win, but the points are in the bag, which is what matters for Roberto Mancini's men.
Josh Dixon on Twitter:"What an amazing save by Hart! Those are the saves that win championships. Brilliant, and I'm a United fan."
Les Hutchinson on Twitter:"It's stressful being a City fan - no change there then!"
1755: FULL-TIME Aston Villa 0-1 Man City
1755: Almost a disaster for Joe Hart. Almost. He slides out to reach Gareth Barry's back-header, but leaves the ball behind for an instant... only to recover before Robbie Keane can pounce.
1754: We are into the 96th minute.
1753: Villa send on Nathan Baker for Richard Dunne, who has injured a shoulder or collarbone and looks in real pain. City just want this game to be over and done with - they have looked very nervy of late.
1752: The 90 minutes are up and so are the three minutes of stoppage time. Not sure how much extra we will get when play resumes.
1751: Joe Hart to the rescue again, sprinting from his line to punch clear under pressure from Richard Dunne. We will have a delay while the Villa defender has treatment, because he fell awkwardly.
1750: City are still hanging on. Micah Richards is on for David Silva to help the defensive effort. Why did Villa wait until this late before they started playing?
1749: A brilliant stop by Joe Hart preserves City's lead. Darren Bent twists to fire in from six yards out and Hart reacts to keep it out with an instinctive one-handed save.
1748: Villa are pushing a lot of people forward now. They will have another corner too...
1747: Another City substitution. Edin Dzeko replaces by Sergio Aguero. We are into the last minute of the 90.
1746: Villa's best chance of the game? Probably. Carlos Cuellar is unmarked as he runs in to meet the ball when it comes across but he plants his header over the bar, rather than into the net.
1745: More Villa possession, and they have started hoisting balls into the box from the flanks. It's a tactic that earns them a corner...
1742: A late change by City. Samir Nasri is on for Adam Johnson.
1740: About eight minutes left at Villa Park. City have been content to contain Villa for the last few minutes but they are looking for a second goal here. Some nice skill by Joleon Lescott sets James Milner free down the left but his cross does not quite find Adam Johnson, with James Collins across to clear.
1739: ... Villa are a menace from set-pieces, and again Richard Dunne gets on the end of the corner at the far post. Not enough power in his header, though, and Joe Hart collects.
1737: Villa are enjoying a lot of possession, but they are being forced back into their own half in order to keep the ball. When they do try their luck, Stiliyan Petrov's deflected shot almost falls for Carlos Cuellar. Adam Johnson shepherds the ball out, without realising that Villa are going to get a corner...
1736: Stephen Ireland might change that. The ex-City midifielder replaces Marc Albrighton - We know what Ireland is capable of (and so do City)... I wonder if he is wearing his Superman underpants today?
1734: Villa are showing more urgency on the ball now, understandably. Not much quality in their build-up play yet though.
1732: Charles N'Zogbia has given Villa a bit more of a threat since coming on and the home fans seem to have found their voice. They are even louder now, because there is a streaker on the pitch. Brave, on a chilly evening like this.
1730: A bit of a fall-out between City keeper Joe Hart andAleksandar Kolarov, with the latter kicking it out of play under pressure and then saying he didn't want the ball. Hart is not exactly shy with his response.
Stas in London, via text: "Forget all the 'star' players, Man City struggle when Micah Richards isn't playing. It's a pity he's on the bench when Stuart Pearce is in the stands."
BBC 5 live pundit Graham Taylor at Villa Park: "That goal had been coming. Aston Villa need to get a hold of the situation otherwise they will be conceding again. David Silva is a first class player, but I do feel that Villa should have given him more attention because he seems to be having so much freedom on the ball."
1726: Just over 20 minutes left at Villa Park. The home side have just made a change, with Charles N'Zogbia on for Emile Heskey. Will he enjoy himself this afternoon?
1725: Richard Dunne is booked for clattering Sergio Aguero, and here come City again. They have a big shout for a penalty when the ball appears to hit Alan Hutton's hand from a Aleksandar Kolarov cross, but nothing given by referee Michael Oliver.
1723: City celebrated that goal as if it had won them the title, not just put them ahead at Villa Park. They have continued to make chances since going ahead, with Adam Johnson bursting into the box and almost setting up David Silva, before Sergio Aguero's spectacular effort flew wide.
1721: GOAL Aston Villa 0-1 Man City (Joleon Lescott)
City make the breakthrough, at last, with a goal made in Claret and Blue. A David Silva free-kick is cleared behind but, from the resulting corner, ex-Villa midfielder Gareth Barry meets the ball at the back post ahead of Carlos Cuellar to nod it back across goal for boyhood Villa fan Joleon Lescott to turn it home from close range.
1720: This game doesn't half remind me of City's trip to Sunderland at the turn of the year. Roberto Mancini's men were dominant but couldn't score... and we all know what happened at the end of that one. (Sunderland scored a late winner, just in case you can't access that link).
1717: An hour gone and it is one-way traffic but, crucially, it is also still 0-0. Aleksandar Kolarov's cross-shot flashes wide, and Villa breathe again.
1714: More City pressure, and this time they force Shay Given into a save. Pablo Zabaleta has a pop from about 25 yards out on the right, but Shay Given is equal to his swerving shot.
1712: ...it is dangerous too. David Silva whips it in, and Joleon Lescott gets in front of James Collins to meet it about 10 yards out... but he cannot keep his header down. He should have hit the target from there.
1710: Darren Bent sticks out a leg to send Pablo Zabaleta tumbling near the right-hand corner of the area. David Silva is behind the free-kick, and this could be dangerous...
1708: Edin Dzeko is warming up for City. I get the feeling it won't be long until we see him introduced.
1707: Robbie Keane earns Villa a free-kick out on the left and City struggle to clear their lines. Villa have got enough big men to be a threat from set-pieces, but their delivery needs to be better when they get these opportunites.
1704: City are back on the attack immediately. Aleksandar Kolarov forces a corner and, from it, Alan Hutton has to head Vincent Kompany's header behind, with Sergio Aguero lurking.
1702: Villa get us back under way. A reminder that City will return to the top of the table if the score remains 0-0, but only on goal difference.
1701: City's players are last out for the second half. James Milner gives Pablo Zabaleta a pat on the back as they emerge from the tunnel. We've got a huge 45 minutes in the title race ahead of us.
John Hobbs on Twitter:"City need Edin Dzeko on. Putting lots of crosses in the box and nobody there to meet them. No need for 3 centre mid."
From Stevey, via text: "Villa's midfield is being completely overrun, fancy City to grab at least a couple of goals in the second half."
Liam in Cheltenham on Twitter:"Fantastic creativity, but no one on the end of it! Come City!"
Tom Robinson on Twitter: "Not exactly setting the world alight going forward, but any Villa fan would have bitten your hand off for a 0-0 at half time."
MOTD's Steve Wilson at Villa Park: "City started to go through the gears but are yet to get going at Villa Park. Adam Johnson came closest to breaking the deadlock, cutting infield from the right and striking the outside of the post. But Alex McLeish will be happy with what he's seen so far. Roberto Mancini less so."
1650: Manchester United have issued their own statement, accepting Liverpool's apologies from earlier: "Manchester United thanks Liverpool for the apologies issued following Saturday's game. Everyone at Old Trafford wants to move on from this. The history of our two great clubs is one of success and rivalry unparalleled in British football. That should be the focus in the future of all those who love the clubs."
BBC 5 live pundit Graham Taylor at Villa Park: "The game started with Manchester City in total control but there was a lift in the game when the ball was moved about much quicker. Villa responded to that and I think they've done well as City can be dangerous when they start to move the ball around."
1646: HALF-TIME Aston Villa 0-0 Man City
1645: We will have one minute of added time at Villa Park.
Mark Adamson on Twitter: "People may slate Heskey but at least he grafts for the team. Can't say the same about others in Villa's team."
1644: City come forward again, with Aleksandar Kolarov surging down the left, but his cross just eludes Sergui Aguero at the near post. The visitors' frustration continues.
1642: Aston Villa force their first corner of the game, which tells its own story. Richard Dunne, arriving late, is on the end of it but he cannot keep his header down and it loops over.
1640: Five minutes to go until the break, and Sergio Aguero is still trying - and failing - to find his range. He blasts over again.
1637: It's all hands to the pump for Villa. Emile Heskey is back defending deep in his own half, but concedes a free-kick deep in his own half. This is Aleksandar Kolarov territory, but this is not one of his better efforts. He howls in frustration after sending the ball soaring over Shay Given's bar.
1635: It's pinball time in the Villa box when Sergio Aguero gets on the end of Adam Johnson's pullback at the near post. Alan Hutton hacks clear, but Aguero's shot wasn't on target anyhow. That was excellent work by Johnson to get past Marc Albrighton down the right, but the finish was poor.
1632: Over half an hour gone and City are still bossing this game, but still waiting to make the breakthrough.
BBC 5 live pundit Graham Taylor at Villa Park: "I just feel that if City up the pace of their passing, they could really give Villa some problems. At the moment, it's just not sharp or crisp enough and they are struggling to make an impact."
Tom, a Newcastle fan, via text: "Alex McLeish is unbelievable. Stephen Ireland was their best player against Newcastle last week and he subbed him at half-time then leaves him out today! Incredible. I feel for Villa fans."
1630: David Silva and Sergio Aguero link up superbly again, and - from City's point of view - it's just a shame about the finish. Aguero's movement takes him away from James Collins on the edge of the box, but he is off balance when he shoots and skews his effort about a mile high and wide.
1628: City have upped the ante here. Even when they lose the ball, they are working so hard to get it back.
1627: WOODWORK! City take a short corner and the ball comes to Adam Johnson about 25 yards out. He checks inside and fires in a rasping low shot that beats Shay Given and comes back off the bottom of his left-hand post.
1625: Villa have plenty of men back and they are making it very difficult for City through sheer weight of numbers. That doesn't stop Sergio Aguero from wriggling away from Richard Dunne inside the area and a clever feint makes space for a shot... or a cross, even. Aguero opts for the unselfish option, but none of his team-mates are in the right place to get on the end of his pass.
1622: Villa seem happy for City to play it around in midfield, and deal with them when they advance towards their area. That approach is working so far. Roberto Mancini's men might have to be patient here.
From Ryan in Lincoln, via text: "Re Jamie Morgan on Twitter. As a Blackburn fan, I think Villa are safe. Seven points is a lot to make up and that's just to catch Villa presuming they don't collect a single point. With the run-ins of the bottom five, it's unlikely."
1619: Another low save by Shay Given, who keeps out a Gareth Barry shot which is made more difficult to deal with by the fact it flew through David Silva's legs on its way through to goal. Given gathers it well, though.
1618: Both goalkeepers are called into action in the space of a few moments. First Joe Hart has to pluck a Richard Dunne header out of the air from a Stiliyan Petrov free-kick then, at the other end, Adam Johnson plays in David Silva, who forces a low save from Shay Given.
1615: Interim England boss Stuart Pearce was at Molineux earlier, and he has hot-footed it to Villa Park for this game. He's probably not learnt a lot in the first 15 minutes, though, because this game is still extremely scrappy.
Wolves boss Mick McCarthy after his side were thrashed 5-1 by West Brom: "We got back into the game having been outplayed in the first half and started second half well, but the saddest part was we capitulated which my team don't do. Apologies all round for that to all our fans. That's not us. I've never ever apologised for our performance but I'm going to this time."
SteCufc95 on Twitter:"Don't see why Villa fans are so against McLeish, A win would put them 11th, hardly a bad position for them."
1610: Villa still haven't got going but City are not into their stride yet either. Lots of misplaced passes from both sides.
1606: City have had most of the ball so far, but Villa are keeping them at arms length - other than that Sergio Aguero shot. Villa have had one move of note themselves, involving Gary Gardner and Robbie Keane, but it came to nothing.
Jamie Morgan on Twitter:"Villa relegation candidates? Hate to say it but a defeat today and we are in a dire position."
OptaJoe on Twitter:"6 - Aston Villa are currently just one short of their longest run of PL games without a win at home (7 matches)."
1603: City are first to threaten too. David Silva is first to a James Collins header, and he neatly nods the ball to Sergio Aguero, who swivels to fire goalwards from the edge of the area. Plenty of power behind his shot too, but Shay Given is right behind it.
1600: And we're off. City get us started.
1558: And here they come. Not exactly a raucous welcome from the home fans as the two sides emerge on to the pitch, but I'm sure it won't take them long to make themselves heard. By the way, West Brom's win earlier lifted them above Villa in the table, so Alex McLeish's men are 15th, seven points clear of the drop zone.
1555: The players are in the tunnel at Villa Park. City's ex-Villa midfielders Gareth Barry and James Milner will feel right at home there.
From JK, Kingston, via text: "As a Villa fan who has tried to give McLeish a chance. I'm truly baffled by his decision to drop Ireland and N'Zog and play Heskey. Not good enough."
1552: Less than 10 minutes until kick-off at Villa Park. A reminder that Manchester City need a point to go back to the top of the Premier League. Their away form is not exactly encouraging though, with just five points from their last six games on the road.
Owain, a Wolves fan, in Portsmouth, via text: "Yes we lost 5-1, and perhaps a change in management would improve things - but who do my fellow Wolves fans expect we'll get that'll be any better than Mick McCarthy? Get behind him, he's the best we can hope for, and has done right by us."
From Caleb in Bath, via text: "Would be a great day for Stephen Ireland to rediscover the form he showed at City! Come on Villa!"
Things are looking up for West Brom boss Roy Hodgson, speaking after his side's 5-1 win over Wolves: "Peter Odemwingie got his hat-trick, he'll be happy and sometimes when a forward start scoring goals they can't stop. The win is very significant, it improves our goal difference and we have the quality at this club to start looking up the table. Last year we finished 11th with a tremendous flourish to the end of the season and I think we have the capability to do that again."
Matt, a Wolves fan, via text: "Gutted. I don't think some of the players realised how big this match was to us fans. Mick needs to install some pride in the shirt."
1541: Further to those statements from Luis Suarez and Liverpool managing director Ian Ayre, Reds boss Kenny Dalglish has also issued a statement on his club's official website: "Ian Ayre has made the Club's position absolutely clear and it is right that Luis Suarez has now apologised for what happened at Old Trafford. To be honest, I was shocked to hear that the player had not shaken hands having been told earlier in the week that he would do. But as Ian said earlier, all of us have a responsibility to represent this Club in a fit and proper manner and that applies equally to me as Liverpool manager. When I went on TV after yesterday's game I hadn't seen what had happened, but I did not conduct myself in a way befitting of a Liverpool manager during that interview and I'd like to apologise for that."
From James in Worcester, via text: "As a Villa fan, I'm seriously worried. With Robbie Keane's imminent move back to the States, we're losing our creativity. Six wins all season is worrying stuff. Let's hope Keane signs off his last game at Villa Park with a cheeky hat-trick."
From Mike Smith on Twitter:"Big day for Aston Villa seems like Alex Mcleish is swimming against the tide. A win against Man City would be a big boost."
ASTON VILLA v MAN CITY TEAM NEWS
Both teams make four changes from last week. There is no place in the Aston Villa starting line-up for Charles N'Zogbia, who clashed with McLeish last week. The Frenchman has to settle for a place on the bench, as does former City player Stephen Ireland. Instead, Gary Gardner and Emile Heskey start, with James Collins and Marc Albrighton returning from injury. Vincent Kompany returns from a knee injury to lead Manchester City out, with Pablo Zabaleta, Nigel De Jong and James Milner all restored to the starting line-up.
From Alan Stratford on Twitter:"5-1 home defeat to closest rivals, slipping back into the relegation zone. Mick McCarthy won't survive this."
West Brom's hat-trick hero Peter Odemwingie, on his side's 5-1 win over Wolves: "It was a very big result for us, a great team performance, and we know this game means a lot to our fans. The most important thing is to keep proving to our fans that although we have ups and downs we are a team that can respond to difficult situations. We need to improve our home performances and then we can finish in the top 10."
Nick from Dudley, via text: "Thanks so much Mick but that is the final straw I'm afraid."
Aston Villa v Man City line-ups
Aston Villa: Given, Hutton, Dunne, Collins, Cuellar, Petrov, Albrighton, Gardner, Keane, Bent, Heskey. Subs: Guzan, Warnock, Ireland, N'Zogbia, Bannan, Weimann, Baker.
Man City: Hart, Zabaleta, Kompany, Lescott, Kolarov, Barry, De Jong, Milner, Silva, Johnson, Aguero. Subs: Pantilimon, Richards, Pizarro, Dzeko, Savic, Nasri, Clichy.
Referee: Michael Oliver (Northumberland)
ASTON VILLA v MAN CITY (1600 GMT) MOTD's Steve Wilson at Villa Park
"Former Aston Villa manager Gerard Houllier is among the guests as his old team take on Manchester City at Villa Park. The Frenchman will be watching Robbie Keane's final home game before his loan spell expires and returns to parent club Los Angeles Galaxy. The Irishman has scored three goals in as many Premier League starts and there's no doubt Alex McLeish would love to have him back."
1525: Apologies for the technical problems on the BBC Sport website in the last few minutes, but we are up and running here now, in time for Aston Villa versus Manchester City (1600 GMT). Let's get this show on the road...
1522: A crescendo of boos meet the final whistle at Molineux. It does not get much worse than losing 5-1 at home in a local derby against your relegation rivals. A great win for West Brom, though, who must wish they can play away every week.
FULL-TIME: Wolves 1-5 West Brom
1519: There will be three minutes of stoppage time at Molineux. Lots of Wolves fans have left. The ones that haven't are probably going to let Mick McCarthy know how they feel at the final whistle.
1515: GOAL - Wolves 1-5 West Brom - Peter Odemwingie hat-trick: Wolves had sent so many men forward they were wide open at the back. West Brom take full advantage, sweeping forward on the counter-attack and teeing up Peter Odemwingie to slot home his third and the Baggies' fifth. Again, Wayne Hennessey gets something on his shot, but cannot keep it out.
1512: GOAL - Wolves 1-4 West Brom - Keith Andrews: Great work by James Morrison sees him get to the by-line down the right, and his pull-back finds Keith Andrews to slam in a low shot. It takes a slight deflection on its way in, and Wayne Hennessey gets a hand to it, but cannot keep it out. Game over... and hundreds of Wolves fans are already on their way home.
1506: SUBSTITUTION: Just before that third West Brom goal, the visitors made a change with Simon Cox on for Jerome Thomas. Do I need to tell you that the Baggies fans have been bouncing since it went in? They are making all the noise with 10 minutes left.
1503: Talk about end to end stuff. Ben Foster catches the dropping ball after it came back off the bar and launches a swift counter-attack down the right. Peter Odemwingie cuts in to give himself space and time for a shot, which beats Wayne Hennessey but is hacked off the line by Kevin Foley.
From Stuart: "Re 1430. The MD of Liverpool has apologised. Enough said. Let's move on now please."
1504: GOAL - Wolves 1-3 West Brom - Peter Odemwingie: Another West Brom corner, another goal. This time Liam Ridgewell's header is helped on by Jonas Olsson's flick and Peter Odemwingie is first to react, firing a first-time shot between Jamie O'Hara and the post. No chance for Wayne Hennessey there.
From Mark Underhill: "Liverpool have made progress today. But it's still disappointing that at no point in the last few months has there actually been an apology to Patrice Evra for the abuse he has suffered."
1502: HITS THE WOODWORK: Nenad Milijas has made a big difference to Wolves since coming on and he is involved again here, starting a move that ended with Steven Fletcher's header forcing a great stop from Ben Foster. From the resulting corner, Roger Johnson powers a header goalwards, but Youssuf Mulumbu is in the right place on the line to block it, heading it against his own bar. Great defending.
1456: Time for a Wolves change. Nenad Milijas is on for Dave Edwards. Twenty minutes left for the home side to try to rescue this game.
1451: GOAL - Wolves 1-2 West Brom - Jonas Olsson: I said before that Wayne Hennessey makes the odd error to go with some great saves, and sadly for the Wolves keeper that is exactly what happens here. He keeps out a Marc-Antoine Fortune drive with a smart near-post stop but, from the resulting corner, Gareth McAuley heads against the post and, when the home side fail to clear, Hennessey allows Jonas Olsson's snapshot to slip through his grasp and creep over the line. Jamie O'Hara was stood right next to his keeper, but I don't think he obstructed his view.
From Adam Lloyd via text: "A very carefully worded apology "from" Suarez, with no direct apology to Evra. Steps in the right direction but damage done."
1447: An hour gone and this game is still in the balance. It looks like we might see a change by Wolves here, because Sebastien Bassong is down. Has that first-half injury caught up with him?
1446: There have been so many chances in this game, it is hard to believe it is only 1-1. The Baggies have had most of them, to be fair, and this time Keith Andrews gets on the end of a corner but heads over.
1440: It's Wolves who are looking more dangerous now. Steven Fletcher almost gets on the end of a Kevin Doyle cross, and would do if not for Steven Reid's interception in front of goal. Then Fletcher sees a bouncing shot fizz just wide of Ben Foster's left-hand post.
From Steffan Ladley "Steven Fletcher is worth as much to Wolves as Robin van Persie is to Arsenal! Where would they be without him and his goals? Great player."
1442: The Baggies are having to work harder at the back, but they are still looking sharp coming forward. After another sweeping move, the ball breaks to Jerome Thomas on the edge of the box but Jamie O'Hara slides in and does enough to put him off... with Thomas blazing his first-time shot high over the bar.
1436: Free-kicks at both ends at the start of the second half. First, Jamie O'Hara's whipped cross is easily cleared by the West Brom defence, then Wayne Hennessey deals with James Morrison's clipped ball in from the right after his defence fail to clear it.
1433: KICK-OFF No changes for Wolves at the break, and we are back under way.
1432: Back to Molineux, where the second half is about to get started. West Brom have made a change - former Wolves midfielder Keith Andrews is on for Paul Scharner.
1432: More from Liverpool now. Reds managing director Ian Ayre has just released the following statement: "We are extremely disappointed Luis Suarez did not shake hands with Patrice Evra before yesterday's game. The player had told us beforehand that he would, but then chose not to do so. He was wrong to mislead us and wrong not to offer his hand to Patrice Evra. He has not only let himself down, but also Kenny Dalglish, his teammates and the club. It has been made absolutely clear to Luis Suarez that his behaviour was not acceptable. Luis Suarez has now apologised for his actions which was the right thing to do. However, all of us have a duty to behave in a responsible manner and we hope that he now understands what is expected of anyone representing Liverpool Football Club."
1421: BREAKING NEWS: Liverpool striker Luis Suarez has apologised for not shaking Patrice Evra's hand before Saturday's game at Old Trafford. Suarez told Liverpool's website: "I have spoken with the Manager since the game at Old Trafford and I realise I got things wrong. I've not only let him down, but also the Club and what it stands for and I'm sorry. I made a mistake and I regret what happened. I should have shaken Patrice Evra's hand before the game and I want to apologise for my actions. I would like to put this whole issue behind me and concentrate on playing football."
BBC 5 live summariser Tim Flowers at Molineux: "Incredible. Wolves have been outplayed but it was a brilliant strike from Steven Fletcher. Somehow, Mick McCarthy's men go into half-time on level terms. That's massive for Wolves. They can come out on the front foot and go at West Brom. The game has completely changed."
HALF-TIME - Wolves 1-1 West Brom
1416: GOAL - Wolves 1-1 West Brom - Steven Fletcher: Er, where did this come from? Kevin Doyle starts the move, and Sylvan Ebanks-Blake and Steven Fletcher combine neatly on the edge of the area before Fletcher slams his shot through a defender's legs and past Ben Foster. They have been second best for most of the first half, but Wolves are level just before the break.
1412: A couple of minutes to go until the break. West Brom are good value for their lead, and Wolves might need a rethink at the interval. Things are not happening for them at the moment.
1409: West Brom are not finished yet. Another fierce angled drive from Sylvan Ebanks-Blake, brings another solid stop from Wayne Hennessey at his near post. But the visitors are soon back on the attack again - there is no respite for the home team at the moment.
BBC 5 live summariser Tim Flowers: "That goal has been coming. Peter Odemwingie has been great off the right side. West Brom are really making their system work and running the show from the middle of the park. But for Wayne Hennessey, West Brom would be three or four up. The only thing Wolves can do is drop another body into midfield because at the moment, they can't get the ball off West Brom."
1405: GOAL - Wolves 0-1 West Brom - Peter OdemwingieWest Brom have been the better side so far, but it was always going to take something special, or lucky, to beat Wayne Hennessey. It's the latter in the end, with Peter Odemwinge having space to cut in from the right before letting fly with a shot that hits Jamie O'Hara and flies past the wrong-footed Wolves keeper, who tried to readjust but could not keep the ball out.
YELLOW CARD: Paul Scharner needs some treatment after a challenge from Jamie O'Hara, which earns the Wolves midfielder a booking. When play resumes, Wolves come forward with Sylvan Ebanks-Blake, who embarks on a mazy run across the edge of the area but sees his eventual shot deflected behind.
From Tokunbo "Are the Wolverhampton Wanderers sleeping? It's a derby and they are at home yet everything they do seems laboured."
1354: It is West Brom versus Wayne Hennessey at the moment, though. Marc-Antoine Fortune nicks the ball off Sebastien Bassong about 30 yards out and the ball is played to Paul Scharner, who brings another magnificent stop from the Welsh keeper with a deflected shot. I think Bassong is injured, but he is trying to carry on.
1352: West Brom want a foul when Dave Edwards chops down Jerome Thomas but they don't get one and Wolves come forward, forcing two corners and putting the Baggies under a bit of pressure for the first time.
1348: They have been on the back foot so far, but Wolves have just had two penalty shouts in quick succession. There is nothing in the first one, because Dave Edwards was off balance when he stumbled into the area unchallenged. But they definitely have cause for complaint a few moments later when Sylvan Ebanks-Blake chases a chipped ball into the area, because Baggies defender Gareth McAuley definitely nudges him over at the vital moment. Nothing given.
1344: West Brom are still looking most likely, but they are yet to turn their possession into a goal. A clever turn by Marc-Antoine Fortune gives him space to shoot on the edge of the area, but his curling, bouncing shot does not cause Wayne Hennessey too many problems. Still 0-0, after 15 minutes.
1342: Hmmmm. Wolves keeper Wayne Hennessey makes some great saves, but is known to make the odd howler too. Maybe that's why Steven Reid has a pop from 35 yards out as his side come forward again... but Hennessey is happy to see his wild effort soar about 10 miles over his crossbar.
1340: West Brom are soon back on the attack, though. Marc-Antoine Fortune cuts in from the right and his angled cross-shot only just eludes Paul Scharner, arriving late in the area. The ball trundles wide of the far post, and Wolves breathe again.
1339: Better by Wolves. At last Matt Jarvis gets on the ball and gets down the right wing, and he does enough to earn a corner. The Baggies get a bit of a break as they attempt to clear, with Peter Odemwingie clearly handling the bouncing ball on the edge of his own area, but referee Lee Mason waves play on.
From Graham Frame "Re Matt Farr. Yes it is as long ago as Fulham!" (Man City beat Fulham 3-0 last Saturday).
1334: No question who has made the brighter start here - it's the Baggies. Wolves keeper Wayne Hennessey was forced into action again to clear the danger from the resulting corner, and Jerome Thomas has just fizzed a low shot wide from the edge of the area.
1333: West Brom take about 60 seconds to fashion a fantastic chance. Peter Odemwingie's ball is intercepted by Sebastien Bassong inside the area, but Bassong inadvertently plays in Jerome Thomas in front of goal and his close range shot forces a brilliant and instinctive block by Wayne Hennessey.
KICK-OFF: The Black Country derby is now under way. As expected, Wolves are playing 4-4-2, with Kevin Doyle on the right of midfield.
1331: The new England manager is in the crowd at Molineux. No, not Harry Redknapp, but Stuart Pearce... who will take charge of the friendly against the Netherlands at Wembley at the end of this month.
1329: The players emerge on to the pitch to a cacophony of cheers and jeers. This one is going to be pretty lively, I suspect. But what else do you expect from a fierce local derby doubling up as a vital relegation clash?
Wolves boss Mick McCarthy on today's Black Country derby: "It's vital for the fans. We want to pick up points for the players and club but it's about bragging rights for our fans and we understand how important this result is for them."
1327: West Brom boss Roy Hodgson, speaking just before kick-off: "It's been a strange season. Without playing badly at home we've not taken points, but sometimes we've got that luck on the road. We've got 14 games left, we have to keep going and we need to produce 14 good performances. We would like nothing more than to win today and put some distance between ourselves and the bottom three."
1326: Kick-off at Molineux is just five minutes away and the players are waiting in the tunnel. Wolves skipper Roger Johnson and his keeper Wayne Hennessey are all smiles after exchanging a pre-match joke, and we are almost good to go.
1318: Today is a very big day for Roy Hodgson, and his Wolves counterpart Mick McCarthy too. Both teams are above the Premier League relegation zone, but not by much - and it could be that a positive or negative result today sets the tone for the rest of the season. They both need a win, and badly.
From Malcolm in Croydon via text: "Our beautiful game has been in existence for over 100 years and survived for the best part of that without this ludicrous hand shaking ritual at the start - which counts for nothing. Play hard and fair and shake your opponents hand after if you want and don't if you don't want to. Then we could all just talk about the game which would be great."
1314: On Saturday, it was a year to the day that Roy Hodgson took charge at The Hawthorns, replacing Roberto di Matteo in the hotseat. We chose to illustrate his appointment with a shot of Hodgson absolutely soaking wet in his suit. I'm not really sure why, either.
From Matt Farr "Man City need a solid performance today to get back on top, its been a while since we put 3 or 4 past a team - hope it's today!"
Wolves opt for an attacking line-up with Kevin Doyle restored to the starting line-up having scored the winner after coming off the bench against QPR last Saturday. Fellow striker Sylvan Ebanks-Blake is also included so the injured Emmanuel Frimpong and Richard Stearman - who is on the bench - miss out. West Brom also make two changes from their last match. Liam Ridgewell is handed his debut in defence in place of Nicky Shorey and Paul Scharner comes into the midfield in place of Graeme Dorrans.
Wolverhampton: Hennessey, Foley, Johnson, Bassong, Ward, Doyle, Edwards, O'Hara, Jarvis, Ebanks-Blake, Fletcher. Subs: De Vries, Stearman, Hunt, Berra, Hammill, Milijas, Jonsson.
West Brom: Foster, Reid, McAuley, Olsson, Ridgewell, Odemwingie, Morrison, Scharner, Mulumbu, Thomas, Fortune. Subs: Fulop, Tchoyi, Andrews, Long, Dorrans, Jones, Cox.
Referee: Lee Mason (Lancashire)
From Joe Smith: "I think today is massive for all 4 clubs. City will want to go top, Alex McLeish will want Villa to convince the fans they can compete with the 'bigger' clubs and as for Albion and Wolves, a point isn't good enough for either. It's a case of 'he who dares, wins'."
Is it just me who is picturing Del Boy giving a pre-match team-talk and wants to add 'Rodders' to the end of that text... ?
Wolves v West Brom (1330 GMT): Wolves manager Mick McCarthy hopes striker Kevin Doyle's winner at QPR will signal a return to form. "He looked back at it, powerful and skilful. He is a classy player and that is permanent. He lost his form a bit but came back with a bang and was excellent." West Bromwich Albion have gained 18 of their 26 Premier League points away from home but boss Roy Hodgson wants that to change. "It shouldn't be a relief to be playing at Molineux," he said. "It will be very dangerous if we think we're so good away that we don't need The Hawthorns."
From Haydn via text: "I'd like to talk about football personally. Today is a big game for the Villa who really need to step up! The days of footballers setting an example in moral standards has sadly passed."
1256: And here's former Liverpool boss Gerard Houllier's thoughts on yesterday's events at Old Trafford too: "I regret what happened because it would have been a good opportunity to put everything to bed. It created some tension, I was at the game and I could feel it, the atmosphere was a bit toxic but at the same time I am a bit disappointed because it overshadowed the quality of the game. It was a good game of football between two good sides. I am not pleased because we should talk about the football and the quality of the game but instead we are talking about what Luis Suarez did or didn't do."
1255: More thoughts on pre-match handshakes now, this time from David Dein, the former Arsenal and FA vice-chairman: "Handshakes should be respected. Football first and foremost is a sport and sporting conduct has to be encouraged. What happened was unfortunate and an embarrassment. All clubs sign up to Fifa and Uefa's Fair Play and anti-racism campaigns and they have got to be respected. Sport is paramount here and players have to respect that. They are role models to youngsters."
From Joe Farley "Three strikers in the starting line-up for Wolves? I think Mick wants to win this game!"
I think Wolves will still play 4-4-2, even with Doyle, Ebanks-Blake and Fletcher in the side, but we will find out shortly...
1252: Wolves v West BromBREAKING: Liam Ridgewell makes his debut at left-back for West Brom, and striker Shane Long is on the bench after recovering from chest and back pains. Full line-ups with you in a tick.
1250: BREAKING: Kevin Doyle and Sylvan Ebanks-Blake both start for Wolves in an attacking line-up, which also includes Steven Fletcher.
1247: Here's former FA chief executive Mark Palios, speaking earlier on BBC Radio 5 live's Sportsweek, on the future of pre-match handshakes: "It's clearly symbolic and its symbolism has its place in the game. From a player's perspective it's very difficult to shake someone's hand if you don't want to. But players have a responsibility to their club and to the wider interests of the game and it's disappointing if he had agreed to shake his hand. I think if it can cause more problems in a particular circumstance, it's right for the clubs to dispense with it."
From K.Soyinka "I agree Suarez's refusal to shake hands was a no brainer, but Evra's reaction was equally unnecessary."
From Phillip Meng "The whole Suarez-Evra thing is a lot of hot air. The two just don't like each other. Ferguson and media have just inflamed it."
MOTD's Steve Bower at Molineux: "Wolves could have been heading into the 146th Black Country league derby without a win in 10 Premier League matches and must have feared the worse when they fell behind against QPR last Saturday. But the response and three points visibly lifted everybody, not least under-pressure manager Mick McCarthy. West Brom, who lost 2-1 at home to Swansea last time out, may be relieved that the clash is at Molineux given that 18 of their 26 points so far have been earned on their travels. The Baggies can go eight points clear of the Premier League drop zone with a victory."
From Dave Worley "This is such a huge game for both clubs, if it wasn't tasty enough for us already in the Black Country!"
Claire Axton, a Manchester City fan, via text: "Re 1230. Always nervous playing against Robbie Keane or Darren Bent and today it's both! Hoping for 3-2 win for City."
1239: By the way, the Football Association says it has no intention of abandoning handshakes before matches after Luis Suarez refused Patrice Evra's hand before Manchester United's victory over Liverpool on Saturday. The FA would not tend to sanction anyone for refusing a handshake but urged that football as a whole needs to take responsibility for its actions in line with the FA's respect campaign. FA added they would await referee Phil Dowd's report before looking into the matter, the half-time confrontations and Patrice Evra's post-match celebrations, if it were needed.
From Chris Gibson via text: "Re 1230. Hi Chris, looking forward to the Black Country derby. Jamie O'Hara back in the frame - he will make a difference and that will drag the Baggies into the mire."
1230: As ever, I want your thoughts too. Is there an easy way to end the whole Suarez-Evra saga? Because, let's face it, whoever's side you are on, we all want it to end - and quickly - right? Let's talk football too: How will Wolves versus West Brom affect the bottom of the Premier League table, and will Manchester City get the point they need against Aston Villa to return to the top? Let me know by Tweeting @chrisbevan_bbc using the hashtag #bbcfootball or texting us on 81111 (UK). Make sure YOU PUT YOUR NAME on those texts though.
1223: Yep, there's been heaps of reaction to that Luis Suarez snub, including Sir Alex Ferguson calling the Uruguyan striker "a disgrace" and Liverpool boss Kenny Dalglish saying it was "bang out of order" to only blame the 25-year-old. It leaves us with plenty of questions too. As our chief football writer Phil McNulty asks in his blog, "if the intention was to draw a line under this affair, Suarez's actions torpedoed it and Liverpool were once again left to deal with the fall-out. How will Liverpool's American owners - still silent on the other side of the Atlantic - feel about Suarez once again acting in a manner that has caused their club to be portrayed in an unflattering light?"
1219: Afternoon all. I get the feeling we could fill a whole day up just talking about Luis Suarez, Patrice Evra and the handshake that never was, but we actually have some football going on in the next few hours too. We start with a Black Country derby, stop off at Villa Park and end in Gabon, for the final of the Africa Cup of Nations. Welcome aboard, and I hope you enjoy your trip.