Paul Heffernan backs Kilmarnock manager Kenny Shiels
Last updated on .From the section Football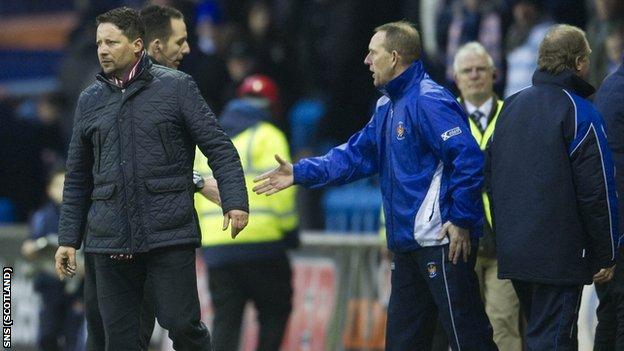 Paul Heffernan insists Kilmarnock's players are 100% behind Kenny Shiels despite assistant Jimmy Nicholl admitting he had advised the manager to tone down criticism of opponents.
Hearts manager Paulo Sergio refused to shake Shiels' hand on Saturday after his counterparts' comments ahead of the 1-1 draw at Rugby Park.
Sergio claimed that Kilmarnock players were also unhappy with their boss.
"I have no idea where he got that from," said Killie striker Heffernan.
"The players are 100% behind what the gaffer is trying to do here.
"I think the manager calls it as he sees it, not just to the press but to the players as well.
"If he isn't happy with something he will tell you.
"I don't mind it personally and I am sure none of the lads do either."
Shiels had suggested that Sergio should have resigned after Hearts owner Vladimir Romanov ruled that he could not pick goalkeeper Marian Kello because of a contract dispute.
It led to Sergio branding Shiels "a clown" ahead of Saturday's match and refusing handshakes before and after Heffernan's opening goal was cancelled out by Suso's last-minute equaliser.
Shiels had also recently angered Brian Reid by criticising the Ayr United manager's tactics in their Scottish Communities League Cup semi-final.
Assistant Nicholl was sent out to talk to the media after the draw with Hearts and hinted that his fellow Northern Irishman was realising he had to be more diplomatic.
"The manager will say to me every Monday, 'oh Jimmy, I've opened my mouth again'," Nicholl told BBC Scotland.
"And I keep saying to him 'you've got to watch'.
"He just says what he thinks and his mind goes off all different directions every day of the week.
"But I think he realises now you've got to watch. You've got to respect people in the game and not interfere with other peoples' problems at other clubs.
"As for the hands shakes or lack of them before and after the game, well, the manager said something, Paulo doesn't agree with it, so you don't expect Paulo to come and be all lovey dovey."
Nicholl admitted that there other managers who had angered him in the past, "But that's it, you have handshakes after the game and you get on with it.
"You don't have to be friends, but if Paulo feels like that, I can understand it."
Prior to kick-off, Shiels himself had suggested that his comments should not be taken so seriously.
"The problem is that, when I was at school, I was a wind-up merchant and the people I target are people without a sense of humour, people who are self-indulgent, the Victor Meldrews of this world," he told BBC Scotland.
"There's no way I want to fall out with people. If you know me, you would just take it as a bit of banter."
However, Shiels suggested that it was Sergio who had not shown him respect and not the other way about.
"I haven't done anything wrong," said the Kilmarnock manager, who stressed that he had walked out of a previous job with Coleraine when the chairman attempted to meddle in team affairs.
"I didn't say anything bad about Paulo. He is just a different person from me and I'm sure he is a great guy. He has taken the bait."