Africa Cup of Nations final as it happened
Last updated on .From the section Football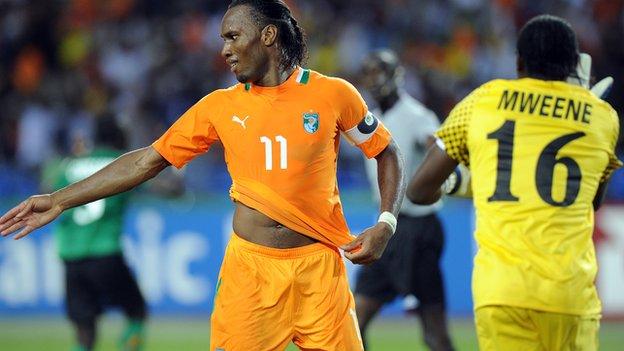 FINAL SCORE: ZAMBIA 0-0 IVORY COAST AET (ZAMBIA WIN 8-7 ON PENALTIES)
PLEASE MANUALLY REFRESH THIS PAGE
All times in GMT
GET INVOLVED: Tweet me @chrisbevan_bbc using the hashtag #bbcfootball or text me on 81111 (UK) or +44 77 86 20 20 08 (international). Make sure YOU PUT YOUR NAME on those texts though.
By Chris Bevan
2240: Time for me to bid you farewell. It's been a night to remember for Zambia, and one to forget for Ivory Coast. Thanks for keeping me company over the last few hours, through the 90 minutes, extra-time and then a memorable penalty shoot-out which ended with Zambia being crowned champions of Africa for the first time.
Abraham Keita, Dallas, Texas, via text: "I said it and it has happened. Great Zambia, they deserved it."
Musa, Mumbwa, Zambia, via text: "People here have gone mad. We've waited for too long."
Harry, Espoo, Finland, via text: "The best thing to happen to Zambia in soccer history. Proudly Zambian, I'll never forget this. Never judge a book just by looking at the cover."
2234: The celebrations have only just started for Zambia. They are about to get their hands on the trophy, which is being delivered by some tribal dancers.
Anonymous texter in UK: "This was Zambia's destiny to win this game."
Dentu, NY, USA, via text: "This is a shocking result for the Africa Cup of Nations and today ends the big names in predictions."
Makariu Lalika, a Tanzanian in Antwerp Belgium, via text: "Congratulations to the Zambians. But as a Chelsea fan I feel sorry for Drogba, who will retire now I guess."
Everton midfielder Tim Cahill on Twitter: "Congratulations to Zambia what an amazing football story."
Arsenal midfielder Jack Wilshere on Twitter:"Congratulations to Zambia! Bet it is crazy over there now! Let the party begin....feel sorry for Gervinho though!"
2228: An incredible end to an incredibly uneventful match.I thought that shootout would never end.
2227: There were 18 penalties, 15 were scored. At the end of it all, Zambia are African champions for the first time.
2226: ZAMBIA WIN THE 2012 AFRICA CUP OF NATIONS
Ivory Coast 7-8 Zambia (Stoppila Sunzu fires home)
Ivory Coast 7-7 Zambia (Gervinho blazes high and wide)
2224: And so we go on...
Ivory Coast 7-7 Zambia (If Rainford Kalaba scores, Zambia win. He blasts over)
Ivory Coast 7-7 Zambia (Kolo Toure takes a long, long run-up and is denied by Kennedy Mweene, diving to his left)
Ivory Coast 7-7 Zambia (Chisamba Lungu sends keeper the wrong way, then taunts him. Unbelievable stuff)
Ivory Coast 7-6 Zambia (Didier Ya Konan slams home)
Ivory Coast 6-6 Zambia (Nathan Sinkala finds the top corner, just)
Ivory Coast 6-5 Zambia (Siaka Tiene fires high into the net)
Ivory Coast 5-5 Zambia (keeper Kennedy Mweene, cool as you like, rolls it home. Wow!)
Ivory Coast 5-4 Zambia (Didier Drogba takes a two-step run-up and slams home. Brave boy)
Ivory Coast 4-4 Zambia (Felix Katongo fires into the top corner)
Ivory Coast 4-3 Zambia (Max Gradel sends keeper wrong way)
Ivory Coast 3-3 Zambia (Isaac Chansa sends keeper wrong way)
Ivory Coast 3-2 Zambia (Souleyman Bamba slams high into the net)
2212: It's a retake. Mweene is adjudged to have moved off his line too soon.
Ivory Coast 2-2 Zambia (Souleyman Bamba saved by Kennedy Mweene)
Ivory Coast 2-2 Zambia (Emmanuel Mayuka fires high into the net)
Ivory Coast 2-1 Zambia (Wilfried Bony slams home)
Ivory Coast 1-1 Zambia (Chris Katongo hesitates then coolly slots into the corner)
Ivory Coast 1-0 Zambia (Cheik Tiote sends the keeper the wrong way)
2209: Ivory Coast to go first...
2208: Here we go. The penalty shootout that will decide the Africa Cup of Nations final is about to get under way.
2207: Zambia keeper Kennedy Mweene and his Ivorian counterpart Boubacar Barry have both had nights to remember. But only one of them will emerge a hero from this shoot-out? Which one?
Harry, South Africa, via text: "Zambia, you are to the Africa Cup of Nations 2012 what Ghana was to World Cup 2010. Go Zambia, go, go, go!!"
Adebayo Damilola on Twitter:"Ivory Coast with this "golden generation" would be a failure if they don't win this."
Youssef, USA, via text: "I think that Zambia have gone too far to lose it now. They will win on penalties and deliver an upset that will never be forgotten."
Finn Hipkin in Sydney on Twitter:"I bet Drogba is nervous at the prospect of penalty number 2!"
Well, at least it can't be any worse than penalty number one... surely?
2203: Ivory Coast have now gone through the entire competition without conceding a goal. But will they end it as champions? Will they.... ? We will find out soon enough.
2202: FULL-TIME AET Ivory Coast 0-0 Zambia (Penalty shoot-out to follow)
2201: There will be two minutes of stoppage time at the end of extra-time. But it is almost up...
2200: Zambia coach Herve Renard is going bonkers on the sidelines, yelling at Emmanuel Mayuka to stay onside. He strikes me as being quite an intense manager to play under.
Bigsam Nnaji, Nigeria, via text: "Just a bit of magic from the Premier League boys will end this. Come on Ivory Coast. Come on!"
2159: Kennedy Mweene is fine to continue. We are into the 120th minute.
2158: An escape for Kennedy Mweene, who comes rushing from his line to punch clear a flicked ball into the area. He takes out Gervinho at the same time, and is hurt in the process too. Max Gradel tries to get on the end of the loose ball but Zambia hoof it clear.
2156: We are into the last five minutes of extra-time, and a penalty shoot-out is looming on the horizon.
2156: Tense times at Stade de l'Amitie, but still no goals. Both teams are still trying, mind. Zambia's Rainford Kalaba lets fly from about 30 yards out and sends his shot fizzing over the bar.
Enoch, Malawian in Calgary, Canada, via text: "Judging by the way this game has gone, Zambia deserve to win it."
Bravo, Namibia, via text: "Brilliant Chipolopolo. Who would have thought you would take Ivory Coast to extra-time? Great football from Zambia. The Ivorians are nervous. Whatever the result, the Chipolopolo will always be the team to beat. Go Chipolopolo, go!"
From Jack, via text: "Zambia a credit to themselves. If they get to penalties, I would fancy them as all the pressure would be on the Ivorians to win."
2152: This is good pressure from the Ivorians but can they make it count? Not this time, they can't. Cheik Tiote's deflected shot falls into Gervinho's path but Kennedy Mweene is off his line quickly to block. The flag is up so it won't count anyway.
2151: Max Gradel has been full of running tonight and he is sending over some dangerous crosses too. It's just a shame for Ivory Coast that there is no-one in the area to get on the end of them.
Mohammed, India, via text: "Absolutely gutted they are not showing the final here in India. All the people back home in Zambia really need this win, as they will have a public holiday tomorrow if they do!"
2149: Zambia's turn to attack. Rainford Kalaba picks the ball up 30 yards from goal and takes on the Ivorian defence single-handedly. He does pretty well too, forcing his way to the right by-line before Souleyman Bamba blocks his attemped pull-back. Good defending.
2146: Next goal wins now, I think. Or, if you prefer, first goal wins. Didier Ya Conan has a pop at being the hero, with a decent effort from the edge of the box. Kennedy Mweene watches it curl over the bar. That was probably a bit closer than the Zambia keeper first thought.
Josiah, Abuja, Nigeria, via text: "I can't believe my eyes! What a good display from the Zambians. The underdogs are about to lift the trophy."
Chris Chipolomoka, Ndola, Zambia, via text: "I don't think the game will go as far as penalties. Zambia will win by a 1-0 scoreline."
Olusegun Motunrayo on Twitter:"Even if Zambia lose this match, they will surely leave with their heads held up high. I'm still rooting for them."
Sam Singh, a Zambian supporter in Thailand, via text: "Stuck here without TV coverage, sleepless and relying only on BBC website. The Chipolopolo must win! Come on Zambia, create football history and show the world how this great sport can humble giants."
2144: HALF-TIME IN EXTRA-TIME Ivory Coast 0-0 Zambia
2142: It's getting very edgy out there now. Cheik Tiote concedes a free-kick about 30 yards out, and Isaac Chansa is behind it. His shot fails to beat the Ivory Coast wall, though, and we are near the end of the first period of extra-time.
2138: Nathan Sinkala tries his luck for Zambia, from 25 yards out. The ball swerves away from, rather than towards the goal. At the other end, Kennedy Mweene comes racing a long way out of his area to clear a bouncing ball. Coolly done in the end.
2137: We are into the 100th minute of this Africa Cup of Nations final. And still we await a goal.
Silvergate, Abia, southern Nigeria, via text: "I wish Drogba good luck and victory tonight, in extra-time."
Oc Anwuri, UK, via text: "Sheer industry from the Bullets. If football was fair to these unsung players, they would have their hands on that trophy."
Ieuan Yusef-George on Twitter:"Zambia doing themselves proud with an energetic and gutsy performance from the underdogs. Ivory Coast need to show their quality."
Olumide Ogunlana, Lagos, Nigeria, via text: "The Zambian team have proved to be a disciplined side with a very good coach. I won't be surprise if they carry the day."
2134: WOODWORK! Speaking of keepers, Boubacar Barry has just played a blinder at the other end to deny Zambia a goal after the Katongo brothers combined to (almost) lethal effect. Chris surges forward down the right and his low cross finds Felix, arriving at pace at the near post. It should be a goal. And it would be if not for Barry's studs. The Ivorian keeper sticks out a leg to turn the ball on to the post and wide. So close, but a great stop.
2130: A sniff for Didier Drogba as Ivory Coast break clear but Kennedy Mweene is off his line quickly to snaffle the ball and snuffle out the danger. Mweene does well to gobble up a looping Gervinho cross a few moments later too.
Joel Atkin on Twitter:"If Ivory Coast lose this they only, unfortunately, have Didier Drogba to blame."
2127: Right then. Zambia get the first period of extra-time under way.
BBC Sport's Nick Cavell in the Stade De l'Amitie: "This scoreline is probably a surprise for many neutrals, who won't know too much about Zambia. But those who have been following this tournament won't be as shocked. Mali captain Cedric Kante told me yesterday after winning the third place play-off match that the final would go to extra-time and he predicted Ivory Coast to win on penalties!"
2123: So, are we going to get a winner in extra-time, or are penalties inevitable? Wonder if Didier Drogba will volunteer to take one if we do need a shootout, after his horrific miss from the spot during the second-half.
Zot, a Malawian in Vancouver, Canada, via text: "Cheering for my neighbours tonight. Bring back the Cup, Bullets!"
Ogee, Glasgow, UK, via text: "I just hope Ivory Coast don't suffer the same fate as Ghana did at the hands of Zambia, after Gyan missed a penalty. Drogba would go from hero to zero. Just ask Gyan. He couldn't even fly back home with the rest of the squad."
Mustapha Yahaya, Sokoto, Nigeria, via text: "This final and the whole tournament has shown that there are no more minnows in African football. May the best team win."
2122: FULL-TIME Ivory Coast 0-0 Zambia (Extra-time to follow)
2120: These are tense times, especially in the Zambia penalty area when Max Gradel sends in a corner. Gervinho takes a swing at it at the near post but he is denied, and actually injured, by Kennedy Mweene's brave block. The Zambia keeper dived at his feet.
2118: Cheik Tiote chips a ball into the Zambia area but Kennedy Mweene is off his line quickly to collect. He launches a quick attack up the other end, which ends with Kolo Toure getting back to get in a crucial foot to stop Emmanuel Mayuka, charging on to Isaac Chansa's delightful ball, from getting a shot away.
2116: The 90 minutes are up. There will be four minutes of stoppage time. Barring a winner now, we are heading for 30 minutes of extra-time too.
BBC Sport's Nick Cavell in the Stade De l'Amitie: "The volunteers are still hopeful this will be settled in 90 minutes. They are bringing the podium for the awarding of the medals and trophy on to the running track by the pitch."
2115: Ivory Coast go close to answering my question instantly. This is almost Max Gradel's big moment. Almost. He does well to feint and make space for a shot from Wilfried Bony's knockdown in the Zambia box, but ends up dragging his shot wide.
2113: Yaya Toure is coming off for Ivory Coast, to be replaced by Wilfried Bony. Roberto Mancini will want him on a plane back to Manchester straight away. We are into the 88th minute. Who wants this the most?
BBC World Service's Farayi Mungazi: "Drogba's penalty would have made New Zealand rugby fly-half Dan Carter green with envy! Shocking."
Angus, Nigeria, via text: "Gyan missed a penalty against Zambia and they lost that game. Now Drogba has missed a penalty, I see them losing this game as well."
2109: Zambia haven't really done a lot of late, but they have just had a pot-shot from about 30 yards out, with Chisamba Lungu sending the ball swerving about a mile wide. Ivory Coast keeper Boubacar Barry decides to dive for it anyway.
Jasper Gogo on Twitter:"The way this is going, I won't be surprised if it gets to extra time. Then experience might count - 1-0 Ivory Coast.
2107: Ivory Coast coach Francois Zahoui is looking increasingly anxious on the sidelines, and has removed his baseball cap.The tension is getting to everyone as we enter the last 10 minutes of the 90. Extra-time is looming now. If we don't get a goal, after that comes penalties, in case you didn't know...
Chris Quail on Twitter: "Unbelievable! Pressure of the final getting to Drogba? Kept pointing to the spot, but more out of dismay. Game on!"
Bhaven, USA, via text: "I'm happy because my Zambian boys are holding the heavily talented and formidable Ivorians so far. We are not walkovers!"
BBC Sport's Nick Cavell in the Stade De l'Amitie: "Another handshake rejected. Mweene went to slap the hand of Drogba after the penalty miss and the Chelsea striker whips his hand away before pointing at the spot to complain about a divot maybe?"
2105: Didier Ya Konan does not take long to get involved, and not in a good way. He leaps to meet Yaya Toure's curling free-kick into the Zambia box but only succeeds in taking the ball off the head of Didier Drogba, who is arching his back in anticipation of meeting it.
2102: Zambia choose to substitute their substitute, bringing on Felix Katongo for Nyambe Mulenge. And Ivory Coast are making a change too - Didier Zokora is being replaced by Didier Ya Konan.
Manchester United forward Wayne Rooney on Twitter:"Wow just seen Drogba's pen. Awful. He is a great player though. I think he will score winner."
2059: So, less than 20 minutes left, and still 0-0. I haven't seen a penalty missed by that margin for a long time.
BBC Sport's Nick Cavell in the Stade De l'Amitie: "Salomon Kalou not happy at being substituted. He was also not happy at being left out of the starting line-up for the quarter-final. He was one of the first on the team bus after the win over Equatorial Guinea, along with Tiote who also didn't start. The duo had to be persuaded to go back by officials and head to the bus with the rest of the team."
2057: MISSED PENALTY by Didier Drogba
What a miss. It's a real shocker. Didier Drogba leans back and blasts it about 10 miles over. He is looking at the ground, blaming the penalty spot, but that was just down to him. Zambia keeper Kennedy Mweene runs past him, waving his hands in Drogba's face in glee.
2056: A long wait before Didier Drogba takes this penalty...
2055: PENALTY to Ivory Coast
Gervinho was bundled over as he ran into the box. Is he inside or outside when Isaac Chansa barges him in the back? It's a close call.
2053: Rainford Kalaba is behind it, and goes for goal... but his shot is too high to trouble Ivory Coast keeper Boubacar Barry, and soars over the bar.
2052: Another booking for an Ivorioan player. Souleyman Bamba is shown a yellow card for dissent by referee Badara Diatta, after conceding a free-kick about 30 yards out.
2051: Time for Ivory Coast's first change, with 25 minutes to go. St Etienne's Max Gradel, formerly of Leeds and Leicester is on, replacing Chelsea's Salomon Kalou.
2050: Cheik Tiote get shown a yellow card for what can only be described as a wrestling move on Nyambe Mulenga - his bodycheck long after the ball has gone sends the Zambia defender tumbling to the ground.
2049: This is a good spell by Zambia. Emmanuel Mayuka breaks down the right and sends over a dangerous low cross that Jean-Jacques Gosso Gosso has to cut out at the far post.
2048: Zambia are persevering with their short-corner routine, and almost catch out Ivory Coast again. Their next corner is a more traditional cross into the box, which Cheik Tiote fails to deal with, heading the ball across his own goal rather than out of the danger zone.
2045: The game is very stretched at the moment but there is a real lack of quality in the final third from both teams. End to end stuff, but without any end product.
Joe in Los Angeles, USA, via text: "I think Ivory Coast will nick it with a late Gervinho goal. It would do wonders for his form at Arsenal."
Ibrahim Muazu Danmusa, Katsina, Nigeria, via text: "Like I predicted, Zambia are giving the Ivorians a run for their money. Who knows? They might win the Cup. The Ivorians remain the favourites but anything can happen."
2040: And Ivory Coast will get another chance to put the ball in the danger zone here, when Souleyman Bamba is chopped down by Nathan Sinkala about 30 yards out. Cheik Tiote clips it into the area, but it is flicked on beyond Yaya Toure, who is arriving at the far post.
2036: Gervinho has got forward well down the right a couple of times already, breezing past Nyambe Mulenga as if he wasn't there. He pokes the ball into the side-netting first time around but almost finds Didier Drogba at the near post with his next cross.
Inam on Twitter:"Brilliant team play so far by Zambia, keeping big Premier League stars at bay so far. Come on Zambia!"
2033: Didier Drogba hits the deck within seconds of the game resuming, after a clash of heads with Zambia substitute Nyambe Mulenga. He is back on his feet now, but he does look a bit groggy.
Gale, South Sudan, via text: "It is time for the Elephants to start showing their might in this final."
2032: The second half is under way in Libreville.
Cyrus Kimata on Twitter: "Well organized football here by Zambia. The only team that's managed to contain Drogba and his prowess!"
BBC Sport's Nick Cavell in the Stade De l'Amitie: "Both sides playing as they have been at this tournament - Ivory Coast's Sol Bamba said earlier in the tournament their philosophy is to keep a clean sheet and then use the attacking power to score the goals. Zambia tried to sit back in their final group game against Equatorial Guinea and looked very uncomfortable and since then have tried to push forward as they are doing today. Both sides had good chances to score, Yaya Toure especially will wonder how he missed. Great moment from Didier Drogba as he comforted the injured Zambian player Joseph Musonda as he went off early. This was his 100th cap - no wonder he was in tears."
2025: The good news for African football fans, and bad news for Premier League managers is that there will be another Africa Cup of Nations in 2013 too. The championships are usually held every two years, but they are being switched to odd years from next year onwards, when South Africa will be the hosts. The 2015 finals are in Morocco by the way.
BBC Sport's Nick Cavell in the Stade De l'Amitie: "Is it just me or does it always look a little strange to wear a baseball cap with a suit, as Ivory Coast coach Francois Zahoui has chosen?! And if Zambia Herve Renard's white shirt is lucky, surely the same should be said for Zahoui's bright orange tie."
Nisan Nkhata, Ndola, Zambia, via text: "I believe and I will always believe that with the football history Zambia have, they deserve to win this match."
Steve Smith on Twitter: "Delighted by Drogba's show of sportsmanship tonight. I hope that gets a big mention in the press tomorrow... "
Ifeoluwa Owolabi on Twitter:"African football at its best! Zambians are highly motivated. Ivorians will have to raise their game! Loving this."
Peter Mulomba, Kitwe, Zambia, via text: "It's one of those days when it feels so good to be identified by your country. Bravo Chipolopolo, Bravo Zambia."
Josepz on the Isle of Wight, via text: "What a way Zambia have come! Next stop, World Cup qualification!"
2018: HALF-TIME SNAPSHOT: A decent start by Zambia but Ivory Coast are in the driving seat now. This looks as much a test of their will as their quality in the second half.
2017: HALF-TIME Ivory Coast 0-0 Zambia
2016: Didier Drogba has a pot-shot from outside the area, which deflects wide for a corner. Ivory Coast defender Souleyman Bamba feels his shirt is being pulled as he tries to get on the end of it, but referee Badara Diatta gives the decision the other way.
2015: There will be two minutes of stoppage time at the end of the first half.
Yatuba, an Ethiopian in Ronneby, Sweden, via text: "It is my sincere wish that Ivory Coast win this match. Didier Drogba needs it."
Uche Obi, Grand Cayman, Cayman Islands via text: "Zambia look like the better team and are playing the better football."
2013: A bit of a delay at Stade de l'Amitie because Jean-Jacques Gosso Gossohas been hurt in a challenge byIsaac Chansa and needs treatment. We are back under way now, though.
2011: Into the final five minutes of the first half. By the looks of things, Ivorian coach Francois Zahoui is going to give his side the hairdryer treatment at the break. They have been largely lethargic so far.
BBC Sport's Nick Cavell in the Stade De l'Amitie: "Both sides are playing the way they have been most comfortable with throughout the tournament. Zambia are pushing forward and Ivory Coast are soaking up the pressure and breaking on the counter attack. You get the impression that a lot of the neutrals here are backing Zambia, judging by the huge cheers every time they go forward. But it might also be Ivorian fans cheering their team's defending!"
2008: At the other end, Gervinho manages to get a shot away under pressure as Ivory Coast break quickly, but it does not trouble Zambia keeper Kennedy Mweene. Mweene is involved again moments later, dashing from his line to collect a high ball on the edge of the box and almost skidding out of his area on the wet turf while he has hold of the ball. He stays inside, just about, and he and Didier Drogba both see the funny side.
2006: Zambia coach Herve Renard is continuously shouting "Mayuka", although I'm not sure whether he is trying to gee up his striker Emmanuel Mayuka, or telling the rest of his players to pass to him. Anyway, play continues, and Chris Katongo sends over a delicious cross from the right, which Kolo Toure has to head clear.
Remi, Daventry, UK, via text: "I thought the Zambians would park the bus and rely on counter attacks today. They have been fantastic so far. I still think Ivory Coast will win 2-1, though."
Felix, USA, via text: "If anyone deserves to hoist that cup today it is [Zambian FA president] Kalusha Bwalya. Go Zambia!"
2002: Not Chris Katongo's finest moment this, as he is penalised for a rather obvious foul throw. Still, he and his Zambia team-mates can be pleased with the way they have begun the final - they have taken the game to Ivory Coast, put the favourites under a fair bit of pressure, and gone close to scoring twice.
BBC Sport's Nick Cavell in the Stade De l'Amitie: "The stadium is quite full with a good crowd and it's very, very colourful too. There are some nice brass band music and drums too - but no vuvuzelas! There's some light rain falling here. It has been raining for a while so the pitch might get slippery later."
2000: Half an hour gone and there are signs that, after a slow start, Ivory Coast are starting to take this final by the scruff of the net. After a neat build-up, Didier Drogba's backheel tees up Yaya Toure near the penalty spot, but his shot flies inches wide. He should have done an awful lot better there.
Asomani South Norwood, via text: "Zambia are the Stoke City of Africa. Ivory Coast need to be careful they don't get undone by clever set piece play."
Mustafa Geidam, Yobe, Nigeria, via text: "My prediction, which will surely come to pass tonight, is Zambia 1-0 Ivory Coast. When a guy is full of confidence he is wide open for a sucker punch. It happened to Ghana and so shall it be with Ivory Coast."
David Moss on Twitter: "I thought I recognised the Zambia manager! He used to manage Cambridge United not too long ago! Ivory Coast to win surely?
Yep, Herve Renard had a brief spell in charge at the Abbey Stadium in the 2004/05 season. He was sacked in December, and the U's were relegated from the Football League that season.
1955: Ivory Coast break quickly from the resulting Zambia corner, which is hit far too deep. That's the cue for some pressure from Francois Zahoui's side, with Didier Drogba's shot deflected wide from their first corner and Souleyman Bamba's header causing some confusion in the Zambia defence from the next.
1953: Zambia's turn to fire in a free-kick, and it is a very dangerous one. Rainford Kalaba's 30-yard shot nicks off Cheik Tiote on the edge of the Ivory Coast wall, and fizzes a yard wide.
Dan Leaphard on Twitter:"Cheering on the Copper Bullets because I'm off to Zambia at the end of the month. Good enough reason for me!"
1949: The Ivory Coast wasted one free-kick from 25 yards out a few moments ago when their shot was charged down, butthey do a bit better this time, with Siaka Tiene lifting his shot over the Zambia wall but curling it straight into the arms of Kennedy Mweene. Twenty minutes gone and it is still 0-0.
Abraham Keita, Dallas, Texas, USA, via text: "This final is of capital importance to the two countries. The Ivorians want to use this trophy as a medium of reconciliation, while the Zambians want to use it to pay homage to their compatriots who died in a plane crash."
1948: Manchester City midfielder Yaya Toure has had a quiet start for Ivory Coast, and his night does not get any better here. His attempt to whip a first-time cross in from the right ends with the ball looping straight out of play.
Joel Atkin on Twitter:"Can't see beyond Ivory Coast here, 3-0. Plus Yaya Toure in the form of his life to score at least once."
Will Branfield on Twitter:"It would be nice to Zambia win in homage to 1993 squad, but just can't see past Cote D'Ivoire."
BBC World Service's Farayi Mungazi on Twitter:"Did you know? Ivory Coast have led 1-0 at half-time in all their 5 games so far at the African Cup of Nations 2012."
Velishavo, from Namibia, via text: "Although Ivory Coast boasts the talent, the Chipolopolo will make southern Africa proud by winning the Nations Cup for the first time since it was won by South Africa in 1996. Come on Zambia, the pride of southern Africa. We are proud of you."
Makarius Lalika, a Tanzanian currently in Antwerp Belgium, via text: "l hope the Zambians win it in commemoration of those who perished in the 1993 tragedy. But the task is too difficult against the formidable Elephants!"
1944: We've not seen much of Ivory Coast coming forward yet, but Zambia continue to threaten. This time a throw into the area isn't dealt with and Chisamba Lungu is quickest to the ball by the by-line, lifting over a cross which Emmanuel Mayuka nods on to the roof of the net. He went for placement, rather than power there... and it didn't come off.
1942: Nyambe Mulenga is on instead for Zambia. Poor old Joseph Musonda is still sobbing in the dug-out. You've got to feel for him, on the biggest night of his football career.
1941: Joseph Musonda is still limping though, and I don't think he can continue. No, he can't. The 34-year-old is in tears as he limps off, and it is lovely to see that Ivorian striker Didier Drogba is among the players to console him on his way off the pitch.
1939: Great skill by Jean-Jacques Gosso Gosso for Zambia out on the right wing - a lovely turn to beat his man, although he does not really get anywhere. The first 10 minutes have gone quite well for the Copper Bullets, and they have 11 men again now, because Joseph Musonda is back on the field.
1937: Zambia are down to 10 men while Joseph Musonda receives treatment. Didier Drogba decides the ball isn't up to scratch and hurls it away, saying it is not inflated enough. He holds up a Zambian throw-in in the process, and their fans are not happy.
1935: Salomon Kalou almost slips Didier Drogba through, but Zambia defender Joseph Musonda is alert to clear the danger. I think he was hurt when he slid in, though. His left ankle got stuck in the turf and he is in a bit of pain.
Shadrick, Ndola, Zambia, via text: "Today is the day the Bullets are going to down the elephant."
Tade, Lagos, Nigeria, via text: "Big night for the Elephants! Time to put up or shut up. Especially poignant for Didier Drogba. Last chance saloon. Fancy the bullets though."
1931: Zambia force a corner within 60 seconds of kick-off and they almost take the lead too. From a cleverly taken corner, the ball comes through to Nathan Sinkala and his low drive brings a superb low save from Boubacar Barry, who springs to his right to keep it out.
Andy Brown on Twitter:"Kickin back with the African Cup of Nations final. Surely it's Ivory Coast's match for the taking! Most talented side Africa has ever produced??"
1930: The handshakes are over. Ivory Coast get the Africa Cup of Nations underway.
Sakari Seppanen on Twitter:"Ivory Coast are good team but everything can happen. Zambia need to avoid mistakes."
Adam Oliver on Twitter:"Zambia really going to press hard but Ivory Coast to edge out. Midfield is key for them - 2-1."
1926: Uefa president Michel Platini is also in the crowd in Libreville, where a few drops of rain are starting to fall.
1925: Zambia coach Herve Renard is looking very relaxed as he leans against his dug-out, wearing a beaming smile as well as his lucky white shirt. Now it's time for the anthems.
BBC World Service's Farayi Mungazi on Twitter:"The winners tonight walk away with the Nations Cup trophy plus US$1.5m; the losers get US$1m."
1922: The players emerge on to the pitch at Stade de l'Amitie, which means kick-off is fast approaching.
1921: Chelsea forward Salomon Kalou, on what winning the African Cup would mean to Ivorians after years of political turmoil: "Our country went through a difficult moment, so we want to win for a public that has been suffering for so long," he says. "As a footballer, the only thing we can give back to the country is to play 100 per cent and make them proud."
BBC World Service's Farayi Mungazi on Twitter:"It wouldn't be a closing ceremony without the fireworks, would it? Explosions away to my left and the crowd love it."
Sam Epum on Twitter:"I see Zambia pulling a shock result! They are more of a unit while Ivory Coast is full of individuality."
1919: The Elephants have a formidable forward line, and they don't concede many at the other end, either. They are looking to become only the third side to win the Nations Cup without conceding a goal - a feat they were the first team to achieve (in 1992) before Cameroon repeated the feat in 2002.
1917: Ivory Coast coach Francois Zahou on his side's attacking approach: "I know that football is all about scoring one goal more than your adversary. So if on Sunday we concede three but score five I will be so happy. All I really care about is taking this cup back to Abidjan and scoring one more goal than them."
LFC_Optimist on Twitter:"Yaya Toure, Didier Zokora and Cheik Tiote- that's a midfield you do not want to mess with!"
Yeboah, a Ghanaian in Finland, via text: "This final is set to be one of the most intriguing in history, as the Ivorians will have the chance to emulate their victorious heroes in their 1992 triumph while the Zambians on the other hand will have the chance to win it as a tribute to their ancestral heroes. My heart however, pours out to the Zambians. Let the Copper Bullets fire!"
Joseph Akol, from Kumi, Uganda, via text: "Zambia go, go, and break north and west-African countries' dominance in the Cup of Nations."
Stuie Neale on Twitter:"Ivory coast 3-0, Didier Drogba to get at least 1 goal."
1914: Among those at Stade de l'Amitie tonight are Gabon President Ali Bongo, Equatorial Guinea President Obiang Nguema, Caf president Issa Hayatou, Fifa chief Sepp Blatter, Pele and two former Zambian presidents, including Kenneth Kaunda - who once had a football side named after him - the KK Eleven.
From Omar, via text: "I hope Ivory Coast win. The past few years they have been the best African team and they deserve some silverware for that."
1913: Just a reminderthat I want you lot to play your part as well tonight. Whether you are tipping an expected Ivorian victory or Zambia to spring a surprise, I want to hear from you.Tweet me @chrisbevan_bbc using the hashtag #bbcfootball or text me on 81111 (UK) or +44 77 86 20 20 08 (international). Make sure YOU PUT YOUR NAME on those texts though.
1911: Zambia coach Herve Renard, on his side's status as underdogs: "Us, we don't have a pressure. We have to play like all the time the Zambian players are playing. We can't change something. To follow the ball, to stay with eleven players behind is not possible for us. We just have to respect organisation of course but we have the skill and we have to use our skill."
1909: Plenty of Zambia fans with banners at Stade de l'Amitie, saying they will win it for the 1993 side. Victory would definitely honour their memory, but they have already done that with their performances at the finals so far.
BBC World Service presenter Russell Fuller: "The Ivory Coast team is bursting with talent. They've not conceded a goal so far in the Cup of Nations. They are hot favourites and they changed style as well. It was thought that they didn't respect opponents enough, but that has certainly changed. They know this game won't be easy."
1905: Emotion surrounds Zambia's appearance in the final in Libreville, coming as it does 19 years after an entire generation of Zambian footballing talent was wiped out in a plane crash. After refuelling in Libreville, a Zambian military plane carrying most of the national squad crashed into the Atlantic Ocean, within a mile of the Gabonese coast, killing all 30 people on board. Among those who perished were the coach, Godfrey Chitalu, and 18 players including Kelvin Mutale, who had just scored a hat-trick against Mauritius in an Africa Cup of Nations qualifier.
1904: IVORY COAST v ZAMBIA TEAM NEWS
Big news for Zambia is their top scorer in the tournament Emmanuel Mayuka comes in for James Chamanga after scoring the winner in the semi-final against Ghana. Chisamba Lungu joins the midfield with Francis Kasonde dropping to the bench and Davies Nkausu moving into defence. Ivory Coast are unchanged after they beat Mali in their semi, with Didier Drogba flanked by Salomon Kalou and Gervinho and backed up by Yaya Toure.
Ivory Coast v Zambia line-ups
Ivory Coast: Boubacar Barry; Siaka Tiene, Kolo Toure, Souleyman Bamba, Jean-Jacques Gosso Gosso; Didier Zokora, Cheik Tiote, Yaya Toure, Gervinho; Salomon Kalou, Didier Drogba.
Zambia: Kennedy Mweene; Joseph Musonda, Stoppila Sunzu, Hichani Himoonde, Davies Nkausu; Nathan Sinkala, Chisamba Lungu, Isaac Chansa, Rainford Kalaba; Chris Katongo, Emmanuel Mayuka
Referee: Badara Diatta (Senegal)
1903: There is a good reason why Ivory Coast are seen as champions in waiting, to add a second title to their 1992 triumph. The 2006 finalists won all of their qualifying fixtures and all five fixtures so far in these finals. Zambia, meanwhile, are ranked 71st in the world and have already exceeded all expectations by getting this far. The Copper Bullets reached the final in 1974 and 1994 - will it be third time lucky?
1900 GMT: So it comes down to this. After 22 days of competition featuring 16 nations in Gabon and Equatorial Guinea, only two teams remain. Hot favourites Ivory Coast and outsiders Zambia meet at the Stade de l'Amitie in Libreville. Welcome to the final of the 28th Africa Cup of Nations. Who will write themselves into history this evening?