Celtic don't need Rangers, says Peter Lawwell
By Chris McLaughlin
Senior Football Reporter, BBC Scotland
Last updated on .From the section Football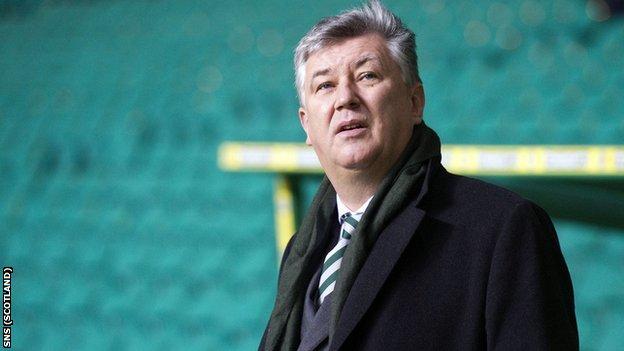 Celtic chief executive Peter Lawwell insists his club "don't need Rangers" to flourish financially.
Rangers are awaiting the verdict of a long-running tax case that could place the future of the Ibrox club in doubt.
But Lawwell says the eventuality of their Old Firm rivals going bust "would have no material effect on Celtic".
"We look after ourselves," Lawwell told BBC Scotland. "We don't rely on any other club. We are in a decent position, we're very strong."
Celtic's interim financial results for the second half of 2011 showed a profit of £180,000 - significantly down from the £7m at the end of the previous year.
Bank debt has been reduced by £2m to £7m.
The Old Firm clubs had contrasting January transfer windows with Celtic able to preserve and strengthen their squad while Rangers sold top scorer Nikica Jelavic to Everton without signing a replacement.
Celtic lead reigning champions Rangers by four points in the Scottish Premier League and, unlike the Ibrox side, are still in both domestic cup competitions.
"Our aspirations and horizons are to dominate in Scotland but also beyond that; we want to compete at the highest level again in Europe," said Lawwell.
"We have a stand-alone strategy, a stand-alone financial plan and a robustness hopefully that will take us through that.
"Times are pretty tough. I don't think it's appropriate for us to talk about any individual club, these things are hypothetical at the moment.
"I think we've a view, a very strong view on certain circumstances but we'll only share that at the right time.
"In terms of Scottish football, I'm disappointed to look at the performance of Scottish teams in Europe and the effect that that has on co-efficient.
"I'm disappointed to see that financial constraints and problems in other nations as well."
Earlier in the season, Celtic trailed in the league by 15 points and manager Neil Lennon alluded to a need for him to win the title in order to keep his job.
But Lawwell said: "That has never been said to Neil. We are absolutely delighted how he is performing, how he is developing as a football manager and as a man.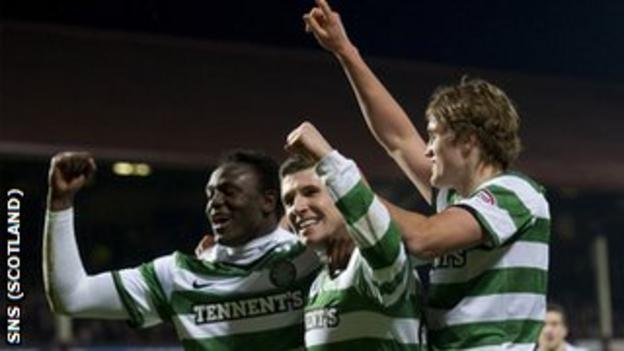 "I really, really enjoy working with him. He's intelligent, he's not only interested in the football side of the business but he's interested in our strategy and other aspects of the business.
"He buys into what we're doing here in terms of identifying players. He buys into the youth development side and I don't there'll be anyone else more suited to giving our youngsters a chance than Neil Lennon.
"We have built up a very strong squad. We've built up value in that squad. We've been able to keep our best players and at the same time, we're performing on the field at the moment.
"We did embark on a strategy four or five years ago where we redirected investment into our recruitment, into our academy, into our facilities building Lennoxtown.
"It's very, very early days but we're beginning to see some green shoots of productivity from that in the players that we've identified and the kids that are beginning to come through.
"We haven't won anything yet. Clearly, that is everyone's priority at the club; to go and win the title and hopefully maybe add a couple of other trophies.
"But it's still early. We are ahead but no-one's taking anything for granted."
Off the park, Celtic have been sanctioned by Uefa for the conduct of supporters and Lawwell added: "It's a very small minority within our support, a genuine small minority that have infiltrated the Celtic support.
"What we can do is identify those, which we're continually doing and take the appropriate action, which we are also doing.
"I don't see it as a major issue for Celtic. This very small minority we will identify and make sure that they don't come back to Celtic games."