Norwich City are not long-ball side - Grant Holt
Last updated on .From the section Football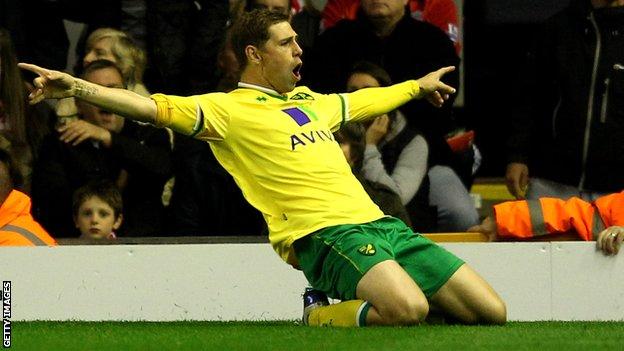 Grant Holt has dismissed suggestions that Norwich City have turned ugly in their bid for Premier League survival.
The 30-year-old striker took his league tally to nine goals with a brace in their 3-2 win at Swansea on Saturday.
"It's been said that we're a long-ball team, it's ridiculous, we play a certain way to beat a certain side," Holt told BBC Radio Norfolk.
"We held them tight, changed to the diamond [midfield formation] and tore them apart for 25 minutes."
Swansea were 1-0 up at half-time through Danny Graham's goal but Norwich skipper Holt says the second-half turnaround was not the result of a half-time dressing down from manager Paul Lambert.
"We were quite happy with the first half, obviously disappointed with the goal, but they always have a lot of posession, I thought we pressed them well and put them under a lot of pressure," he added.
"We talked at half-time about being a bit higher up the pitch, a bit more ruthless, and once we got the first goal we looked comfortable for a spell.
"They didn't know what hit them I think, we came out of the blocks absolutely flying."
Holt was booed by some Swansea fans throughout the game, but insists that is not something that bothers him.
"If people want to give me abuse, as you can see, I've got broad shoulders so I can take it, I enjoy it, it spurs me on," he said.
"But that's football, I don't ever want to go to a game where no-one says anything and it's quiet and boring."