Champions League: Milan's mettle to test Arsenal's artistry
By James Horncastle
European football writer
Last updated on .From the section Football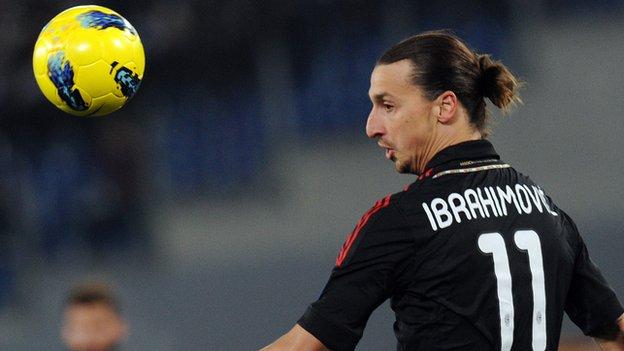 "Yes - we can," read the headline as the Italian newspaper La Gazzetta dello Sport welcomed the first knockout round draw of the Champions League.
With AC Milan, Inter Milan and Napoli through to the last 16 no other country has as many representatives in Europe's elite competition and, at the time, Serie A had reason to be cautiously optimistic.
There was a good feeling about AC Milan playing Arsenal this Wednesday. True, in 2008, they had been eliminated by the Gunners, but now there was cause to believe things would be different.
The goalscorers from that encounter - Cesc Fabregas and Emmanuel Adebayor - were gone, while Arsenal's 8-2 defeat by Manchester United in August left many across Europe with the impression that they no longer posed the same threat as before.
Milan, by contrast, were riding high. They went into Christmas joint top of Serie A on an 11-match unbeaten run and looked every bit Italian champions.
In Europe, however, Italian clubs have faltered when faced with English opponents.
Eight knockout ties against Premier League sides in the last four editions of the Champions League have brought seven eliminations - the most recent by Tottenham last season where Milan lost 1-0 at home and could not overturn the deficit. The only exception to the rule was Jose Mourinho's Inter who beat Chelsea en route to the treble in 2010.
It was the only blemish on an otherwise impressive debut season for coach Massimiliano Allegri. He led the team to the Scudetto at the first attempt - it had become a priority at Milan. Seven years had past since their last league title, during which time Inter had won five in succession.
But at a club defined by its success in the European Cup [Milan have won it seven times], Allegri knows that it's there where he will ultimately be judged: "I have to improve in Europe," he admitted.
The odds of doing so, however, have grown longer since the end of January.
Saturday's gutsy 2-1 win at Udinese may have been the stuff of champions but it was also Milan's first victory in four matches, a streak that included two defeats at San Siro. While they are now top of the table, Juventus have caught up and are two points behind with two games in hand.
Performances have been criticised by those whose opinion matters. "I saw Milan last night," 65-year-old former manager Arrigo Sacchi said after their 2-0 defeat by Lazio. "I had doubts that some of the players were not my age." It is a harsh assessment, Milan are no longer 'Geriatricos'. They have rejuvenated the team greatly in the last 18 months.
What Sacchi was getting at, though, was the laboured nature of their play and how it does not chime with the philosophy outlined by owner Silvio Berlusconi when he bought the club in 1986. Milan play at the Scala del Calcio, after all, and as such they should put on a spectacle.
Since Allegri's appointment, however, they have undertaken a new path. Il Corriere della Sera put it this way: architects have been replaced by carpenters. Andrea Pirlo has gone. Mark van Bommel has come in. Milan are more physical and less technical.
"You can't always dine on lobster and caviar," Allegri claimed. "Every now and again you have to be satisfied with a ham sandwich."
It would be a mistake, though, to suggest Milan are not capable of good football. Results of late have been conditioned by a horrendous injury crisis, which the famous MilanLab was established to prevent.
Against Udinese on Saturday, 10 players were unavailable, some long term, like Antonio Cassano, recovering from heart surgery, others short term, but no less important to the team like Christian Abbiati, Alessandro Nesta, Kevin-Prince Boateng and Alexandre Pato.
That quartet are expected to be back for Arsenal. But cracks remain. The strain got to Milan's best player and top scorer Zlatan Ibrahimovic (or Gulliver as he's become known, because he's a giant among Lilliputians in the Milan team), last week, perhaps out of mental tiredness at carrying the team on his back.
He was sent off in Serie A and received a three-match ban for slapping Napoli's Salvatore Aronica. Then he was caught on camera raising his hand again, this time to Juventus's Marco Storari in the Coppa Italia. Ibrahimovic has yet to be punished for that incident.
His suspension in Serie A means he will be fresh for Wednesday's game. Arsenal know how dangerous he can be. Ibrahimovic scored twice for Barcelona at Emirates Stadium two years ago, yet that still hasn't put an end to the scepticism around him in England.
Not showing up on the big occasions is the criticism. It is not completely justified.
Ibrahimovic has scored title-clinching goals in Serie A and winners in two of the world's most important derbies, the Madonnina (against Inter) and el clasico (for Barcelona against Real Madrid) on his way to winning, if one counts the two revoked from Juventus after Calciopoli, eight consecutive league championships in three different countries.
But scrutiny of his record in the Champions League knockout stages is legitimate.
Adding grist to his doubters' mill is the curiosity that Milan have collected just nine points from a possible 27 against the other top six teams in Serie A this season. Milan have become a team in Ibrahimovic's image. Some say they're flat-track bullies.
The question is can Arsenal's young team stand up to them?