Off The Bawl - 12 February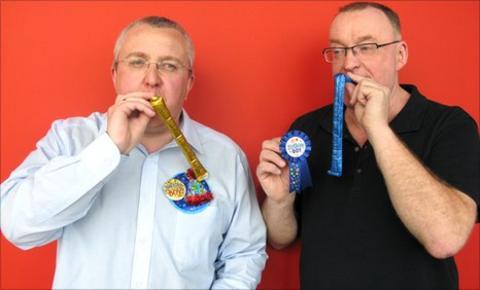 Greeeeeetings!!! Our guests on Saturday were Joe McLaughlin - "The great Morton centre-half from the greatest Morton team of the past 40 years," according to Ton fan Keith Gilmour - and Marvellous Marvin Andrews whose colourful career went all the way from ECM Motown in Trinidad & Tobago to Kirkintilloch Rob Roy in, well, Kirkintilloch...
Courtesy of David in Moray, we found out how Morton got their name. Apparently, before they formed to play their first game, the majority of players lived in Morton Terrace in Greenock and the name Greenock Morton was born.
Not a lot of people know that.
This week's topics? Well, apart from paying tribute to Scotland's greatest central defenders, we asked if Scottish football could survive without Rangers and, ahead of Valentine's Night, we challenged listeners to come up with a wee bit of romantic verse.
Here's another selection of the most petty, ill-informed and wholly unreliable (© a Glasgow sheriff) texts and emails on radio...
THE GREAT CENTRE-HALVES
Morton fan Crooky said: "Dougie Johnstone of Morton was a hero of mine as he scored the winner against St.Johnstone in season 95/96 - my first ever game. I also liked giant Ton defenders like Brian Reid and the 6ft 18in Kevin James."
Jim the Jag in Glasgow said: "Big Grant Tierney was a man mountain for Thistle and a few other clubs. He was only part-time but I seem to recall he was always drafted in by John Lambie to play against big Mark Hateley."
Ally fae Largs said: "I'd nominate Gordon McQueen simply for his goal against the English in 1977 when he flattened half of his own team to get his head to the ball. Big Gordon always claimed his dream was to have played for Kilbirnie Ladeside as his father won the Junior Cup with them in 1950."
Gordon in Edinburgh said: "What about Ron Yeats? Shankly once said he was so big they did tours round him."
COULD SCOTTISH FOOTBALL SURVIVE WITHOUT RANGERS?
Graeme in Dundee said: "The loss of Rangers would give a boost to all the other clubs as Rangers pull punters from every other town and city on a weekly basis. If the Ibrox club vanished into thin air, surely a portion of these fans would support their local club instead?"
Jim in Netherlee said: "Could Scottish football survive without Rangers? I don't know, but it would be a good laugh finding out."
Stewart in West Kilbride said: "Other teams would replace the Old Firm and other scalps would become worthy prizes. Yes, we'd be well rid of the glorious Old Firm."
Frank Forrest said: "Yes, what a great opportunity for Rangers fans to follow a new club without all the bigotry, baggage and flautists."
Alan in Dumfries said: "Never mind the fitbaw... could the Scottish sporting press survive without Rangers?"
Finally, Mark in Perth said: "Yes."
A FEW VALENTINE'S VERSES
Roses are red,
Violets are blue.
Rangers are skint,
Their tax overdue.
(Stephen in Bothwell)
Roses are red,
Violets are blue.
You can't pay your mortgage,
With a Hearts IOU.
(Andy the Buddie)
And, finally, one for Stuart and Tam...
Roses are red,
Violets are blue.
I starred for Rangers.
So feck both of you!
(Gordon Ramsay)
TEAM OF THE WEEK
The Bible XI
Stadium: Easter Road
Manager: Psalm Allardyce
Assistant: Ally McCoist (looking for a "Job" at the end of the season)
1/ Craig Samson and Delilah
2/ Remi Moses
3/ Bertie Auld Testament
4/ The Road to Damarcus Beasley
5/ Crawford Baptist
6/ Paul Kane and Abel
7/ River Jordan Rhodes
8/ Charlie Adam and Eve
9/ Herod Brattbakk
10/ Frank McAvennie (seen quite a few burning bushes)
11/ Jericho Britton
Subs: Amish McAlpine, Ian St.John, Heaven Keegan, Alfie Conn, Andy 'Noah' Goram (took the birds in two at a time)
AND FINALLY...
It wasn't John Motson, David Coleman, Sir Trevor McDonald, Kenneth Wolstenholme, Sir Alistair Burnett, Sid Waddell or even - wait for it - Shereen Nanjiani.
Nope, as we found out on Saturday's show, it was actually Sam Leitch - a Scottish presenter on the BBC in the 60s and 70s - who actually uttered the immortal words: "They'll be dancing in the streets of Raith tonight."
PS. The song that played us out? As a special request for Paulo Sergio, ahead of the Kilmarnock v Hearts game, we finished with the old Judy Collins classic Send In The Clowns...
To join in the fun on this Saturday's show, call 0500 929500, text 80295 or email offtheball@bbc.co.uk
Listen to the most recent Off the Ball programmes.
Download the latest Off the Ball podcast.