Mick McCarthy: Wolves boss undermined by chairman - Taylor
Last updated on .From the section Football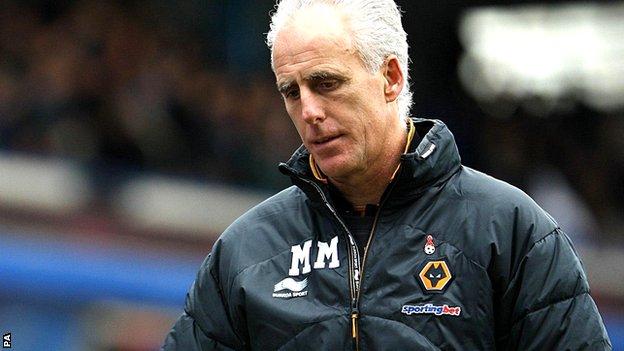 Former Wolves manager Graham Taylor says Mick McCarthy's last fortnight at the club was "undermined" by club chairman Steve Morgan.
Taylor told the BBC that Morgan's decision to enter the dressing room to criticise the players after the loss to Liverpool damaged McCarthy's authority.
"Does that undermine your manager? Of course it does," he said.
After the Liverpool defeat on 31 January, McCarthy denied that the chairman's actions had dented his relationship with the squad.
"This is the first time in my managerial career a chairman has done that," McCarthy admitted at the time.
"I don't feel it erodes my authority, but we've spoken and [Morgan] knows my views about that."
However, after his team's second-half collapse on Sunday, McCarthy was left bemused about the performance and said that, for the first time in his managerial career, he felt the need to apologise to supporters.
"The saddest part is that we capitulated, which I have never seen my team do," McCarthy admitted. "I have never apologised for a performance but would do for that."
Taylor, who managed at Molineux between 1994 and 1995, told BBC Radio 5 live's Shelagh Fogarty that Morgan's behaviour at the end of the Liverpool game may have fatally undermined McCarthy's relationship with his players.
"I think this probably started when Steve Morgan went into the dressing room and delivered a message to the players", Taylor said.
"Your players see that and think: 'Who's in charge at this club? It's not Mick McCarthy, it's Steve Morgan.'"
Charles Ross, editor of A Load Of Bull, a Wolves fanzine, agreed with Taylor's opinion.
"It's absolutely right to say Morgan's actions after the Liverpool game fatally undermined Mick McCarthy", he told BBC Sport. "He damaged Mick's relationship with the squad.
"I thought when Morgan went into the dressing room he crossed a line with the squad and the manager. There was no going back from that.
"A degree of culpability attaches to Morgan on that front. Once he crossed that boundary, he might as well have sacked McCarthy then, rather than waiting another two games."
Wolves have dropped into the relegation zone on goal difference following Sunday's defeat and have not kept a clean sheet since August.
Taylor also felt the players should take their share of the blame for the club's plight.
"Managers are responsible for results but players are responsible for their performances," he said.
"I watched the game yesterday and a number of the Wolves players should be looking at themselves.
"A 5-1 defeat at home to West Brom? You'll do well to survive that."