Nations Cup 2012: Our team of reporters recall the highlights
Last updated on .From the section Football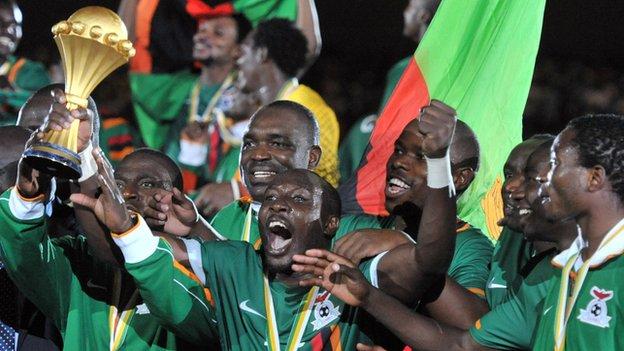 Zambia brought proceedings at the 2012 Africa Cup of Nations to a close on Sunday, with a dramatic penalty shoot-out climax to an exciting and eventful tournament in Equatorial Guinea and Gabon.
The BBC's team of reporters followed all the action in the four host cities of Malabo, Bata, Libreville and Franceville throughout the competition.
Here, they reflect on the highlights and memorable moments - on and off the field - from this year's Nations Cup.
MATTHEW KENYON
Player of the tournament: Zambia captain Christopher Katongo. Not a hard choice to make. An inspirational leader on and off the field, a pleasure to talk to, and the man who lifted the trophy for his country for the very first time. Deserves all the praise he receives.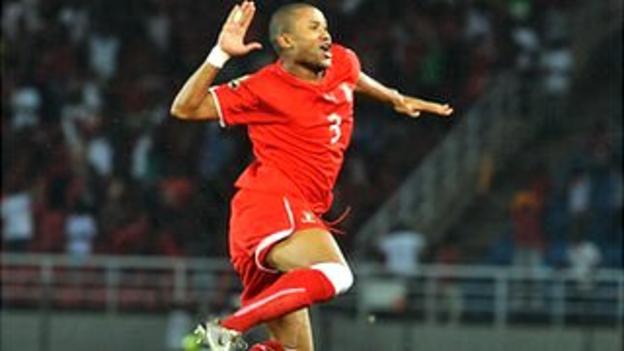 Team of the tournament: Zambia. I had the pleasure of watching them throughout most of the tournament first hand - and their enthusiasm, professionalism and openness was hugely impressive. And they won an historic first continental crown.
Best coach: Is there anyone else for me? No, it has to be Herve Renard, who took over again just before the tournament and led his team to triumph. Tactically astute, not afraid of tough decisions (sending home Clifford Mulenga, for one, and how must he be feeling?) and an engaging man who clearly believes in his players.
Best match: Zambia's semi-final win over Ghana was great, and the final was a truly dramatic and exciting night - but the most memorable match for me was co-hosts Equatorial Guinea's 2-1 win over Senegal. It was the game which stunned the Teranga Lions and sent them on their way home early, and the match which secured the 151st-ranked Equatorial Guinea a place in the knock-out phase. It was also played on a dreadful surface, but was a hugely entertaining match for the massive crowd. The way Equatorial Guinea bounced back to win the game in stoppage time after conceding a late equaliser was truly impressive and gave us one of the great Nations Cup upsets.
Best goal: David "Kily" Alvarez's strike to win the Senegal game for Equatorial Guinea - a fabulous goal in stoppage time to win an amazing game.
Favourite moment of the tournament: Being able to be live on air, commentating on the BBC across Africa when Zambia's dreams were realised after a dramatic final
Rate the co-hosts: An excellent tournament on the field for both, with Equatorial Guinea exceeding expectations and Gabon being denied a semi-final place only on penalties. Their progress gave lots of impetus to the tournament. Good organisation, mostly. Welcoming people. Glad I came to both countries.
NICK CAVELL
Player of the tournament: Gabon's Pierre-Emerick Aubameyang - helped inspire a team that was given little chance and made a nation proud. He was at the centre of everything Gabon did and scored a couple of great goals too.
Team of the tournament: Sudan - against all the odds, reached the quarter-finals ahead of more seasoned campaigners Angola and Burkina Faso, as well as pushing Ivory Coast all the way - with a local coach and a squad of locally-based players.
Best coach: Ivory Coast's Francois Zahoui. Tamed the egos of some of Africa's most famous players, totally changed the tactics of the team and ensured everyone in the squad could fit into the style of play. His team did not concede a single goal and ultimately lost in the lottery of a penalty shoot-out.
Best match: The final - excitement, atmosphere, chances, saves, penalty misses, great penalties taken and worthy champions at an emotional venue.
Best goal: Yaya Toure's free-kick against Equatorial Guinea. Absolute precision from a long way out.
Favourite moment of the tournament: Seeing a Nations Cup winning Zambian player leave the stadium in the boot of a car, having been left behind by the rest of the team.
Rate the co-hosts: Very well organised with both sides playing well on the pitch to give the whole event a lift. Shame about some poor attendances but ticket prices were high and organisers left it late to try and remedy things. Both nations should be able to use this success to build teams for the future and are only one two-legged tie away from the next Nations Cup next year - a perfect chance to continue the good work.
FARAYI MUNGAZI
Player of the tournament: Ghana's John Boye - the revelation of the tournament in my view. Rock solid at the centre of the Black Stars defence and his goal-line clearance in the Group D match against Botswana will linger long in the memory.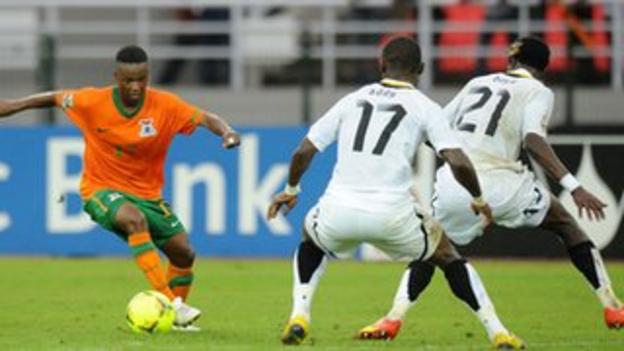 Team of the tournament: Zambia. Theirs was not an easy route to the final, facing two of the three pre-tournament favourites before tackling the big favourites in the final. They played some enterprising football and are African champions, worthy of the name.
Best coach: Herve Renard. He brought discipline and organisation to his team and made them believe they could match their more illustrious opponents. He is also a very approachable and likeable man.
Best match: Gabon game against Morocco is a game I will remember for a very long time. The way the co-hosts came from a goal down to eventually win 3-2 made everybody sit up and take notice. At 2-2 and with time almost up, most sides would have settled for a point, but I was impressed by the manner of their fighting spirit.
Best goal: Zambia goalkeeper Kennedy Mweene's penalty kick in the shoot-out was text-book stuff, a lesson in how to convert from 11 yards. He shamed many of the strikers here with his spot-kick.
Favourite moment of the tournament: I think the image of Zambia's founding president Kenneth Kaunda holding the Nations Cup trophy surrounded by jubilant Chipolopolo players will become one of the defining moments of this tournament. His passion for football is beyond dispute and he is one of the reasons many Zambians fell in love with their national team.
Rate the co-hosts: A fantastic tournament on the pitch with some great football. I liked the fact that the likes of Libya, Niger and Botswana did not disgrace themselves - they were not here to make up the numbers, and Botswana's 6-1 drubbing by Guinea aside, gave as good as they got. Off the field, a lot of things could have been better, not least the media facilities and the working environment in Franceville. I'm still not sure why the city hosted matches ahead of two bigger cities with better infrastructure.
JOHN BENNETT
Player of the tournament: Sol Bamba was once considered the weak link at the back for Ivory Coast but at this tournament he proved himself to be one of the team's key players. Nobody managed to find the back of the net against the Elephants in six matches and Bamba was one of the key reasons for that incredible defensive record. He could also be relied on to make some bursting runs forward and always looked dangerous at set pieces.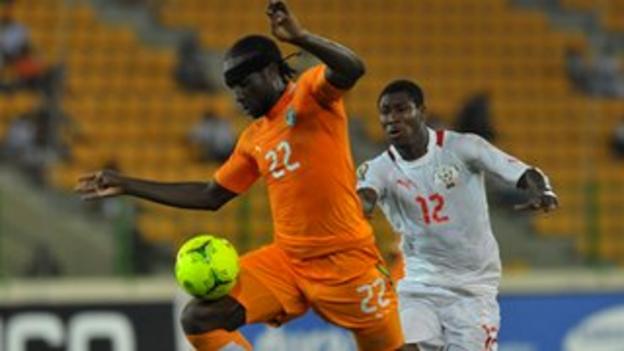 Team of the tournament: I had the pleasure of watching all Gabon's matches and not only their results but also their energetic, positive, attacking style brought the tournament to life in Libreville. They have found a new generation of players, such as Levy Madinda, Pierre-Emerick Aubameyang, Bruno Magna and Andre Poko, who could make them a big threat at major tournaments for some time to come. It was a shame their exciting run had to end with a penalty shoot-out.
Best coach: Of course Herve Renard, but Alain Giresse and Gernot Rohr deserve praise for over-achieving with their squads.
Best match: Without a doubt, Gabon 3-2 Morocco in Group C. Morocco looked like they were cruising to victory until a frantic final 13 minutes. Aubameyang equalised with a fantastic volley and moments later Daniel Cousin, put the Panthers 2-1 up. The atmosphere was incredible until Morocco won and converted a last-minute penalty and the Atlas Lions appeared to have stolen a point. But up stepped, Bruno Zita Mbanangoye, with a curling free-kick in the 96th minute. A night the Gabon fans will remember forever.
Best goal: Tunisia's Youssef Msakni's individual effort against Morocco. He ran past two defenders and then beat Moroccan keeper Nadir Lamyaghri with a calm finish. A great way to start the tournament, after coming on as a sub.
Favourite moment: Daniel Cousin's goal against Morocco, which made it 2-1. On the pitch there were wild scenes of celebration and off it, it went completely crazy. Fans were running on to the athletics track and the PA announcer had to call for calm. Amazing passion from players and supporters alike.
Rate the co-hosts: For a wonderful couple of weeks, Gabon's fans truly believed they were on their way to winning the competition. In football terms, they have found a team that has huge amounts of potential. Off the pitch I found very few people who believed the tournament would have a negative impact on the country.