SPL clarifies when Rangers' 10-point deduction would bite
Last updated on .From the section Football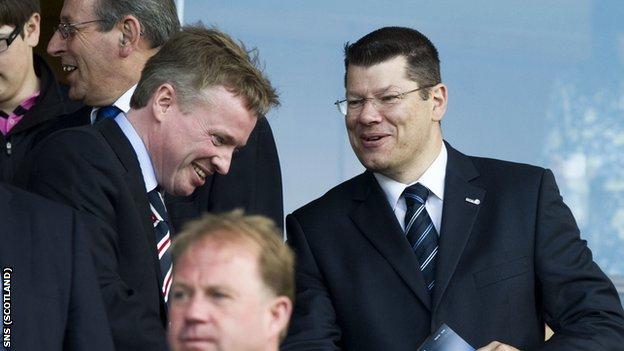 The Scottish Premier League has confirmed Rangers will only be deducted 10 points from its tally when it actually appoints administrators.
Rangers has lodged legal papers at the Court of Session signalling its intention to go into administration.
An SPL statement said if administrators are appointed "a 10-point deduction would apply immediately to its total points in the League Championship".
"The club would also be embargoed from registering any new players," it adds.
"A notice of the intention to appoint administrators alone does not trigger the sporting sanctions - it is the actual appointment of administrators which does.
"If administrators are appointed we will seek an early meeting with them to discuss their plans for Rangers FC".
The rules on insolvency were adopted by the clubs at an SPL general meeting in January 2004.
Rangers has 10 days to confirm whether administrators have been appointed to run the club.
The move comes while Rangers awaits a tax tribunal decision over a disputed bill plus penalties of £49m.
Speaking to the BBC on Friday, SPL chief executive Neil Doncaster insisted that the rules would be applied no matter which team became involved in an "insolvency event".
He said: "We have a rule book and that needs to be applied whoever it may be. We apply the rules without fear nor favour.
"The whole basis of a financial fair play set of rules is to ensure that if there is a sporting advantage that has been obtained, you can address that through some sort of sporting sanction."
Prior to its latest statement, the SPL said on Monday afternoon: "If administration is confirmed, as we have done previously, we would be looking to work with the administrators and would be looking for a very early meeting."
Doncaster's counterpart in the Scottish Football Association, Stewart Regan, said: "We will continue to monitor the situation as it develops and will work with both the Scottish Premier League and the club as required during this difficult time."
And the Scottish Government has also issued a statement on the situation at the Glasgow club.
Sports Minister Shona Robison said: "I understand that Rangers and HMRC are continuing dialogue and we obviously want to see an agreement which will protect jobs and enable the club to stay in business.
"Rangers is a crucial part of Scotland's national game, and our interest is ensuring that a resolution can be arrived at between HMRC and the club to deliver these vital objectives."