Mick McCarthy 'put in a shift' in five-and-a half years at Molineux

By Pat Murphy
BBC Radio 5 live West Midlands sports reporter
Last updated on .From the section Football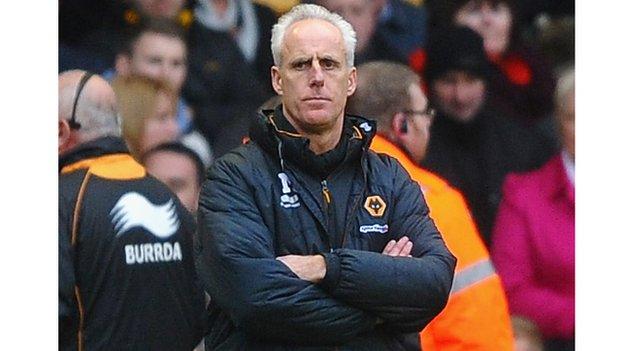 Wolves have flat-lined over the last three seasons they have spent in the Premier League, but I do not think the blame should be directed solely at Mick McCarthy.
Chairman Steve Morgan has eyed this season's success for newly-promoted pair Swansea City and Norwich City, as well as the continuing comfort of Stoke City, and wondered why Wolves can't match that.
Morgan briefed the media last month about the club's progress - or lack of it - and joshed with us that we never seem to get the true figure of what recent new signings have cost him.
He pointed out that, since promotion in 2009, Wolves have been in the top six of net spenders, forking out £48m on 18 permanent transfers, while recouping just £7m in sales.
Clearly, the chairman felt that the directors should have been given more credit for giving the manager the tools to finish the job of consolidating the club in the middle of the table, rather than fighting fires come May.
He made it clear that he did not want a repeat of the last-day drama at Molineux when Stephen Hunt's late goal kept Wolves up.
In retrospect, that media briefing proved to be a significant shot across McCarthy's bows.
Morgan's angry rollicking of the players in the Wolves dressing room after being outclassed by Liverpool on deadline day a fortnight ago further suggested that the manager's authority was being eroded.
That was tough on McCarthy - and he did very well to keep his dignity and humour as his five-and-a-half-year tenure of the Molineux hotseat slipped down the gurgler.
There are few groups of players in the Premier League who are as honest and committed as this current Wolves crop - and none has a smaller amount of showponies and con artists.
McCarthy signed them all, creating a squad that played in his own image. No time for excuses. Total dedication and commitment, or 'putting a shift in', as the manager was often fond of saying.
That tight group work ethic got Wolves into the top flight and remained McCarthy's mantra.
That's why he readily defended them and rarely broke ranks to criticise players who gave him so much.
But that style has its limitations. In their latest stint in the Premier League, Wolves have yet to master the art of gaining posession and keeping the ball, of funnelling it into areas where you can consistently hurt defenders.
So many of their goals came from set-pieces, rather than Swansea's surgical, incisive passing. Scraps from the table, when a banquet of passing would at least have excited the punters.
You cannot blame McCarthy for this, though. He signed enough creative, attacking players; he loved to select two wingers; and I believe he's in credit for his transfer work at Wolves.
Perhaps the main problem was the Tower of Babel that is the Premier League, where you have to keep forking out millions every summer on new players just to stand still, rather than run away from the pack.
After a time, a manager who's been at a club long enough runs out of new things to say. And staying at Molineux since the summer of 2006 almost qualifies McCarthy for a carriage clock amid the modern madness of change for the sake of it, when the silent majority's opinion is ignored in favour of the ranters on internet debates and radio phone-ins.
McCarthy had earned the right to see the job through until the end of this season and then he might even have fallen on his sword because he had taken the club as far as he could go.
He had been dedicated, inspirational and successful within the financial constraints for a long time at Molineux and I do not blame him for sticking to the methods that had served him well enough.
He was due a change of fortune after some poor refereeing decisions this season. But perhaps his chairman remembered Napoleon's quote about preferring lucky generals.
There are not many suitable candidates out there for a job that needs massive experience and calm nerves for the next 13 games. Steve Bruce, Neil Warnock and Alan Curbishley appear to have suitable credentials.
Yet the words of Albion manager Roy Hodgson stick with me, in the immediate aftermath of Sunday's 5-1 thrashing of Wolves. Sticking up for McCarthy, making a cogent case for his retention, Hodgson warned the Wolves fans clamouring for change: "Be careful what you wish for."
That from a manager who knows what it's like to be sacked.
We shall see if Morgan has acted successfully or is made to repent at leisure.