Cardiff boss Malky Mackay wants end to pre-match handshakes
Last updated on .From the section Football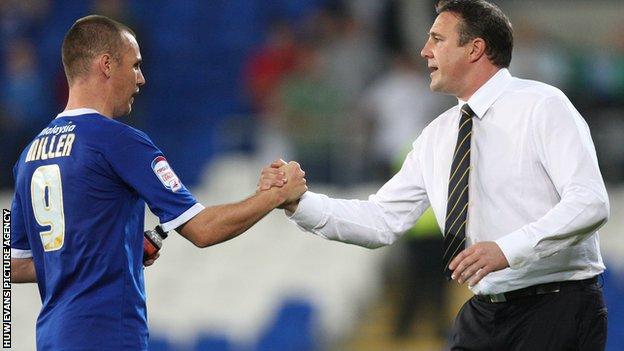 Cardiff City manager Malky Mackay believes the pre-match handshake between players should be scrapped.
And Mackay believes the ritual should be ditched following the controversy.
"I would [scrap it] if it was me because you now look at the trouble it causes," he said.
"There's certainly things that are said and they're wrong.
"But at the end of the day for a handshake being the centre of attention in the news, I'm not sure that's too right.
"Maybe the [football] authorities have brought this upon themselves and it's brought it into the public eye."
Liverpool forward Suarez was banned for eight matches for racially abusing United defender Evra during a Premier League match at Anfield in October.
The Uruguayan's refusal to shake Evra's hand contributed to an ill-tempered game, although Suarez and Liverpool manager Kenny Dalglish have since apologised.
The Football Association insisted it has no intention of abandoning handshakes before matches despite the incident.
In January the FA cancelled the handshake before the FA Cup fourth-round tie between QPR and Chelsea.
QPR's Anton Ferdinand was expected to refuse to shake hands with Chelsea captain John Terry, who is alleged to have used racist language towards Ferdinand during a match last October.
In the aftermath, Rangers boss Mark Hughes said the ritual should be stopped, a view shared by Cardiff's Mackay.
"It's only been brought in the last couple of years," said Mackay, speaking at the official opening of Cardiff's City's new Academy building at the University of Glamorgan's Sports Park in Treforest.
"It was certainly something that never happened when I was playing. You shook hands at the end with the players you wanted to.
"If you didn't want to shake hands with someone at the end of the game, you didn't.
"I think they [should] go back [to] coming out and going [to] their separate ends and if people want to shake hands at the end they do so."
Liverpool will be Cardiff's opponents in the Carling Cup final on 26 February, although Mackay's side have two games before then.
The Bluebirds have lost two and drawn one since booking their Wembley spot but Mackay denies his side are distracted by the Liverpool clash.
"I can honestly say that every week all we are looking at is the next game in front of us," he added.
"Wembley will come upon us as and when it will in a couple of weeks' time.
"But up to that point the boys desperately want to win every league game they can.
"We've been competitive in everything we've done this season and that won't change."
Cardiff's last two Championship matches resulted in defeats against Blackpool and Leicester City.
Mackay wants his side to put those defeats behind them when they play host to Peterborough United on Tuesday.
"We've let ourselves down and we feel that we have to bounce back and make sure we get back into it again," said Mackay.
"It's good that we've got a game so quickly. When you get beat you want a game right away and we've got a home game against Peterborough.
"Darren's [Ferguson] done really well at Peterborough and he's got a team who are very attack minded and score a lot of goals.
"It's a tough game for us and we've got to make sure that we get ourselves back out there, get ready and go and try and win again."