Stoke City: From the Manor Ground to the Mestalla
By Stephan Shemilt
BBC Sport
Last updated on .From the section Football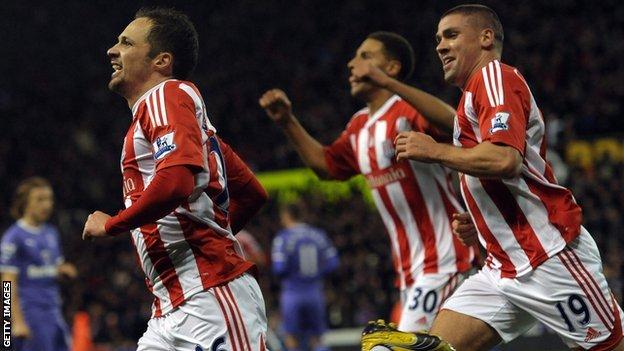 Cast your mind back, if you can, to 2001.
Sven-Goran Eriksson has just taken over as England manager and Atomic Kitten's Whole Again is number one.
No-one has heard of the X Factor - in fact HearSay are about to be spawned from Popstars - and the UK is set to be hit by foot and mouth disease.
The Europa League did not yet exist, but an appearance in the last 32 of its predecessor, the Uefa Cup, would have seemed fanciful to Stoke City fans as the Potters drew 1-1 at Oxford on 20 February of that year in what was then Division Two.
On the same night, City's opponents at the Britannia Stadium on Thursday, Valencia - the return leg in Spain follows on 23 February - were drawing 1-1 against Manchester United on the way to the Champions League final.
City, with Icelander Gudjon Thordarson in charge after a consortium of his compatriots took over the club in 1999, would eventually lose to Walsall in the play-off semi-finals.
"We'd not long moved to the Britannia Stadium and we were desperately trying to get out of Division Two," Clive Clarke, a full-back with the Potters at the time, told BBC Sport.
"We probably should have beaten Walsall and won promotion but Gudjon decided to mess with the team and played players out of position. We ended up getting beaten quite easily."
The Icelandic invasion of the Britannia Stadium not only included the chairman and manager, but also saw seven players from the country arrive during a six-and-a-half-year period.
On his arrival at the helm, chairman Gunnar Gislason stated that his target was Premier League football within five years, an ambition welcomed by fans who were glad to see the back of previous majority shareholder Peter Coates after Stoke had been relegated from Division One in their first season at the Britannia.
"They didn't have any experience of English football, so when they first came in it was new to us all and it took a little while to adapt," continued Clarke. "In their first full season at the club, there were high expectations around the place.
"Gudjon came in with a lot of good ideas, but he probably didn't know the level and it took a little while for us to adjust."
Although that first season under the new regime ended in play-off disappointment, the Potters did manage to win promotion the following season. However, the play-off final win over Brentford proved to be Thordarson's last match in charge.
What followed, predominantly under current manager Tony Pulis, was a period of second-tier obscurity, a spell that gradually wore down the good will from Stoke fans towards the Icelanders.
"Coming towards the end of Tony's first spell in charge, we were wondering if the club had any ambition," said Clarke, who made 265 appearances for the Potters between 1996 and 2005.
"Good players turned up to sign, but they came, had a look around and then left without any reason for not signing. We thought that was a lack of ambition from the board.
"The lads who came for talks - Bobby Zamora, Steve Sidwell, Damien Francis, Rob Hulse - they slipped through the net and would have made us a better team.
"The Icelanders came in with big ideas and eventually it was shown that there wasn't much money to be spent."
Pulis would be sacked by Gislason in the summer of 2005 after a failure to "implement the strategy of exploiting foreign markets", but the Icelanders would follow him through the Britannia Stadium exit door a year later.
Their departure paved the way for Coates, a man vilified by Stoke fans in the final stages of his first spell at the helm, to re-emerge, backed now by millions of pounds from a successful gambling business.
His first move was to seek out Pulis, the Welshman - by this time managing at Plymouth - who had impressed Coates during his spell in charge of the Potters. His return was a move not universally popular with City fans.
"The objective was to get in the Premier League - that was it," said Coates. "I felt if we could get there within a five-year period, that would be good."
In fact, it took Coates and Pulis only two seasons to return City to the top flight after a 23-year absence. The pair followed that with Stoke's first FA Cup final appearance and, though they lost out to Manchester City at Wembley, a European trip where the next stop is Valencia.
One of the quirks of the journey from the third tier of English football to a date with the Spanish giants is the fact that in Oxford in 2001, the Potters had supposedly embarked on a new era under the Icelandic owners.
But in a delightful twist of footballing fate it is Coates and Pulis, two men seen off by the Icelanders, who have led the Stoke revival.
"It's a great time for the club. What we want to do is enjoy it, especially if we can win," continued Coates.
"The achievements of the present manager and his team and are probably the best ever in the history of the club.
"Football is a great game when things are going well and it's very difficult when it's going badly. I've experienced it and that's how it is.
"You move on in life and try not to dwell on the past. I'm just pleased we're doing well now and trying to make sure it stays that way."