Rangers players seek advice over administration concerns
Last updated on .From the section Football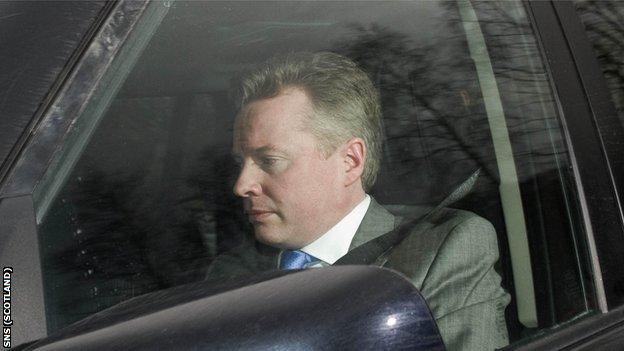 Rangers players have been in touch with their union to seek advice following the club's move towards administration.
Ibrox owner Craig Whyte turned up at training on Tuesday morning to address players and coaching staff.
And PFA Scotland chief executive Fraser Wishart told BBC Scotland: "Players are uncertain. I've spoken to a number of them already and they are concerned.
"Suddenly, contracts are perhaps not worth the paper they're written on if administration comes."
On Monday, Rangers lodged notice at the Court of Session in Edinburgh of their intention to go into administration, with Whyte saying the club had no chance of winning their major tax dispute with Her Majesty's Revenue and Customs.
But HMRC are now poised to counter that move and ask the courts to put the Ibrox outfit into administration.
"The players are vulnerable," added Wishart, who played for Rangers from 1993 to 1995.
"Under normal circumstances, contracts cannot be broken but administration changes all of that.
"Sadly, I've been through this process a number of times. The big difference here is the amount of money owed to the Inland Revenue.
"That's the issue Craig Whyte or an administrator has to address."
When a club enters administration, players' contracts are still valid and will continue to be honoured if the administrator decides the club can afford to do so.
However, there could be some redundancies if the administrator decides there is not enough cashflow to pay wages.
Whyte was pictured exiting Murray Park on Tuesday morning along with several first team players, but Wishart is concerned for the futures of everyone working at the club and not just the players.
"We have to remember that people are working within the football club," said Wishart.
"I'm fortunate to have the opportunity to talk about the players but there is a whole host of people who work for Rangers, who might lose their jobs here.
"Some of the worst days I've had in football have been at clubs when people have been made redundant.
"It could be the kit man, the groundsman, people in the office.
"It has a major effect on the morale of a football club.
"It's a painful process for those at the sharp end."