Players to blame for Wolves plight - Roger Johnson
Last updated on .From the section Football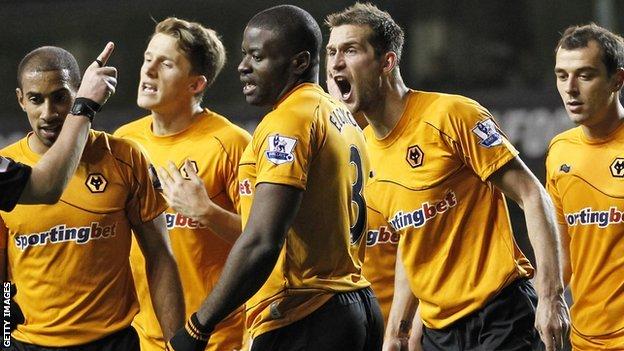 Wolves captain Roger Johnson believes the players are largely to blame for the club's current position in the Premier League's bottom three.
"The manager can maybe take five to 10% (of the blame)," Johnson, who joined Wolves in the summer, said.
"The rest of it is down to the lads. We have let Mick down, the club down and ourselves down."
The decision to sack McCarthy came just a day after the team were beaten 5-1 by local rivals West Bromwich Albion, which leaves them with just one win from their last 11 matches.
Wanderers are not in action again until 25 February, when they face Newcastle United.
Johnson suffered relegation to the Championship with Birmingham City last season but he's confident there won't be repeat performance.
"Thankfully we have got enough games to get enough points to get out out of trouble," he told Sky Sports.
"We probably need six wins from 13 games and we have a good enough team to do that."
Wolves owner Steve Morgan will return from a family holiday on Wednesday and begin the search to find a replacement for McCarthy, who had been in charge at Molineux since 2006.
Chief executive Jez Moxey has already revealed the type of manager the club are looking for.
"It is not a job for a novice," Moxey told BBC Radio 5 live.
"We have to work quickly, we have to get the right manager in, but we are open-minded about what shape and form that takes, whether it is short term or long term."