Thierry Henry can make mark on AC Milan - Arsene Wenger
Last updated on .From the section Football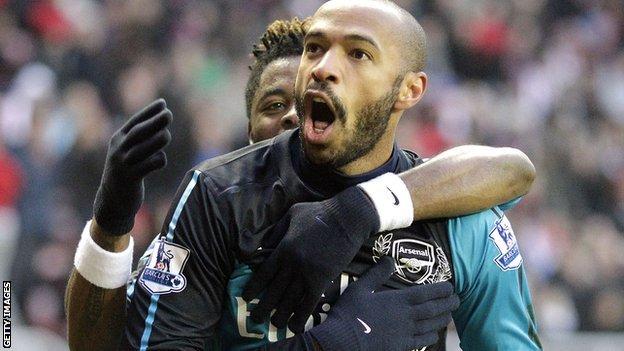 Arsenal manager Arsene Wenger believes that striker Thierry Henry is ready to sign off in style against AC Milan in the final match of his loan spell.
The 34-year-old will return to New York Red Bulls after Wednesday's Champions League last-16 clash.
"He can do it again," said Wenger of the Frenchman who scored two late winners in his time back in London.
"He will be highly motivated because he started his international career in Italy."
Henry moved to Italian side Juventus in January 1999 from Monaco, but an indifferent eight-month spell came to an end with a move to Arsenal.
He went on to score a club record 226 goals in 370 appearances for the Gunners, before moving to Barcelona in 2007.
He has added another three goals in six substitute appearances to those tallies since returning to the Gunners in January during the Major League Soccer close season.
Wenger had hoped to extend Henry's second stint at the Emirates by a fortnight and admits the forward's performances have exceeded his expectations.
"We didn't expect him to be so important for us when he signed," he added.
"His talent on the pitch is still much sharper than I expected after being out in the States.
"I expected him to have more health problems because at the end of the day he left top, top European level football because he was a bit concerned about his knee problems, but he's in good shape."
Henry scored twice on his last visit to the San Siro in an Arsenal shirt as the Gunners thumped Inter Milan 5-1 in November 2003 while Arsenal beat AC Milan 2-0 at the same venue in 2008.
The decision to give Henry one of the 25 Champions League spots, for just one game, was one Wenger admits he agonised over.
"It was [a difficult decision], of course it was because I had to keep a player out and it was a dilemma but I thought it was worth it," he added.
"Especially in a territory where he would be highly motivated because he started his international career in Italy and I believe if needed he can help us."
The hosts regained their place at the top of the Italian league on Saturday with a 2-1 win over Udinese and, despite his side's record of four wins in their last six visits to Italy, Wenger does not believe they are favourites.
"It is a game for me that is a real 50-50," the French manager added.
"It is very important to not let them get on top of us, and to start strong will be very important for us."
Another thing causing concern for Wenger is the state of the pitch at the San Siro stadium, which has recently been relaid.
"I'm a bit worried about the quality of the pitch, it doesn't look exceptional but hopefully it will be better (on Wednesday)," said Wenger.
"They told me tomorrow it will be much better, it has been relaid on the flanks very recently.
"When you relay a pitch like that it takes time to settle and become flat and at the moment it isn't."
Wenger's AC Milan counterpart Massimiliano Allegri has urged his side to show caution as they aim to avoid a repeat of last season's home defeat against Tottenham in the same competition.
Twelve months ago, Peter Crouch stroked home a late winner to cap a swift Tottenham counter-attack and secure a 1-0 win.
"Last year we made one mistake late against Tottenham. On Wednesday, we need to have great patience and be careful, otherwise you complicate everything," he said.
"We need to have a game of great intensity, and we can't give them chances to counterattack because that is their strength."