Tuesday football as it happened
Last updated on .From the section Football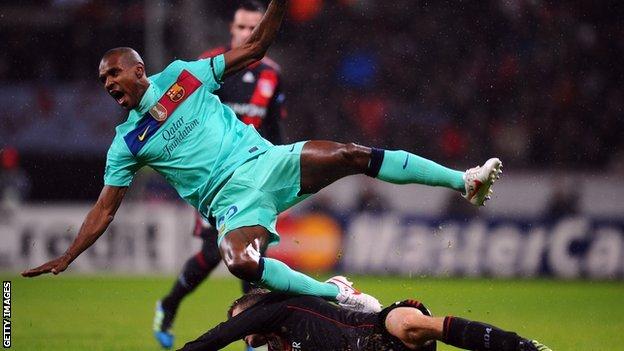 PLEASE MANUALLY REFRESH THIS PAGE
GET INVOLVED: Tweet me @chrisbevan_bbc using the hashtag #bbcfootball or text me on 81111 (UK). Make sure YOU PUT YOUR NAME on those texts though.
By Chris Bevan
2222: Right, it is time for me to love you and leave you. I hope you enjoyed spending the last few hours of Valentine's Day with me - and Lionel Messi too of course. I'm back on Wednesday for more Champions League action. How does AC Milan-Arsenal and Zenit St Petersburg-Benfica sound? Thanks for keeping me company, and cheerio for now.
Steve, Southampton, via text: "Re Hammers fan Jack. Only taken one point off us over two games this season? Conceded 17 shots at home tonight and scraped a draw? Within one point in the league? I know you were Premier League last season but please show some respect."
Lyon defender Cris on his side's 1-0 win over Apoel Nicosia: "We didn't concede, that is very important. We knew we were up against a strong team defensively. We threw everything at them. For the second leg [7 March at GSP Stadium] we'll have to do equally well to go through. In these games, it's essential to motivate the players. Because of my experience that's what I'm here for."
West Ham manager Sam Allardyce on BBC Radio 5 live, talking about refereeing decision in his side's draw with Southampton: "The Southampton player has held his face when Matt Taylor pushed him in the chest. The assistant referee has been conned and unfortunately we lost a man from then on. But the biggest problem was the referee missed two of the most blatant penalties you will ever see. Everyone in the ground could see they were penalties."
Southampton boss Nigel Adkins believes his team were unlucky not to have left Championship leaders West Ham with all three points after a 1-1 draw. He told BBC Radio 5 live: "It was a good game of football with lots of incident. At the end of the day we've come away from home and got a point. We've totally dominated the game on the balance of play. And we should have got a penalty of our own in the second half. I've watched it again and it was a clear penalty."
2212: More from Barcelona boss Pep Guardiola: "I was so happy for the performance and the result because the Champions League is tough to play away from home and for spectators the second half was better than the first half. Playing against German teams you don't have possession a lot and they are physically stronger. In the second half we played a game that was not too interesting for us but we scored three goals and we will try to finish it in the second leg at home."
FULL-TIME West Ham 1-1 Southampton
BBC Sport's Nabil Hassan at Upton Park:"West Ham and Southampton end the day as they started it - first and second in the Championship table. Their pulsating draw at Upton Park was the right result but it is a scoreline that has opened up the race for automatic promotion to the chasing pack of Cardiff City, Blackpool, Birmingham and Reading. It's very much game on in the Championship."
2210: Barcelona boss Pep Guardiola has just been asked whether he should rest goalscorer Lionel Messi more often: "Why? It's worse for the audience [if he doesn't play], people buy the tickets and watch TV to watch players like him. He's strong and his life is football and he doesn't care about the rest of the environment in football. He just loves to play."
Saints fan Dan, via text: "Re Hammers fan Jack. How can you possibly say that a team that constantly hoofs the ball up to the big striker is much better than a team that gets it on the deck and plays great stuff? Four points from six against you isn't bad considering we were two divisions apart last season!!"
FULL-TIME Lyon 1-0 Apoel Nicosia
Mike Henson reports: "Apoel battened down the hatches from the first puff of the referee's whistle and will be pleased that Lyon's waves of attacks only yielded one goal. Not a lot here for the neutrals though, as their limited ambitions made for little entertainment. "
FULL-TIME Bayer Leverkusen 1-3 Barcelona
David Ornstein reports: "Sanchez and Messi do the business as Barca take a giant leap towards the quarter-finals. At this rate, they'll take some stopping."
2200: Here's a reminder of what happened in the Champions League tonight...
More from Bayer Leverkusen defender Vedran Corluka: "We are not saying we are in the best form but we gave it our best and we had a couple of good chances but we can't say anything - they are better team than us. In the first half we sat back and defended all the time but the goal made us play a little bit bette. We almost scored an equaliser but that opened up spaces for them and they scored two good goals."
BBC Radio 5 live football reporter Stuart Pyke after Sheffield United moved into League One's second automatic promotion spot by beating Yorkshire rivals Huddersfield: "Neill Collins' first goal of the season turned out to be priceless and put Sheffield United into second above neighbours Sheffield Wednesday. It was a very professional performance and they certainly deserved the win."
FOOTBALL LEAGUE UPDATE: In League One, Charlton extend their lead at the top of the table after a 2-1 victory over MK Dons, as Sheffield Wednesday lost at home to Stevenage. Sheffield United jump into second after a 1-0 win over Hudderfield and Rochdale drop to the bottom after being defeated at Scunthorpe. In League Two, Cheltenham miss the opportunity to go clear at the top after losing against Torquay, as did Crawley who lost heavily at Swindon. Plymouth move out of the relegation zone with a draw against Barnet.
adamtillsley on Twitter: "It's quite worrying that Messi is still only 24 years old!"
Bayer Leverkusen defender Vedran Corluka after his side's 3-1 home defeat by Barcelona in the first leg of their Champions League last-16 tie: "I think the tie is finished to be honest."
Hammers fan Jack, via text: "West Ham are playing rubbish football (if we can call it that) and it needs to stop. The red card may have been awful tonight, but we are much better than Southampton."
jamesgibbins on Twitter:"Can't understand those who say Ronaldo is better than Messi. Messi technically is better, feet and vision, and he's a team player."
miniaturehero on Twitter:"Leeds United losing to Coventry. NOT good enough!"
FOOTBALL LEAGUE UPDATE: The big winners in the Championship tonight? Probably Cardiff, who sit in third after comfortably defeating Peterborough. They have closed the gap on the top two of West Ham and Southampton, who drew at Upton Park. Blackpool and Reading sit in the top six after wins, while Birmingham are fifth after their goalless draw with Hull. Having said that, there was a huge win at the other end of the table, with Coventry's late winner against Leeds lifting the Sky Blues off bottom.
BBC Radio 5 live extra pundit Steven Reid after Championship play-off hopefuls Birmingham and Hull's goalless draw at St Andrew's: "The quality wasn't great tonight. But at the same time both teams kept a clean sheet. We mentioned before the game that both teams don't concede many goals and it's turned out that way."
2146: Things are a lot tighter between Lyon and Apoel but the Cypriots will have to attack in the second leg, and there is a reason they don't do that willingly. I'd hope for a more open game next time round, and Remi Garde's men have the firepower to take advantage.
2143: When Lionel Messi is playing I don't want the game to end. He was magnificent tonight. Leverkusen gave Barca a game in the second half, but they were second best. Difficult to see anyway back for them at the Nou Camp now.
2140: FULL-TIME West Ham 1-1 Southampton
Barry Mason, via text: "I'm 64 years of age. Without any doubt Lionel Messi is the greatest footballer I have ever seen."
Zainy115 on Twitter:"Re Gunners fan Brent. Due to Cesc, Barca are not as superior as last year as they've changed the formation just to accommodate him."
Infostrada Sports on Twitter:"Messi becomes the outright top scorer in the Champions League knock-out phase with 19 goals. He shared the record with Shevchenko and Raul."
2135: FULL-TIME Lyon 1-0 Apoel Nicosia
2134: Apoel are actually enjoying a bit of late pressure. Well, they've had two corners... which are both easily cleared.
2133: FULL-TIME Bayer Leverkusen 1-3 Barcelona
2132: An Apoel equaliser really would be a shock but it's not going to happen. At least I don't think it's going to happen. The Cypriots have just had their first shot of the game, from substitute Gustavo Manduca, but it was easily saved by Lyon keeper Hugo Lloris.
2130: GOALFLASH Bayer Leverkusen 1-3 Barcelona (Lionel Messi)
The Magic Man has a goal to cap another superb display. Lionel Messi starts this move, sliding Dani Alves through. Alves has space and time to score himself, but he wants Messi to finish it. The Argentine strains every muscle and sinew to get into the box and gets on the end of what appears at first to be a far too fierce Alves cross to slide the ball home. If that hadn't gone in, it would have been a criminal waste by Alves. As it is, it's a sublime goal.
England defender Rio Ferdinand on Twitter: "Messi is showing the full range of his weaponry here....threading passes, dribbling, pass appreciation.....I could go on and on! Magician."
BBC Radio 5 live extra pundit Steven Reid on the prospect of Birmingham and Hull breaking the deadlock at St Andrew's: "The game just seems to have tailed off a little bit after a decent start to the second half. It was a bright start for Birmingham but they've not really capitalised on that."
2127: Alexis Sanchez will not get a hat-trick tonight. He has just been replaced by Isaac Cuenca. We are into the final four minutes of the 90 at BayArena.
2125: So close to an Alexis Sanchez hat-trick. His glancing header brings a sprawling stop from Leverkusen keeper Bernd Leno, who gets just enough on the ball to stop Lionel Messi from following up. Not a lot happening at Stade Gerland, by the way. Lyon are not looking like adding to their one-goal lead and Apoel have barely threatened so far.
BBC Sport's Nabil Hassan at Upton Park:"Jos Hooiveld, who moments earlier headed over from close range, pokes home from six yards to earn Saints a deserved equaliser with 15 minutes remaining."
Gunners fan Brent, via text: "Will the Fabregas curse strike Barca? Well behind in the league, nowhere near as dominant in Champions League...come back to Arsenal and not win things!"
BBC Radio 5 live football reporter Alastair Yeomans after struggling Nottingham Forest halve the deficit at Middlesbrough: "Credit to Forest because a goal a minute either side of half time could have knocked the stuffing out of them. But it's game on here again."
2121: Stefan Kiessling takes about two minutes to make an impact, running in to meet Gonzalo Castro's whipped cross and steering in a header that Victor Valdes has to scramble to stop at his right-hand post. Castro goes in referee Craig Thomson's book a few moments later after he and Sergio Busquets take a tumble on the athletics track around the pitch. A bit harsh that.
2121: GOALFLASH West Ham 1-1 Southampton (Jos Hooiveld)
2118: Leverkusen are making an attacking change with striker Stefan Kiessling on for midfielder Simon Rolfes. Very appropriate for Valentine's night, that one. About 15 minutes left for Kiessling to make his presence felt.
FOOTBALL LEAGUE UPDATE: In League One, Charlton lead MK Dons 2-0 and will extend their lead at the top of the table with Sheffield Wednesday losing at home to Stevenage. Scunthorpe Garry Thompson has struck for his side against Rochdale and Bournemouth have equalised against Leyton Orient. In League Two, Crewe go 2-1 ahead against Burton Albion and Oxford United take the advantage against Dagenham & Redbridge.
BBC Sport's Nabil Hassan at Upton Park:"With West Ham down to 10 men and Saints a goal down, the game is becoming increasingly stretched even with half an hour remaining. The Hammers look lively going forward while Adam Lallana seems the Saints player most likely to unpick the West Ham defence. Getting a bit nervy at Upton Park."
2112: WOODWORK Lionel Messi hasn't got on the scoresheet yet, but he has still shown us a few glimpses of his genius. Here's another one, with the Argentine Imp drifting in from the right byline, leaving defenders in his wake before cheekily chipping the ball over Bernd Leno, who has dived at his feet. The sheer impudence of the whole move deserves a goal, but the ball clips the outside of the post instead.
2109: Barca have made a couple of changes, with Thiago and, more recently, Pedro on for Andres Iniesta and Adriano. They are having to do more defending, but they are still seeing a lot of the ball - 74% of possession so far since the break. They still lead 2-1 as well.
2108: Around 25 minutes left in our two Champions League last 16 ties. So far, Lyon have had 18 shots on goal, while Apoel have had, er, none. the French side have almost scored a second goal too, with Ederson primed to head home from point-blank range before Nuno Morais gets back to nod behind in the nick of time.
SCOTTISH CUP LATEST: Ryan McGuffie scores from the spot to level for Queen of the South at home to Aberdeen in the Cup replay, and things are looking a bit tastier at Ross County now that they trail St Mirren by just one goal - Sam Morrow's header halving the deficit. But still we await a goal at McDiarmid Park where St Johnstone and Hearts are engaged in a nervy Cup replay.
FOOTBALL LEAGUE LATEST: Brighton are back on level terms against Millwall, with Sam Vokes on target for Gus Poyet's side, while the problems mount for relegation-threatened Nottingham Forest, who trail 1-0 at Middlesbrough. Leaders West Ham are still a goal to the good against promotion rivals Southampton.
2105: WOODWORK: What a goal this would have been. Leverkusen are passing the ball around sweetly now, much like their opponents, and the chances are still coming. This time the ball is worked out to Gonzalo Castro on the left of the area, and he powers in an angled drive that Victor Valdes gets the slightest of touches on, just enough to ensure it cannons back off his left-hand post. So close, and so unlucky.
TomCox11 on Twitter: "Leverkusen score with their eighth touch of the match, six minutes into the second half. Barca score with their 375,198,234,456th touch of the ball, nine minutes into the second half."
2101: GOALFLASH Lyon 1-0 Apoel Nicosia (Alexandre Lacazette)
Well, it's been coming... but there is still an element of luck about this Alexandre Lacazette strike to break the deadlock at Stade Gerland. He does well to check inside the area and make way for a shot which, when it comes, nicks off Paulo Jorge's foot and loops over Dionisios Chiotis and into the net.
reddhott77 on Twitter:"Sheer class by Sanchez."
Middlesbrough fan Mike, at the Riverside, via text: "Hey, no talk of Middlesbrough. On course for their first win since Christmas and playing well v Nottingham Forest."
2058: Maybe Leverkusen have decided that attack is the best form of defence? They respond to that second Sanchez goal by coming forward again, and after a neat move, Renato Augusto tests Victor Valdes with his shot from the edge of the area. This game has opened up.
2055: GOALFLASH Bayer Leverkusen 1-2 Barcelona (Alexis Sanchez)
Barca's first attack of the second half, and they are back in front. It's a beautifully worked goal too. A peach of a pass from Cesc Fabregas slips in Alexis Sanchez, who has timed his run perfectly, and he rounds Bernd Leno before squeezing his shot inside the post.
2052: GOALFLASH Bayer Leverkusen 1-1 Barcelona (Michal Kadlec)
This is more than a start, this is the equaliser. Leverkusen continue to press and Vedran Corluka finds space behind Eric Abidal to send over a cross from the right. Michal Kadlec leaps above Daniel Alves to meet it, and power home a header. Game on.
2051: Lyon almost make the breakthrough within seconds of the restart. Michel Bastos slips Ederson clear and he rounds the keeper before going for goal, but Paulo Jorge is back to clear off the line.
2049: Better by Leverkusen, which isn't difficult. Still, this is a half-chance which is a a start. Michal Kadlec swings a free-kick from the left, which goes through a crowd of players and finds Manuel Friedrich arriving at the far post. It's a tight angle, though, and he cannot direct the ball on target. Oh and Lyon and Apoel have just restarted too.
Spurs' England, and former Sheffield United, full-back Kyle Walker on Twitter:"Come on the Blades! Three points tonight. We're all Blades aren't we?"
2046: KICK-OFF We are back under way at BayArena. Leverkusen will start with the ball. Can they manage a shot - on or off target this half? - they didn't before the break.
SCOTTISH CUP HALF-TIME UPDATE Ten-man St Mirren will likely face an onslaught from Ross County as the Dingwall side try to get back on level terms in their Scottish Cup fifth-round replay. Gary Teale's goal is still the difference between the sides. Craig Brown's Aberdeen side are a goal up at Palmerston Park in Dumfries against Queen of the South, and there's no score in Perth where St Johnstone and Hearts are going toe-to-toe in their replay.
Infostrada Sports on Twitter:"Lionel Messi (37 goals and 21 assists) has been directly involved in 48% of the goals Barça have scored this season."
BBC Radio 5 live extra pundit Steven Reid after a goalless first half between Birmingham and Hull: "The first half has been a little bit disappointing. These are two teams at the top end of the Championship and there's not a great deal of quality. I would like to see Birmingham take more of a risk going forward. Nil-nil at half-time, and with Birmingham being third, I think Nick Barmby will be pleased."
HALF-TIME WEST HAM 1-0 SOUTHAMPTON
BBC Sport's Nabil Hassan at Upton Park:"Cracking game at Upton Park. West Ham worthy leaders at the break but unlucky to be down to 10 men after the dismissal of Matt Taylor. Having said that, striker Billy Sharp really should have equalised for the Saints - who improved as the half wore on. Second half should be a belter."
FOOTBALL LEAGUE UPDATE: Oldham go 2-0 ahead against Walsall with goals from Filipe Morais and Robbie Simpson and bottom side Chesterfield lead at Bury. Finally some goals in League Two, with Paolo di Canio's Swindon side taking the lead against Crawley, Rotherham going in front against Accrington Stanley and Port Vale edging ahead at Bradford through Louis Dodds.
HALF-TIME LYON 0-0 APOEL NICOSIA
Mike Henson reports: "Apeol will be happy to continue giving away the lion's share of possession with Lyon lacking any bite to finish off the chances they have created with it. Top-scorer Bafetimbi Gomis spent the first half sat on the hosts' bench, a decision that could come back to haunt Lyon boss Remi Garde."
2037: Barca had 78% of possession in that first half. I thought that figure would be higher, because they have been that dominant.
HALF-TIME BAYER LEVERKUSEN 0-1 BARCELONA
David Ornstein reports: "Alexis Sanchez registers his first Champions League strike and how vital that away goal might prove. Barca in total control, Leverkusen chasing shadows."
FOOTBALL LEAGUE LATEST: If you could be anywhere in the Championship this evening it would probably be Vicarage Road, where the game between Watford and Leicester is locked at a very entertaining 2-2. That said, Cardiff struck three in six minutes late in the half to take control against Peterborough. Fans of Millwall, Palace, Burnley, Blackpool, Ipswich and West Ham are probably all happy as their teams lead. Coventry versus Leeds is locked at 1-1.
russwatkins on Twitter: "Please note that Barcelona now wish to be referred to as 'The Swansea City of La Liga'."
2031: HALF-TIME It is half-time at BayArena and Stade Gerland.
2030: Barca have the goal they were pressing for but they want more, and before the break too. Lionel Messi dances into the Leverkusen area before - eventually - being crowded out. Some magical footwork got him past about three defenders first though.
2029: Into the final minute of the first half in both our Champions League matches, and most of our Football League ones too. Barca still have the ball and Leverkusen are still chasing shadows. Meanwhile, Lyon are definitely on top against Apoel now, but they are yet to make it count.
SCOTTISH CUP UPDATE First Division teams Queen of the South and Ross County are each trailing by a goal to Scottish Premier League sides Aberdeen and St Mirren respectively. Fraser Fyvie scored the Dons' opener, while former Derby County winger Gary Teale is the Buddies' hero. But St Mirren striker Steven Thompson has been shown a straight red so there's a chance for County to come back into the match in Dingwall. And it's a stalemate so far between St Johnstone and Hearts.
2026: Bayer Leverkusen 0-1 Barcelona (Alexis Sanchez)
At last, our first Champions League goal of the evening. And it's a first in this competition for Barca by Alexis Sanchez too. He latches on to a delightful clipped pass from Lionel Messi, holds off a couple of Leverkusen defenders and slots his shot past - well, under, actually - Bernd Leno. The keeper could have done more with that, but he was horribly exposed.
2025: Lyon's best effort so far tonight sees Alexandre Lacazette lash in a fierce shot that Dionisios Chiotis palms away.
BBC Sport's Nabil Hassan at Upton Park:"Thirty mins gone at Upton Park. Masterclass from West Ham. Southampton totally outplayed, outmuscled and outclassed."
2022: Lars Bender launches it long for Andre Schuerrle to chase, bringing Victor Valdes rushing from his goal to clear in the corner. Leverkusen bring more men forward for the throw, but it only helps launch a Barca attack which ends when an off-balance Lionel Messi, prods a weak shot at Bernd Leno. I think Messi handled the ball in the build-up too.
Infostrada Sports on Twitter:"In the group phase, all matches involving APOEL saw a combined total of just three goals in the first half, lowest of all teams this Champions League season."
2020: Barca are just lacking the final ball at the moment. This time, Cesc Fabregas swings in a delicious cross from the left but Alexis Sanchez is offside as he leaps to get on the end of it.
2018: What's this? An attack by Leverkusen? Yep. And it's only taken them 33 minutes. Vedran Corluka, on loan from Tottenham, launches a throw into the area and it bounces into the path of Andre Schuerrle on the edge of the area. He takes a swing, but fails to connect and the ball does not reach Barca keeper Victor Valdes.
BBC Sport's Nabil Hassan at Upton Park:"Bedlam at Upton Park as West Ham are awarded a penalty when Billy Sharp brings down Mark Noble, which Saints dispute. Matt Taylor then gets involved in an argument with Sharp who falls to the ground theatrically with Taylor sent off as a result. Mark Noble converts the spot kick."
BBC Radio 5 live extra pundit, and West Brom defender, Steven Reid: "The goals are flying in around the Championship now. There have been a few postponements over the last couple of weeks but the Championship is certainly back to its best tonight."
FOOTBALL LEAGUE UPDATE: In League One, Sheffield United take the lead at Huddersfield through Neill Collins and Leyton Orient are also ahead at Bournemouth. Stuart Beavon has given Wycombe the advantage against Yeovil while it's 1-1 between Notts County and Exeter. Despite 11 games being played in League Two, not a single goal has gone in!
2009: Barca have had stacks of possession but are still to test Leverkusen keeper Bernd Leno. Adriano skews his shot well off target when he lets fly from the right-hand side of the area. Lyon need to improve their finishing too: Anthony Reveillere fires straight at Apoel keeper Dionisios Chiotis when the ball runs to him inside the area, then Michel Bastos blazes over from the edge of the box.
2008: GOALFLASH West Ham 1-0 Southampton (Mark Noble)
FOOTBALL LEAGUE LATEST: First goal of the night in the Championship went to Burnley striker Jay Rodriguez in their match against Barnsley, while Crystal Palace, Ipswich and Leicester also lead. Watford did go ahead against the Foxes but a brace from David Nugent has put Nigel Pearson's team in front.
2005: While Barca are playing keep-ball in Leverkusen, Lyon come close to carving out a decent chance. Ederson beats two men to advance to the edge of the area... but he hesitates far too long before playing in the unmarked Alexandre Lacazette, and the flag goes up for offside as soon as he does. Lacazette fires wide in any case.
2002: A great challenge, this. Well, sort of. Leverkusen's Renato Augusto chases back to slide in on Eric Abidal, and comes flying in. Only problem is he gets nowhere near the ball, and I don't think Abidal is even aware he is there as he tries to turn away. Augusto gets a boot in the face for his troubles, but he is fine now.
BBC Sport's Nabil Hassan at Upton Park:"West Ham have made the better start at Upton Park and should have been in front as early as the 45th second with Ricardo Vaz Te testing Kelvin Davis with a fierce half volley from the edge of the area which the Saints keeper turned around the post at full stretch. Saints playing on the counter attack as you would expect but West Ham looking the more likely to score. Still 0-0 for now."
Rhys Davies, via text: "Absolutely blown away by how Chris Hughton has managed to make a team from next to nothing and for them to gel so quickly. It's one of the most exciting Birmingham teams in years. Thanks Chris and the whole team!!"
2000: Over at Stade Gerland, Lyon are not quite building the same momentum. Ederson has just found space on the edge of the area to fire in a low shot from Alexandre Lacazette's pass, but he didn't really get hold of it. It was easily kept out by the diving Dionisios Chiotis.
1958: A couple more sniffs for Barca. Dani Alves slams a free-kick over the bar from a dangerous position and then, more menacingly, it takes a well-timed sliding interception to stop Alexis Sanchez's low cross finding Lionel Messi in the middle.
edwardssport on Twitter:"Here's a Valentine's special. Filip Kiss on the bench for Cardiff City. Smooch."
djgaryr83 on Twitter:"Meat pie, sausage roll, come on Wednesday give us a goal... League One just got serious."
1955: Pretty even so far at the Stade Gerland, although we have had an early penalty shout for Lyon, when Edison was bundled over by Nuno Morais as he attempts to surge onto a loose ball in the box. Nothing doing from referee Paolo Tagliavento, though, and the crowd let the Italian know what they make of the lack of a whistle.
1953: Our first booking of the night and it goes to Leverkusen defender Daniel Schwaab. He slides in very late on Eric Abidal, and concedes a free-kick about 30 yards out. Barca could whip this into the box, but they play it short and the move breaks down when they try to find Lionel Messi, making a late run to the back post.
1950: Leverkusen cannot get out of their half and they cannot keep hold of the ball. Barca are the complete opposite, but they haven't really tested the German side's keeper Bernd Leno yet.
Tom Rix, via text: "Re Scott O'Drennan. Big fan of Ajax are you? Cos the best teams in Europe are sure not on display on a Thursday! Enjoy the Europa League!"
Stueymeyer on Twitter:"Am I the only person out there who thinks West Ham have about five strikers too many? Maynard will be wasted there!"
Birmingham boss Chris Hughton, who has overhauled the Blues since their Premier League relegation in May, on BBC Radio 5 live extra: "It's been a dramatic change since last summer. But it's not about the players who aren't here - it's about the players who are still here."
1946: It took Leverkusen one minute and 20 seconds. But Barca are back in possession again almost immediately.
1945: KICK-OFF The champions of Europe get us under way in Leverkusen. I'll let you know when the home side touch the ball. Lyon-Apoel has just started too.
Hull City manager Nick Barmby, ahead of his side's clash at Birmingham, on BBC Radio 5 live extra: "Birmingham have a very good squad and obviously have a very good manager. They're going well because they've played a lot of games this season. They're the form side of the division. But we're going there and going to relish it. We're not going there on the back foot - our form is good too."
SCOTTISH CUP LATEST: "Queen of the South, struggling near the foot of the First Division, take on Aberdeen in the Scottish Cup. The Dons recent history is peppered with Cup exits to smaller teams. Elsewhere, in Dingwall, Ross County play St Mirren, another First Division club hoping to claim an SPL outfit's scalp. And in Perth it's St Johnstone v Hearts, two teams going well in the top tier who would dearly love to make it to Hampden in May for the final. There's the prospect of extra-time and penalties for these replays so it could be an exciting evening."
BBC Sport's Nabil Hassan at Upton Park:"Rhianna blaring out on the PA. Already a cracking atmosphere in the East End."
1942: It looks a grim old night in Leverkusen, where the teams have just emerged on to the pitch. And now for that anthem... it's been a while, but it is sweet, sweet music.
FOOTBALL LEAGUE UPDATE: League One sees a blockbuster fixture list with the top six facing off. Leaders Charlton entertain MK Dons, second-placed Sheffield Wednesday host Stevenage and Sheffield United travel to the Galpharm Stadium to play Huddersfield. In League Two, with Southend not in action, Cheltenham can go clear at the top with a win against Torquay. Third-placed Crawley face a tricky trip to Swindon and at the bottom, Northampton are up against Wimbledon, looking to move off the root of the table.
1938: Right then. Not long until we get going. We have commentary on two of tonight's games - on BBC Radio 5 live, you can listen to West Ham versus Southampton and on 5 live sports extra, you can stay across Birmingham City against Hull City.
Scott O'Drennan, via text: "Champions League football isn't quite the same without the two best teams in Europe...THURSDAY NIGHTS!!"
Mo from Manc, via text: "It is extremely weird having a Champions League night with no English clubs. Might have to do some homework!"
England cricketer, and Nottingham Forest fan, Stuart Broad on Twitter:"Didn't realise Forest were playing on Valentine's night! Remember lads, if she really loves you she'll let you go to the football..."
Lyon v APOEL Nicosia team news
Mike Henson reports: "Lyon boss Remi Garde rings the changes from the team that lost 2-1 to relegation-threatened Caen last time out with Cris replacing Samuel Umtiti in defence, and Kim Kallstrom and Ederson ousting Clement Grenier and Jimmy Briand in midfield. Alexandre Lacazette comes in for Bafetimbi Gomis up front. Just two changes for Apoel Nicosia who introduce Paulo Jorge and William Boaventura on the left side of defence in place of Nektarios Alexandrou and Marcinho."
Infostrada Sports on Twitter:"Barca are unbeaten in 15 successive matches against German opposition (12-3-0) since losing 2-1 to Bayer Leverkusen in Sep 2001."
Bayer Leverkusen v Barcelona team news
David Ornstein reports: "A torn calf muscle rules Michael Ballack out of a Bayer Leverkusen side that is also missing top scorer Eren Derdiyok, who cut a foot stepping on broken glass in his bathroom. In comes Renato Augusto to lead the line as Stefan Kiessling drops to the bench. Barcelona have also been hit by a calf injury - midfield lynchpin Xavi missing out entirely. Gerard Pique also drops out - Sergio Busquets coming in - while Thiago, Sergi Roberto and Pedro are replaced by Andres Iniesta, Cesc Fabregas and Adriano."
1927: Remi Garde's men have been struggling in Ligue 1 too - they have won only one of their last five games and lost 2-1 at home to struggling Caen on Saturday, leaving them 11 points behind leaders Paris St Germain.
1926: Lyon are in the Champions League for the 12th straight season and in the knockout phase for the ninth campaign in a row. But Remi Garde's side are a little bit lucky to be here. You might remember they only qualified for the last 16 on goal difference, overtaking Ajax with a stunning 7-1 win over Dinamo Zagreb in Croatia.
Oliver Ford, via text: "League One is where it's at tonight. All of the top six are playing each other."
RichardLewis33 on Twitter:"I wonder if Messi will show any love to Bayer Leverkusen tonight by leaving his shooting boots at home!!"
West Ham v Southampton team news:
Nabil Hassan reports from Upton Park: "Championship leaders West Ham are without suspended Kevin Nolan while George McCartney has a tight hamstring and is only fit enough for a place on the bench so Ricardo Vaz Te and Matt Taylor come in while new signing Nicky Maynard has to be content with a place on the bench. Saints are unchanged from the side that beat Burnley 2-0 meaning Billy Sharp and Rickie Lambert are paired up front. Skipper Dean Hammond has to be content with a place on the bench."
West Ham v Southampton line-ups
West Ham: Green, O'Brien, Reid, Faye, Taylor, Noble, Tomkins, Collison, Faubert, Cole, Vaz Te. Subs: McCartney, Baldock, Maynard, Lansbury, O'Neil.
Southampton: Davis, Richardson, Hooiveld, Fonte, Fox, Do Prado, Cork, Schneiderlin, Lallana, Lambert, Sharp. Subs: Hammond, Martin, Lee, Connolly, Puncheon.
Referee: Lee Probert (England)
1922: Lyon are heavy favourites to reach the last eight but coach Remi Garde has warned his players not to show any complacency against their inexperienced Cypriot opponents: "We know a lot of people believe we will easily win against APOEL," he said. "Of course, it's not our opinion. APOEL have had a wonderful group stage, they deserve a lot of respect. We are really focused on this match and we know that we'll have to give our best to get through." Apoel Nicosia boss Ivan Jovanovic is relishing his side's presence in the last 16. "The knockout stage is the 'true' Champions League," he said. "We couldn't believe we were here at the beginning of the season. I honestly don't know what our best level is but I'm hoping that we can still improve."
Lyon v Apoel Nicosia line-ups
Lyon: Lloris, Reveillere, Cris, Bakary Kone, Cissokho, Kallstrom, Gonalons, Lacazette, Ederson, Michel Bastos, Lopez. Subs: Vercoutre, Gourcuff, Dabo, Fofana, Gomis, Briand, Umtiti.
Apoel Nicosia: Chiotis, Poursaitides, Kaka, Paulo Jorge, Boaventura, Morais, Pinto, Charalambidis, Helder Sousa, Trickovski, Almeida. Subs: Urko, Solari, Satsias, Manduca, Alexandrou, Solomou, Marcinho.
Referee: Paolo Tagliavento (Italy)
Bayer Leverkusen v Barcelona line-ups
Bayer Leverkusen: Leno, Corluka, Schwaab, Friedrich, Kadlec, Reinartz, Rolfes, Bender, Castro, Schurrle, Renato Augusto. Subs: Yelldell, Oczipka, Kiessling, Ortega, Da Costa, Toprak, Bellarabi.
Barcelona: Valdes, Dani Alves, Mascherano, Puyol, Abidal, Fabregas, Busquets, Iniesta, Sanchez, Messi, Adriano. Subs: Pinto, Thiago, Pedro, Jonathan, Roberto, Bartra, Cuenca.
Referee: Craig Thomson (Scotland)
Jordan Draper on Twitter:"Good luck to Pompey tonight! Three points would make this week feel a bit better for everyone involved!"
CHAMPIONSHIP UPDATE: While most eyes will be on the table-topping clash between West Ham and Southampton, there are plenty more matches to attract the attention in a full night of Championship action. Defiant Portsmouth fans are set to pack into Fratton Park as they aim to show the heart of the administration-bound club is still beating strongly when their team faces Ipswich. Third-placed Birmingham, the division's hottest team with no defeats in nine, host play-off rivals Hull. And Leeds caretaker boss Neil Redfearn faces his third date in charge at rock-bottom Coventry.
Mike O'Connor on Twitter:"A guaranteed 0-0 in both Euro games tonight. You heard it here first!"
BBC Radio 5 live pundit Steve Claridge at Upton Park, talking about the promotion chances of West Ham and Southampton ahead of their table-topping Championship clash: "Looking at it, you've got to plump for West Ham as favourites to win promotion. Simply because their squad has so much depth and quality. However, Southampton have followed suit in January, especially with the signing of Billy Sharp. But I think both are well-equipped to win promotion."
WEST HAM v SOUTHAMPTON (1945 GMT)
Nabil Hassan reports from Upton Park: "First meets second as the Championship's top two sides slug it out in what should be a Valentine's Day belter at Upton Park. Southampton were the early season pace setters but while their challenge has stuttered, the Hammers have taken advantage and hold a one-point advantage over tonight's opponents. West Ham's form is good as you would expect off a side leading the Championship table with Sam Allardyce's men vying for their fifth win in six league games. The Saints are yet to win a game away from home against any of the top 14 clubs and have only won three of their last 11 league matches."
1912: Ballack won't be back tonight either. The 35-year-old is injured after tearing a hamstring in training.
1911: The German side are not exactly in good shape either. They have managed only one win in their last seven games and appear to have fallen out with Michael Ballack, the ex-Bayern Munich and Chelsea midfielder who helped them reach the Champions League final in 2002 during his first spell with the club. The former Germany captain hasn't played since the end of last month, when managing director Wolfgang Holzhaeuser described his return to Leverkusen as a "failure". Ouch.
1910: Barca's form, or lack of it, is worth a mention too. They are the Spanish, European and world club champions but their chances of defending the first of those titles does not look good. Saturday's shock defeat by Osasuna on Saturday has left them 10 points behind La Liga leaders Real Madrid.
1908: Meanwhile, Bayer Leverkusen captain Simon Rolfes describes the tie as "a classic David versus Goliath duel" but managing director Wolfgang Holzhaeuser insists "miracles are always known to happen" and coach Robin Dutt jokes he will be "satisfied with a 5-0 straight win". Very funny.
1906: Pressure, what pressure? Barcelona boss Pep Guardiola admits "you almost get the feeling it would constitute failure if we did not win the Champions League now", adding that he is worried about the qualities of tonight's opponents. "They are a physically a stronger team than us and they will be stronger than us when we do not have possession," Guardiola says. "They are dangerous from set pieces and dead ball situations and they are very strong in the air."
ZakMckeown1993 on Twitter:"1-0 Bayer-Barca and 1-2 Lyon-Apoel. Underdogs to dominate, you heard it here first!"
LYON v APOEL NICOSIA (1945 GMT)
Mike Henson reports: "Apoel Nicosia came through qualifying to become the first Cypriot team to reach the knockout stages of the Champions League after they topped Group G ahead of Zenit St Petersburg and Porto, but they face Lyon side that have lost at home at this stage of the competition just once before. The visitors' great strength has been a defence that has conceded only three goals in six away games amongst Europe's elite and, with Lyon scoring just nine goals in their Group D campaign, expect a nip-and-tuck affair."
BAYER LEVERKUSEN v BARCELONA (1945 GMT)
David Ornstein reports: "Barcelona continue their quest to become the first back-to-back Champions League winners, but Saturday's shock defeat at Osasuna suggests vulnerability. While the Catalan giants have averaged four goals per European away game this season, Leverkusen won all three of their home matches in the group stage and will be desperate to take a lead into the second leg. With one win in their last seven games, though, that will not be easy."
Andy in London, via text: "Am at The Amex for Brighton v Millwall, here's hoping the Albion carry on the 2012 form so far! In Gus we trust!!"
benstanc on Twitter:"Paolo Di Canio vs Steve Evans, could be a busy night for the fourth official at Swindon v Crawley."
1853: There's a full programme in the Football League tonight too, including the tastiest of top-of-the-table clashes between Championship high-flyers West Ham and Southampton, and three Scottish Cup replays. Lots to keep us busy then, so I REALLY hope you haven't made other plans.
1848: And so are Barcelona. The Spanish, European and world club champions are in action tonight, as the last 16 gets under way. They take on German side Bayer Leverkusen, while French outfit Lyon play APOEL Nicosia, the first Cypriot side to reach the knockout stage. What's not to like about that little lot... ? And you get to spend your evening with me too. You lucky people.
1845: Love is in the air, everywhere I look around. Love is in the air, every sight and every sound. Forget about Valentine's Day, though, because there is only one thing you need to know to make your hearts soar tonight... yes, the Champions League is back.