Former director Paul Murray ponders Rangers consortium bid
Last updated on .From the section Football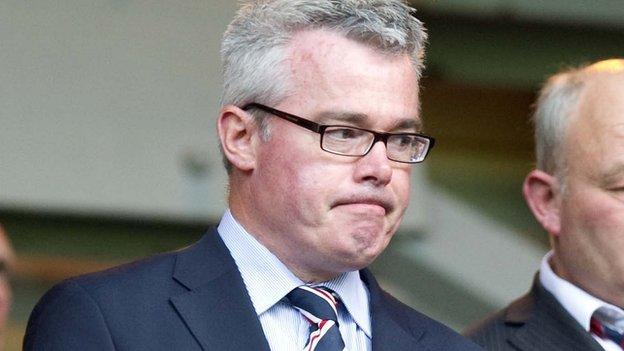 Former Rangers director Paul Murray is willing to discuss a possible takeover of the ailing Glasgow club.
Murray would consider approaching the administrators now running matters at Ibrox but would not work with current owner Craig Whyte.
"Would I come forward and help the club? Yes," Murray told BBC Scotland. "But I can't do that on my own. I would need to work with others.
"Would I be prepared to do that alongside Craig Whyte? No."
The Scottish Premier League champions have been forced into administration over an unpaid tax bill of £9m - accrued since Whyte bought the majority shareholding from Sir David Murray for £1 last May.
Paul Murray and his then-fellow Ibrox board member Dave King proposed a late bid to stave off Whyte's takeover.
The duo aimed to raise £25m to invest in the club, while continuing to service the club's debt that stood at £18m.
Duff and Phelps have been tasked with taking Rangers through the administration process, corporate financial advisers that Whyte has used before.
"I'm sure they are a reputable company and I would be happy to have a conversation with them," said Murray.
"But it would have been far better to have an independent firm looking after the interests of all the creditors, not just the interests of Craig Whyte.
"I don't think one person running the club is a sustainable model.
"I think there has to be wider ownership to give the club the best chance of moving forward.
"This wouldn't be Paul Murray coming forward to buy the club, it would be Paul Murray as one of many stakeholders putting together capital.
"However, I'm still digesting the events of the last 24 hours, so it's too early to come to a judgement.
"It's very difficult to know the scale of the liability the club now faces."
Rangers are also awaiting the verdict of a high-profile tax case, surrounding payments made to employee benefit trusts from 2001 to 2010, which was heard at a tribunal last month.
Whyte, who has yet to release a set of audited accounts or hold an annual general meeting, has warned that losing that case could cost the club as much as £75m.
"There is a real lack of clarity on finances," added Murray.
"Whyte first denied having sold the season tickets, then he was forced to admit it.
"If he paid off the bank debt of £18m and then raised £24.4m from season tickets and he's also sold various players, including our star striker, where has all the money gone?"
Former chairman Alastair Johnston has asked the government's insolvency service to clarify "certain financial arrangements" relating to Whyte's takeover of the club and Murray believes that is the correct course of action.
"This is a public company," he explained. "It's a 140-year-old institution. Fans deserve to know what has happened.
"Once this whole process comes to end, I think Rangers fans have to ask themselves, is Craig Whyte a fit and proper person to own this football club?
"I don't take any pleasure from saying this but the transaction was always going to be a disaster and that's the way it has turned out.
"Rangers supporters need to come together and examine all the options. I don't think Craig Whyte is the only option."