Defiant Ally McCoist upbeat about Rangers future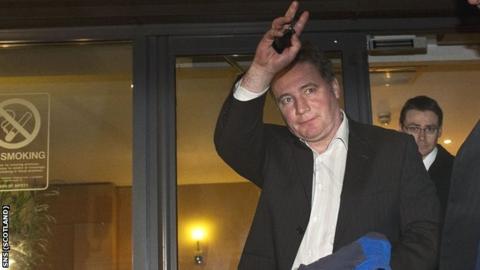 Ally McCoist was in defiant mood at the end of a grim day for Rangers as staff and fans came to terms with the Glasgow club entering administration.
With the Scottish Premier League's 10-point penalty all but ending their title bid, the Gers boss takes a long-term view, asking fans to back him.
"We will be doing everything to make sure Rangers comes out the other side far better and far stronger," he said.
"But there's no getting away from it. It has been a very disappointing day."
The SPL champions took the step to go into administration over an unpaid tax bill of £9m, accrued since Craig Whyte bought the club from Sir David Murray in May.
But there is also the prospect of a bill for £49m should Rangers lose their case with HMRC over the previous regime's use of employee benefit trusts.
"We have 140 years of fantastic history at this football club, but the most important thing is that we look to the future and the next 140 years," McCoist told Rangers' website.
"Going into administration obviously wasn't ideal, but it's the opinion of many people that it might be the best thing for this football club.
"Everybody at this club wants the club to continue, which it will do, that's for sure. And this might just be the best way forward.
"So we have to adjust to what's happened, react to it and take the club forward and we aim to do that."
Celtic now boast a 14-point lead over their city rivals with 12 matches remaining, effectively ending Rangers' chances of securing four titles in a row.
McCoist, though, was not for wallowing in despair.
"There is no place for negativity," he said.
"I've spoken to Craig, to the staff and to the players and we all agree that we must do our best to take the club forward.
"The players are professionals. We have a fantastic group, a talented group.
"There will be people concerned about their jobs and their welfare and we appreciate that.
"But everybody is of the same opinion - that we must rally together and take this great club forward."
Rangers' home match against Kilmarnock on Saturday goes ahead now that the police are satisfied that they will be paid for their match-day operations.
And McCoist is urging the club's fans to give the team their backing.
"The most important people at this football club have always been the fans," he said. "And that will always be the case.
"I have supported the club all my life and I know how they are feeling.
"The one thing that I have to ask them at this time is to be with the club and with the team.
"The team really need the support of the fans more than ever in this hour.
"It's always been the case that we have had a wonderful relationship with the fans and I firmly believe that they are the best in the world.
"Now we need them and we have to ask them to prove that again by supporting the team in numbers and I am sure they will do that."