Rangers in administration is a 'tragedy' - Sir Alex Ferguson
Last updated on .From the section Football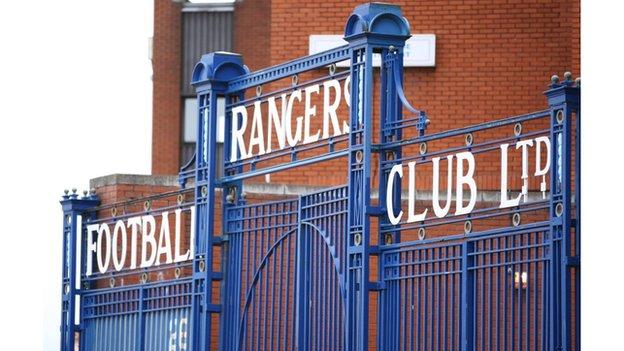 Sir Alex Ferguson described what has happened to his former club, Rangers, as a "tragedy" but insists others do not need to press the panic button.
Rangers owner Craig Whyte called in the administrators after facing a large tax bill.
"I'm not surprised what happened at Rangers," said the Manchester Utd boss. "That was on the cards for a quite a while from since that lad took over.
"It is a tragedy because it is a great football club."
Ferguson was a striker at Ibrox before embarking on a long successful managerial career.
"It is one of the best clubs you could ever think about," he said. "I don't know what will happen there.
"As far as the rest of Europe is concerned, the top clubs have the ability to manage their affairs in the right way.
"You get the odd one here and there that run into trouble, like Portsmouth. But, in the main, you are talking about a small percentage.
"It is nothing we should panic about. We are just disappointed in the ones who do fall aside."
Former Rangers midfielder Trevor Steven believes Whyte's presence at Ibrox will be untenable once the outcome of the administration process becomes clear.
Her Majesty's Revenue and Customs forced the club into administration over £9m in unpaid tax accrued since Whyte's takeover in May.
"He came with a handful of promises that have never been delivered," said the former England international.
"That's what really aggravates the Rangers support - they have never been able to trust the man in charge and there has been no transparency.
"As far as Rangers are concerned, new people have to come into the club once administration has been sorted."
However, another former Rangers midfielder, Jorg Albertz, admits that overspending to chase success in Europe under previous owner Sir David Murray may have been one of the main reasons for the club's current situation.
"We had a strong team anyway, domestically, but doing something in Europe was the main task and that is why money has been spent," the German told BBC Scotland.
"Obviously, the dream didn't come true and I don't know if that is the reason Rangers now face these difficulties.
"But of course money has been spent to have success in Europe.
"Times have changed. They tried so hard to be up there and getting the players in who can do the job in Europe, but there were were other teams who were better."
Former Rangers midfielder Derek Ferguson says administration has put the club's employees in a "horrible" position.
"It's not just players; a lot of honest, hard-working people who have been associated with the club for many years are going to lose their jobs," he said.
Ferguson, now a BBC Scotland football analyst, was shocked how quickly events unfolded at his old club this week.
"I think we all knew it was coming, but I think the speed by which it went through took us all by surprise," he said.
"It was a really traumatic day and I think football is going to be at the back of people's minds, unfortunately, because it's going to affect not just the players but a lot of people employed by Rangers FC; not just at Ibrox but at Murray Park."
Ferguson won three Scottish championship medals during his seven years as a senior professional at Rangers.
Ally McCoist was a team-mate during that spell and the former midfielder believes the Rangers manager is the best man to have at the helm.
"But I think even Ally will be looking round at his coaching staff, his physios, masseurs, the guys that he's close to," added Ferguson.
"He could find himself without one or two of his close pals."
Ferguson also had sympathy for the young players who might now find themselves unemployed.
"They're going to find themselves without a football club, without a job," he added.
"In Scotland, we're not in the best financial state and these young boys on the fringes of things at Rangers are going to find it hard to find themselves another football club."