Sir Alex Ferguson eyes Man Utd youth development
Last updated on .From the section Football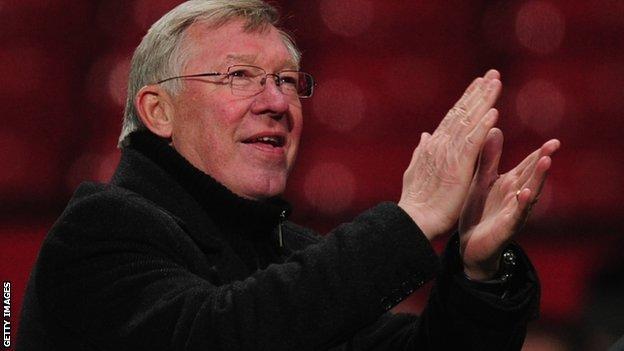 Sir Alex Ferguson is optimistic that a recent change in transfer legislation will help Manchester United develop more home-grown youngsters at the club.
United successfully brought through players like David Beckham, Paul Scholes, Gary and Phil Neville and Nicky Butt in the mid-nineties.
In recent years, Ferguson has bought players from abroad.
However, the Old Trafford boss said: "I'm optimistic we'll be able to get the production line going again."
The change in legislation to which 70-year-old Ferguson was referring was the introduction of the Elite Player Performance Plan (EPPP), which came in towards the end of last year.
The new proposals allow Premier League clubs to sign youngsters from Football League clubs without having to go to a tribunal if a fee cannot be agreed.
It guarantees lower league clubs more funding for youth football over a guaranteed four-year period but it could mean they receive lower fees for players under the age of 17.
It has been met with a mixed reaction in the lower leagues, with Gillingham chairman Paul Scally particularly critical of the new system.
"They can take our kids without paying what we regard as fair compensation," he told BBC Radio Kent in October.
However, speaking to Fifa's website, Ferguson, who is on a one-year rolling contract at United, said: "A few years ago the requirement was brought in that you could only sign young players that lived within an hour-and-a-half radius of the club's headquarters.
"It wasn't like that before, which was how we were able to sign such fantastic young lads.
"But since it became physically impossible to find six or seven players a year so close by, we decided to change the priorities of our scouting system.
"As a result, we started to bring in very talented players from abroad and we've had success that way.
"In terms of developing players from within the club, it's been a long time since we produced a player of Beckham's calibre.
"But the legislation changed again a short while back and it'll be like it was 15 years ago once more."