Zambians into Fifa's top 50 for first time since 2001
Last updated on .From the section Football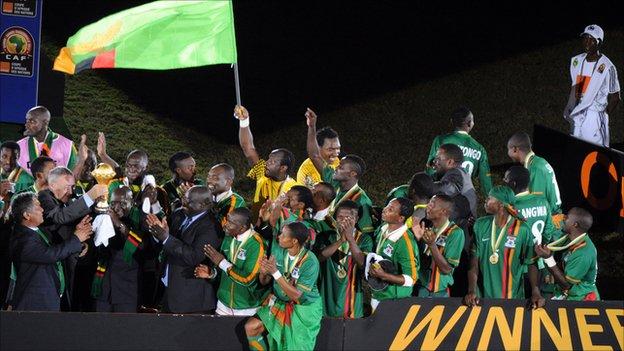 Zambia have climbed to 43rd in the Fifa world rankings after winning the Africa Cup of Nations on Sunday.
It is the first time in 11 years that the team, which shot up 28 places, has made it into the top 50.
The Ivorians remain Africa's top team, up three places to 15th, third-placed Mali climbed 25 spots to 44th while co-hosts Gabon leapt from 91st to 45th.
Fellow co-hosts Equatorial Guinea leapt from 151st to 110th place after surpassing all expectations by reaching the quarter-finals, a run which included beating Senegal.
The Teranga Lions were the biggest fallers, dropping 25 places to 68th spot, after their bitterly disappointing campaign.
Having been absent from the finals, Egypt's 2010 champions also plummetted down the rankings - equalling Senegal's 25-place drop - with the Pharaohs now at their lowest-ever spot since Fifa's records began.
They now stand 61st - with this month's rating being the first time Egypt have ever been outside the top 50.
Another team to miss the finals, Nigeria, have dropped to their lowest ranking since late 2000, with the Super Eagles sitting in 56th spot.
Cameroon, the third of the big African guns to make the finals, have dropped to 66th position - their worst rating ever.
Finally, Libya have climbed to their highest Fifa position since the rankings began in 1993, with their victory over Senegal aiding their rise to 53rd place.
Spain stayed top of the rankings while Germany moved up to second and Netherlands dropped to third even though neither side played a game in the last month.