Fans group given time to raise Darlington rescue funds
Last updated on .From the section Football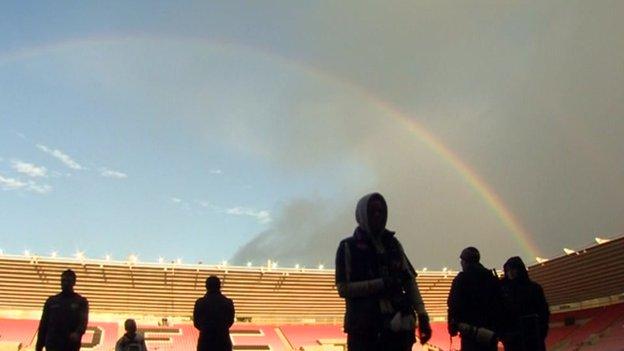 Darlington's administrators have given fans group Darlington FC 1883 Ltd until 30 April to raise the £750,000 they need to buy the club by issuing shares.
Joint administrator Harvey Madden said the group is to set up a scheme selling individual shares in the club for £100.
The group has already raised enough money to guarantee the club's future until the end of the season.
Madden's announcement follows the postponement of last Saturday's home game with Wrexham.
Members of the rescue group, now formally known as Darlington FC 1883 Limited, had met with administrators but until now no strategy for financing the club had been announced.
"The first tranche of shares, of 2,500, will be sold and should raise £250,000, and the first 2,500 will be available at a two for one offer," Madden explained.
He said that the second and third tranches of 2,500 shares will follow, and that the rescue group believe £750,000 will not only take the club out of administration but also be sufficient to allow it to move forward.
"An Financial Services Authority registered company called Crowdcube which is in the business of financing crowd-funding platform to raise equity will be involved in this - it will basically be a small investment times a lot of members equals the funds needed to go forward for the football club," Madden added.
"We've got [former chairman and creditor] Raj Singh's support, who apart from being a creditor is willing to support this through.
"So one assumes therefore he will vote in favour of the CVA and one is mindful he will allow us to continue."
The funds that guarantee the club's short-term lifespan will see the football club continue in the period of administration, and a continuation of measures put in place to keep the business afloat.
"I've been paying players on an agreed sum per game, they will continue to do that," Madden said.
"If there are sufficient funds through the door, and you will always appreciate an administrator has to be careful in how they are spending the money, I will continue to make sure the players get an appearance money, and if I can do I will enhance that."