Matt Bloomfield column: Beating the drop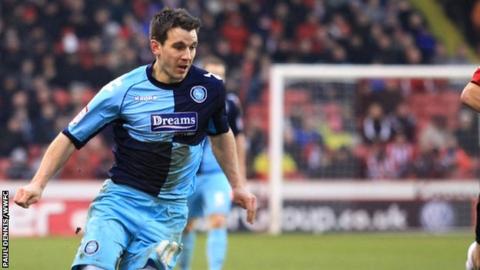 The 'business end' of the season is nearly upon us, and eyes will have started wandering towards the run-in.
Players and fans will start trying to work out how many points are needed from their remaining fixtures to achieve their goal, whether that is promotion or safety from relegation.
We lost against Yeovil last night and I hardly slept. The defeat was hard to take and I replayed the game over in my head all night.
However, by the time I go to training on Thursday I need to try and clear my mind in readiness to prepare for another important game at Walsall on Saturday. I'll still be hurting tomorrow, but by Friday I'll be fully focused on the task in hand. You need to use the disappointment as a motivation.
When things are going well as a player and you are towards the top of the league, the fixtures roll into one another and the excitement of promotion overrides everything else. It's not so easy when you are at the wrong end of the table searching for as many points as you can get. You have to be mentally tough to keep getting up and keep fighting.
It's obviously a big time for supporters as well. No-one likes to see their team going through a bad time, and the only tonic to a frustrating season is to ultimately see your side remain in the division. The players will be hoping to repay their fans' support, as I know we are desperate to do.
Teams at the top and bottom will still have to play several of the clubs around them in so called 'six pointers'. The results of these games will have a major bearing on the race for promotion and the battle for survival.
Every team will believe that they can win those games. It is how you react to the defeats that is vitally important. You cannot place too much emphasis on the outcome of one result and let it affect you for the next two or three games.
Training schedules might change slightly between now and the end of the season. There will be several re-arranged midweek fixtures because of the bad weather, and recovery between matches will be important.
Squad sizes in Leagues One and Two aren't what they are in the Premier League so squad rotation isn't so much of an option. Injuries and suspensions are bound to play their part at some point, so training will be based around keeping legs and minds fresh. The duration of the sessions will probably be slightly reduced. The priority is to be performing at the top of your game on a Saturday or Tuesday evening.
Team spirit is essential at any time during the season, but especially during the run-in. Teams up and down the country will be going go-karting, paintballing or other such activities to keep minds fresh and the spirit bubbly.
A couple of years ago our owner Steve Hayes took us clay pigeon shooting. It was a great day out and the lads really appreciated it. We still went down, but anything that could give you the physical and mental edge is worth a try. Quite often it is the small things that make such a big difference in these important fixtures.
There are bound to be many twists and turns between now and the end of the season, it promises to be an exciting and nervous time for players and fans alike.