Champions League as it happened
Last updated on .From the section Football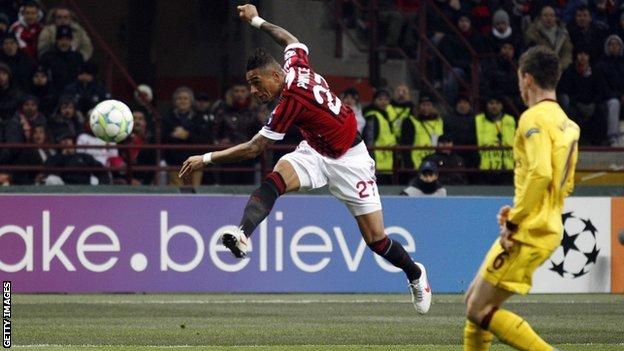 FULL-TIME: AC MILAN 4-0 ARSENAL
FULL-TIME: ZENIT ST PETERSBURG 3-2 BENFICA
PLEASE MANUALLY REFRESH THIS PAGE
All times in GMT
GET INVOLVED: Tweet me @chrisbevan_bbc using the hashtag #bbcfootball or text me on 81111 (UK). Make sure YOU PUT YOUR NAME on those texts though.
By Chris Bevan
2227: And this is where I bid you farewell. Thanks for keeping me company over the last few hours - starting in sub-zero temperatures in St Petersburg and ending with that mauling in Milan. Mike Henson is with you on Thursday for all the Europa League action, and I'll see you very soon. Cheerio for now.
From Tony, via text: "Awful display typical of the last few seasons summed up in 90 minutes. We played better against Barcelona last year. Arsenal might have just lost Van Persie's loyalty tonight and Wenger has most certainly lose his credibility."
FULL-TIME AC Milan 4-0 Arsenal
Phil Dawkes reports:"Barring a miracle, there is no way back for Arsenal from this. Their fragility and deficiencies were laid bare for all to see by an impressive Milan side. This will only add further fuel to the fire Arsene Wenger has been fighting for much of this season. It is threatening to get out of control."
FULL-TIME Zenit St Petersburg 3-2 Benfica
Shamoon Hafez reports:"Drab and dreary in parts, but what a cracking finish we had. Zenit's hapless goalkeeper Yuri Zhevnov had a Champions League debut to forget having made blunders for the goals, but his blushes were spared by Roman Shirokov, whose double gives the Russian side the edge going into the second leg in Lisbon."
2220: Two games tonight, and nine goals... here's a reminder of what happened:
Jacob Shaw on Twitter:"The only positive from tonight is that Henry wouldnt want this to be his last game for us... see you next year!"
From Gutted but grateful Gooner, via text: "I dont know what hurts more, this defeat or saying farewell once again to probably the greatest ever striker to grace the Premier League... "
2210: Oh, and just to say it's sad to see Thierry Henry sign off on the back of a defeat like this. He is not the story tonight, is he?
Blue Rascal on Twitter:"PL is ok. Man City & Spurs are developing while Man Utd, Chelsea & Arsenal are in decline. They will be back."
2202: Ironic, given that there will be talk of English football in crisis because of our lack of Champions League prospects this year, but it is actually Italy - who have three clubs in the last 16 this season, more than any other nation - who will be losing a CL place next season. They have slipped below Germany in Uefa's co-efficiency tables, and will have only three clubs in this competition in 2012/13, not four. England? We are top of the co-efficient. And the good news is that Europa League results count towards it too.
2159: And, realistically, Chelsea are the only English side with a hope of winning the Champions League. They play another Italian side, Napoli next week.
2155: What's left for Arsenal? Just the FA Cup, and the fight for fourth place.
Ben Stevenson on Twitter:"Seriously I love Arsenal but there is absolutely no way we are going to score 5 and concede 0. Better focus on what's left... "
Ali Al-Balaghi on Twitter: "Why's everyone talking like we're out of it? Still 90 minutes of football to play, horrible display tonight but can turn around."
OptaJoe on Twitter:"4 - Tonight's match was the first time in 222 European games (excl. qualifiers) that Arsenal have lost by 4+ goals. Mauled."
From Rob Johns, via text: "No doubt still people out there who think Wenger is a genius! Time to go Mr Wenger. You think you are saving AFC but you are now destroying us with your policies and belief that you are right and everyone else is wrong. Wenger out!"
Victor Chatfield on Twitter: "Re 2144. The last time was 8-2 at Old Trafford. The last time in the Champions League? This is probably the worst."
Arsenal goalkeeper Wojciech Szczesny after his side were thumped 4-0 at the San Siro: "We didn't have the best of games but we have to give credit to Milan who punished us on every goal. They were the better team on the day. They are the best attacking players in the world and playing against Ibrahimovic, he's up there as one of the best strikers I've played against. We have to keep fighting and get our confidence back now."
Infostrada Sports on Twitter:"No team has ever advanced in Europe after losing the first leg away from home by 4-0."
2144: Arsenal have had some great European nights, including a couple at the San Siro in recent years. This is arguably their worst - it's certainly their heaviest defeat. Is this their lowest point in the Champions League? When were they last outclassed like this?
By Matt, via text: "I like how all those Arsenal fans 5-6 years ago were complaining that they had a bunch of kids, yet they still got to the Champions League final. I wonder how much they would do to swap this current side for that young team that were supposed to grow into one of the best sides in the world, Arsenal becoming a selling/feeder club."
Tom Dutton on Twitter:"Quite possibly the worst Arsenal performance I have seen. Chamberlain should have started."
BBC Radio 5live pundit Pat Nevin at San Siro Stadium: "I thought Arsenal were coming her to get a result, losing 1-0 wouldn't have been a bad result. All of Milan's players have been in great form and it's the best I've seen them play for a long time."
2140: FULL-TIME AC Milan 4-0 Arsenal
2139: Arsenal are like a wounded animal here, waiting to be killed off. Pato sprints clear and the Rossoneri have men over too, but he tries his luck and brings a fine reflex save from Wojciech Szczesny. Milan can afford to be wasteful but they should really have made more of that.
2138: Another Milan chance. Urby Emanuelson advances forward with options either side of him. He goes for goal himself, and scoops it high over the bar. The reaction of his coach Massimiliano Allegri on the touchline suggests he thought he should have been more unselfish there.
2136: There will be three minutes of stoppage time at the San Siro. The game was up for Arsenal a while ago, though.
2135: The 90 minutess are up and there is no sign of that Arsenal goal yet. In fact, a better touch from Pato here, from a Mark van Bommel pass, and Milan would be in for a fifth. As it is, he over-runs it and Johan Djourou is across to cover.
From Glyn The Gunner, via text: "Arsenal's passing has been poor, poor and poor again. The midfield have ceded possession far too easily which has put pressure on the defence - and let's face it, the defence struggle against the premiership 'minnows' so have no chance against a slick team like Milan."
From Sam Borni on Twitter:"In the words of one Homer J. Simpson - "And that's the end of that chapter".
2132: If they don't score, Arsenal are heading for their heaviest defeat in any European competition. They have never lost a Euro tie by more than three goals.
2131: Pato is on for Milan, replacing Robinho. Arsenal are still trying, and Robin van Persie is still testing Christian Abbiati, but he cannot beat him. The Dutchman rises to meet a teasing Alex Oxlade-Chamberlain cross but his downward header bounces into the goalkeeper's arms.
2128: We have eight minutes of the 90 left. A goal would give Arsenal something to take home for the second leg but they are not going to get it like this. Tomas Rosicky's snapshot ends up bouncing out for a throw.
2125: GOALFLASH AC Milan 4-0 Arsenal (Zlatan Ibrahimovic pen)
Oops, sorry, about the garbled goalflash. I'm afraid that's the only way Arsenal are going to score four tonight folks. I don't think this is a penalty, because Zlatan Ibrahimovic is looking to go down as he turns past Johan Djourou inside the box. Down he goes, though, and referee Victor Kassai points to the spot. Ibrahimovic steps up to take it himself, and thumps it home. Wojciech Szczesny guesses the right way and gets a hand to it, but he cannot keep it out.
2124: PENALTY to AC Milan
2123: It's been doom and gloom for the Gunners tonight but let's not write Arsenal off just yet, especially because Robin van Persie is still on the field. Two Milan defenders go for the same high ball in the area, and the ball drops to the Dutchman, who takes a swing at it... but scuffs his shot and does not get the power or precision to beat Christian Abbiati.
BBC Radio 5live pundit Pat Nevin at San Siro Stadium: "Arsenal are 3-0 down here but they have a team on the field with so many attacking players so there is a possibility that they could create something and this tie might not be beyond them. They need a goal!"
2120: Arsenal have had 52% of possession so far tonight. I suppose that just reinforces the idea that it is what you do with the ball that counts?
2117: Alex Song gets a yellow card for clattering into Zlatan Ibrahimovic. To be fair, not many Arsenal players have got that close to him all night.
2116: Time for a Milan change. Kevin Prince-Boateng, who got the ball rolling for them tonight, is off, and the experienced Massimo Ambrosini is on. Prince-Boateng high-fives everyone in the dug-out before taking his seat.
From Mark in Dorset, via text: "Arsenal's midfield have lost this game for them. Arteta, Song and Ramsey have been completely anonymous."
2113: Yep, Alex Oxlade-Chamberlain is on, replacing Kieran Gibbs. Thomas Vermaelen has gone to left-back and Alex Song is at centre-back with Johan Djourou.
2111: Alex Oxlade-Chamberlain is about to come on, but before he does, Arsenal produce their best moment of the night. Alex Song feeds Thierry Henry, who tees up Robin van Persie to fire in a fierce low shot that Christian Abbiati has to push round his post at full stretch. A superb stop, especially considering he has had so little to do. Abbiati celebrates with a fist pump - a clean sheet is important to the Rossoneri now.
2111: Yes, it's been a while, but here's half a chance for Arsenal. Philippe Mexes is booked for wrestling Tomas Rosicky to the ground and Thomas Vermaelen is behind it, about 30 yards out. In the end, he tries to chip the ball to Thierry Henry but Christian Abbiati is alert to the danger and is off his line to beat Henry to the ball.
2109: Half an hour left and it is still Milan looking most likely. Robinho's stepover fools Kieran Gibbs and the Brazilian is in the area before the Gunners defender knows which way to turn. For a moment it appears Gibbs is going to slide in, but in the end he stands up and does enough to put Robinho off as he tries to find a team-mate.
2106: ...It's dangerous too. Robinho is on the ball and Milan have three versus two for a moment. It's probably fortunate for the Gunners that it is Luca Antonini who gets the shooting opportunity in the end, because he drags his effort wide.
2105: Kieran Gibbs gets forward down the left for the first time tonight, and earns a corner from Ignazio Abate. Mikel Arteta swings it in, but Christian Abbiati punches clear... and here come Milan again on the break...
From Christopher Hall:"No bravery from Wenger. Why's Ox on the bench? Is he not ready? Week in, week out in the PL and not ready..? Awful choice!"
From Josh Ampadu:"Arsenal didn't have the right attitude and the Italians have punished them. This match sums up their season. Terrible."
2102: Milan, meanwhile, are still spraying the ball around. Kevin Prince-Boateng gets on the end of a raking crossfield ball into the area but he cannot quite get the better of Kieran Gibbs.
2100: It's difficult to say where Arsenal can go from here. They need an away goal to take back to the Emirates, but going for it will just leave bigger gaps at the back. Nothing but scraps for Thierry Henry and Robin van Persie to feed on so far.
Matt in Manchester via text. "Re Ollie from North London. Neither will Arsenal be for much longer playing like this... "
BBC Radio 5live pundit Pat Nevin at San Siro Stadium: "It's that man Ibrahimovic in the build-up again. He's looking like a professional footballer playing against players three divisions below him. Milan are enjoying themselves too much tonight."
2055: GOALFLASH AC Milan 3-0 Arsenal (Robinho)
Oh dear. Zlatan Ibrahimovic plays in Robinho and Thomas Vermaelen's slip gives him space to smash in a low shot from the edge of the area that creeps between Wojciech Szczesny and his right-hand post. The Gunners are at sixes and sevens - so will the scoreline if this continues.
2054: No sign of them stopping Milan so far. It takes three Arsenal defenders to prevent Robinho from getting down the left. Two to tackle him and one to clear. Oh, and Zlatan Ibrahimovic is still looking dangerous every time he gets the ball. His touch and vision has been immaculate tonight. This time he fails to find Kevin-Prince Boateng with a low cross but I don't think the Gunners defence can handle him. We shall see.
2051: KICK-OFF Thierry Henry is barking out instructions as the Gunners get the game back under way.but surely Arsenal need to work out how to stop Milan before they can seriously think about a comeback?
2050: Thierry Henry is coming on for Theo Walcott for the second half. I think Arsene Wenger is after a farewell gift...
Ollie from North London, via text: "Re Isaac in Manchester, last time I checked neither Manchester team were in the Champions League. I see you kept quiet about which one you supported."
2045: I'm watching that Kevin Prince-Boateng goal again, and it is some strike - a real net-buster. Arsenal hardly help themselves, though: they needlessly gave the ball to Antonio Nocerino and did not get near him before he played Prince-Boateng in. And Bacary Sagna's tracking back for the Robinho goal is even worse. The reason he is unable to catch Zlatan Ibrahimovic is because he slow to react, looks for offside and then hesitates. By the time he gets his skates on, Ibrahimovic is away.
From Rich in Littlehampton, via text. "People have been questioning him but we are missing Mertesacker hugely. His reading of the game being sorely missed and our defence is non existent as a result."
HALF-TIME AC Milan 2-0 Arsenal
Phil Dawkes reports:"It is not looking good for the Gunners. As soon as Kevin Prince Boateng's shot hit the back of the Arsenal net the fight drained from Arsene Wenger's side. It is going to take one hell of a half-time team talk from the Frenchman or damage limitation may be the only way forward."
James Millen on Twitter:"Has Ibra had to run yet? Destruction at walking pace."
BBC Radio 5 live pundit Pat Nevin at San Siro Stadium "Arsenal have to do something. They are working hard but they are not good enough tonight. The big players decide when they want to play big games and Ibrahimovic has been absolutely fabulous. If they finish this game 2-0, I think they'll be happy with this."
Isaac in Manchester, via text: "Ladies and gentlemen, tonight we witness pure magic. The unexplained disappearing act of the Arsenal back four! Some say it's getting boring now."
2036: HALF-TIME AC Milan 2-0 Arsenal
2035: BOOKING Arsenal just cannot live with Milan's movement. This time it is Rossoneri right-back Luca Antonini who is galloping on to a ball on the edge of the area and Wojciech Szczesny has to come rushing from his line to stop him. Antonini gets the ball first but gets plenty of Szczesny too. Antonini is booked, which seems a bit harsh to me.
2033: There will be two minutes of stoppage time at the end of the first half. Milan almost use it to score a third, bursting forward. Zlatan Ibrahimovic holds off Johan Djourou and feeds Kevin Prince-Boateng on the right of the area. This time, the Prince is off target with his powerful finish.
2032: Yep, Johan Djourou is on. He hasn't played for three weeks, since being taken apart by Nani in Arsenal's defeat by Manchester United. At least he is in his usual position of centre-back now.
2031: Actually, things are getting worse for Arsenal. Laurent Koscielny, who has been their best defender so far, is injured and I don't think he can continue. Johan Djourou looks like he is coming on instead.
2029: Things almost get worse for Arsenal. Kevin Prince-Boateng sends over a cross from the right and Bacary Sagna has to scramble to stop Zlatan Ibrahimovic from getting on the end of it.
From Daniel Sharp:"They call Arsene Wenger the professor, he's more like a supply teacher with these tactics!"
BBC Radio 5live pundit Pat Nevin at San Siro Stadium: "The Arsenal defenders look spooked and have passed the ball poorly out of defence and so Milan are pushing forward and pressuring them. Lots going wrong for Arsenal at the moment."
2026: Five minutes to go until half-time and Arsenal have been second-best so far. Milan are finding plenty of holes in their defence.
2025: GOALFLASH AC Milan 2-0 Arsenal (Robinho)
Where is the Arsenal defence? It's nowhere to be seen as Zlatan Ibrahimovic escapes down the left, with Bacary Sagna unable to catch him. Ibrahimovic gets to the by-line before pulling the ball back for Robinho at the near post and, although it is at an awkward height, he is able to direct his header past Wojciech Szczesny and into the opposite corner of the net. Like I said, where is the Arsenal defence?
2024: Not for the first time tonight, Thomas Vermaelen is in trouble - when he loses out to Robinho down the right it looks like Arsenal are going to be opened up again. Laurent Koscielny has to come across to mop up the danger on the edge of the area, stopping Robinho's ball from finding Zlatan Ibrahimovic in front of goal.
2023: Milan are having plenty of possession and they are not afraid to have a pop, either. Antonio Nocerino meets a deep cross from the left and goes for the spectacular from a similar position to where Kevin Prince-Boateng lashed Milan's goal in. Nocerino doesn't catch this one right, however, and the ball slices wide.
2020: The Arsenal defence are being kept on their toes too - Milan are playing high up the pitch and denying the visitors room to build from the back. Risky, with the pace in this Gunners attack, but it is working at the moment. Arsene Wenger's men are penned back in their own half.
2018: Milan are winning the midfield battles at the moment, and giving Robinho a platform to work his magic. He slips Zlatan Ibrahimovic free here, but the striker is offside. I thought it was marginal at first, but replays show he was a long way off.
2016: Almost half an hour gone at the San Siro. Milan have had the better of the opening exchanges and they have the lead too, thanks to a really special Kevin Prince- Boateng strike.
From Conor Thorogood, an optimistic Arsenal fan on Twitter: "They have the Prince but we have the King."
2014: Arsenal have been mostly on the backfoot so far but they have just called Milan keeper Christian Abbiati into action for the first time. It's a relatively simple save because Laurent Koscielny's header from Robin van Persie's free-kick is straight at him, but at least it's a break from all this Milan pressure.
2012: Not great defending by Arsenal this. Thomas Vermaelen wants Wojciech Szczesny to come and get Robinho's lobbed ball over the top but the Gunners keeper wants his defender to deal with it. Vermaelen dwells too long under pressure from Zlatan Ibrahimovic, and the Swede nips in to dispossess him. He is in on goal too - until Szczesny stops him - but the chance is still alive until referee Victor Kassai blows up for a foul by the Milan striker.
Mark Peet on Twitter:"Kevin Prince Boateng. BOOM."
2008: It's all Milan at the moment. They change the direction of their attack at the last moment, giving Antonio Nocerino a chance to lash in a shot from the right-hand edge of the area. Plenty of power behind his shot, but it is a fraction high.
Josh in Leeds, via text: "Why did Boateng never do that for Spurs?? At least he's putting Arsenal to shame."
BBC Radio 5live pundit Pat Nevin at San Siro Stadium: "It was an absolutely fabulous goal but the defending was very, very poor. There's no one near him when he picks up the ball. You have to go and chase the man playing at the top of the diamond."
2001: GOALFLASH AC Milan 1-0 Arsenal (Kevin Prince-Boateng)
Wow. The man with 'Prince' written on the back of his shirt provides a right royal finish. Antonio Nocerino finds Kevin Prince-Boateng charging into the area down the right, and the former Spurs man chests the ball down before smashing it past Wojciech Szczesny and into the roof of the net. What a screamer that was. Absolutely unstoppable.
2000: The departure of 'Mr Champions League' has not knocked the Rossoneri out of their stride. AC Milan probe again, with Kevin Prince-Boateng chipping the ball into the Arsenal area and Zlatan Ibrahimovic teeing up Urby Emanuelson. It's a nice little move, but Emanuelson snatches at his shot and fails to test Wojciech Szczesny.
1958: Nope, Clarence Seedorf's night is over. He trudges off and fellow Dutchman Urby Emanuelson replaces him.
1957: Arsenal are looking to break forward with speed from these Milan corners. Sadly the final ball is letting them down at the moment - first Aaron Ramsey, and then from Kieran Gibbs. Clarence Seedorf, incidentally, has tweaked a hamstring but is trying to continue. He is back on the field now.
1955: Looks like Clarence Seedorf is injured. Milan have a corner but they are down to 10 men at the moment.
BBC Radio 5live pundit Pat Nevin at San Siro Stadium: "It's quite an open game, more than I expected it to be and Milan look very sharp going forward."
1952: A bit of space for Milan this time, with Kevin Prince-Boateng escaping down the left and then finding Clarence Seedorf, who has time to look up and bang in a shot from near the corner of the Arsenal area. He doesn't really get hold of it, and it is off target, but the signs from the first five minutes are that this is going to be a pretty open game.
1950: Arsenal don't take long to get going either. Their first attack sees Tomas Rosicky turn inside Mark van Bommel from the left and lets fly from the edge of the area. He skews his shot a long way wide, but that was still a sign of the Gunners' attacking intent tonight.
1948: Within the first 20 seconds, Milan get forward down the right through Robinho. He gets a cross in too. Zlatan Ibrahimovic helps it on to Clarence Seedorf, who is running into the area... but the flag is up for offside. Replays show it was the correct decison.
1947: KICK-OFF Here we go. Milan get us under way.
1945: Clarence Seedorf and Robin van Persie exchange pennants before kick-off. I bet Seedorf hopes van Persie doesn't "explode" with him standing so close (see 1906).
1943: Wow. The San Siro is absolutely jumping tonight. A cracking atmosphere greets the players as they emerge on to the pitch. Welcome to the melting pot.
1941: Ha, it's obviously a bit nippy in Milan because the mascots are warming up in the tunnel (they've got one to themselves)... either that, or the Milan team is a bit younger than I remembered.
Geo from Glasgow, via text: "Both teams are pretty evenly balanced but I think the creativity of Robinho and sheer presence of Ibrahimovic could be the difference. The quality on the bench will also play a part. I'm going for a 2-0 Milan victory."
1938: Not long to go until we hear THAT tune.Arsenal fans, how are you feeling? Nervous, excited, confident or scared? And how many English clubs are we expecting to see in the last eight? Just two left, remember...
Ryan in Edinburgh, via text: "Re Adam. I know what tactics are. I just thought this could be a chance for the Ox to prove himself on a big stage. I'm not questioning Wenger's decision mind; I'm sure he knows what he's doing. Bringing on him and Henry for the last 20 when the old defence is tired to get us a goal or two could be a very good plan indeed. Can see that happening."
1932: Looking at the pitch, you can see why Arsenal fans are concerned. The wings have been relaid, but they don't look too hot. Let's see what it's like during the game, though.
Infostrada Sports on Twitter: "Seedorf will play his 100th European match for #Milan (incl. European Super Cup) tonight. P. Maldini (168), Costacurta (116) and Gattuso (101) have played more."
Adam in Darlington, via text: "Re Ryan. It's called tactics. Putting Oxlade-Chamberlain on the bench and then if needs be, bringing him on when AC Milan are tired. With his pace and drive he will cause them so many problems."
1923: Here's some stats to get you thinking ahead of kick-off. Milan have not won any of their last seven matches against English clubs and have failed to score in five of those games. Arsenal have lost only one of their last nine games against teams from Italy and have kept clean sheets in six of them. So, in a similar vein to my (incorrect) call at 1649 GMT, I'm going to take a punt on the result. I'm thinking goals - does 2-2 sound about right?
Andrew Wilson on Twitter:"Re 1917. The pitch is a disgrace. so blatant. Good move by Wenger to put the more centrally-minded Rosicky in the line-up."
Jimbo from Cardiff, via text: "Prove you can do it without Thierry Henry. An away goal is crucial. Come on Gunners."
Ryan in Edinburgh, via text: "I'm not sure why Oxlade-Chamberlain isn't starting tonight. With his and Walcott's pace on the flanks against an old Milan side it could be deadly. Let's Wenger knows what he is doing. Come on you Gunners!!"
AC MILAN v ARSENAL (1945)
Phil Dawkes reports:"Arsenal boss Arsene Wenger believes his side are capable of claiming a positive result against Milan, as they did in 2007/08 to eliminate the Italians from the Champions League. "When we played here, Milan had won the European Cup the year before and we knocked them out," Wenger recalled. "Since we have lost some players, but I feel we are again strong." Milan midfielder Clarence Seedorf played in the side beaten by Arsenal four years ago, and he is wary of suffering a repeat. "Arsenal are a very unpredictable team to play against," said the Dutchman. "We need to be very respectful of their qualities, because they're capable of winning against anybody."
1917: I'm hearing that the San Siro pitch is a bit of a mess. They have relaid the turf recently and it looks particularly ropey down both flanks. Hmmm... anything to do with the fact Milan play in a diamond formation and Arsenal utilise wingers? Conspiracy theorists, let me know your thoughts.
Arsenal fan Daniel Duffy on Twitter: "Feels so good to have fullbacks again."
AC MILAN v ARSENAL TEAM NEWS
Phil Dawkes reports: "AC Milan pair Zlatan Ibrahimovic with former Manchester City forward Robinho up front. Notable players missing from the starting XI include striker Alexandre Pato and defender Alessandro Nesta, who are both on the bench. Ex-Arsenal midfielder Mathieu Flamini is a long-term absentee with a knee injury. Keiran Gibbs returns to the starting XI for Arsenal, replacing Per Mertesacker in defence, thus allowing Thomas Vermaelen to move into a more familiar role in the centre of the back four. Aaron Ramsey starts in midfield in place of Alex Oxlade-Chamberlain, who drops to the bench, where he is joined by Thierry Henry."
From Dave in London, via text: "Come back with a score draw or better and have them having to chase the game in the second leg. Go on Arsenal!"
AC Milan v Arsenal line-ups
AC Milan: Abbiati, Abate, Mexes, Thiago Silva, Antonini, Seedorf, Van Bommel, Nocerino, Boateng, Ibrahimovic, Robinho. Subs: Amelia, Alexandre Pato, Nesta, Ambrosini, Bonera, Emanuelson, El Shaarawi.
Arsenal: Szczesny, Sagna, Koscielny, Vermaelen, Gibbs, Song, Rosicky, Walcott, Ramsey, Arteta, van Persie. Subs: Fabianski, Henry, Oxlade-Chamberlain, Djourou, Arshavin, Benayoun, Coquelin.
Referee: Viktor Kassai (Hungary)
1908: Those are the words of AC Milan star Clarence Seedorf, who I had the pleasure of speaking to in the build-up to this match. He's not afraid of Arsenal, by the way... In fact, he's not afraid of anybody. He's won the Champions League four times, so can you blame him? "I don't like to talk about fear in sport, in general," he said. "I think you need to respect your opponent but if you prepare the way you should so you can perform at your best then it is down to you.
1906: "Robin van Persie is finally exploding and I am very happy for him, but we know what we are going to have to deal with and we are ready. It is going to be a tough game - Arsenal have always changed important players a lot over the last six or seven years and have still managed to perform well. They haven't won trophies but they are still a dangerous team."
Len B on Twitter:"You just know that Henry will have something to say tonight. Another San Siro Hat-trick? Possibly."
Michael Fairfield on Twitter:"Why is no one giving Arsenal a chance tonight? Milan are nothing special. 3-1 the Gooners!!!"
AC MILAN v ARSENAL (1945)
Phil Dawkes reports:"You would forgive Milan for having a sense of sickening déjà vu when they were paired with Arsenal in the last 16. In 2007/08, the Gunners began a hoodoo over the Rossoneri that has seen English clubs eliminate them at this stage in each of their previous three Champions League campaigns. The match-up makes for an intriguing head v heart encounter: Serie A leaders Milan have consistency in their favour, but Arsenal will be inspired by a swansong-making Thierry."
1859: That was fun, wasn't it? Comedy capers in sub-zero temperatures. Now it's time for the serious business, though - Kick-off at the San Siro for AC Milan versus Arsenal is about 45 minutes away.
1855: FULL-TIME Zenit St Petersburg 3-2 Benfica
1854: We are into stoppage time and Zenit keeper Yuri Zhevnov has made a save, keeping out a fierce Nolito effort. He didn't catch it, though.
1850: GOALFLASH Zenit St Petersburg 3-2 Benfica (Roman Shirokov)
It was Maxi Pereira who put Benfica ahead, a long, long time ago... And he is the man at fault here to hand Zenit what should be a winner. He makes a hash of a cross from the right and his attempted clearance ends up teeing up Roman Shirokov, who rounds Artur and squeezes his shot home.
1848: GOALFLASH Zenit St Petersburg 2-2 Benfica (Oscar Cardozo)
Like I said, why on earth haven't Benfica tested Yuri Zhevnov more tonight. Benfica break forward with purpose down the left and Emerson sends over a low cross which falls for Nicolas Gaitan at the far post. His shot is a tame one but Zhevnov can only push the ball back into the path of Oscar Cardozo in front of goal, and he cannot believe his luck as he tucks it away.
1845: Oscar Cardozo tries to make things happen in the Zenit box but his little trick from a low cross does not fool the Zenit defence. The visitors haven't really tested Yuri Zhevnov - or even tried to - since they scored, which is a surprise.
1842: Maybe Benfica should be more concerned about conceding a third? They fail to deal with a corner and the ball breaks for Alexander Kerzhakov on the right of the area. He could turn the ball back across goal, where he has several team-mates waiting... but he chooses to go for goal himself, and slams his shot into the side netting.
1839: A change by Benfica, and it's a sign they are keen to score again here. Striker Nolito is on for Bruno Cesar. Just over 10 minutes left now.
1837: BOOKING Benfica substitute Pablo Aimar has not had much luck with free-kicks since coming on, and he has even less when he tries to break up a Zenit attack following a set-piece from the home team. His challenge for a high ball looks innocuous enough but it still earns him a yellow card which will rule him out of the second leg.
1833: GOALFLASH Zenit St Petersburg 2-1 Benfica (Sergei Semak)
I told you a goal would be on its way. It's a cracker too, including three bits of sublime skill from three different Zenit players. First Alexander Kerzhakov chases a ball down the right and backheels a cross into the path of Vladimir Bystrov, who helps it into the danger zone with another flick. Substitute Sergei Semak is there to meet it, delicately helping it past Artur and into the net with another backheel.
1832: Rookie Zenit keeper Yuri Zhevnov looks shaky, doesn't he? He is all at sea here, when Oscar Cardozo meets Emerson's low cross with a scuffed shot. Zhevnov falls over and has to scramble to keep out a shot that would only have dribbled over the line.
1830: With 22 minutes to go, my prediction at 1649 is looking pretty good (cue a goal, now I've reminded you of that). Anyway, Zenit have made a change, with Maxim Kanunnikov being replaced by Vladimir Bystrov. The new man doesn't take long to make his presence felt, picking up the ball on the right-hand side of the area and going for goal. He gets plenty of power behind his shot too, but it is deflected over.
1829: No end product here, either. Alexander Kerzhakov breaks in the Benfica box after a quick interchange of passing down the left but then bends the ball straight out of play. Kerzhakov's next contribution is even worse... He is all alone on the left flank and inexplicably backheels the ball straight out of play.
1826: BOOKING Not much in the way of chances to report from Stadion Petrovski. Benfica have another free-kick because Bruno Cesar has been brought down by Aleksandr Anyukov... earning the Zenit right-back a booking... but Pablo Aimar's chipped delivery is easily headed clear.
1824: Don't forget AC Milan versus Arsenal is coming up at 1945 GMT. We'll have all the team news when we get it, and you will also be able to be able to listen to build-up and commentary from the San Siro on BBC Radio 5 live.
1820: Nicolas Gaitan continues to combine trickery with, erm, tragedy. He shows great skill to drift into the area from the right-hand touchline but then either makes a complete hash of his cross or goes for goal himself. Whatever he was trying to do, he curls the ball straight out of play, which is a real waste when you consider Oscar Cardozo was charging into the box, expecting better service.
Rich Miller on Twitter:"Predicting a 2-2 draw tonight... the cold, the defensive lapses and collective exhaling of halftime vodka say so."
From Brieuc, a scientist in Cambridge, via text: "Re Max, yes -13c is indeed freezing."
1814: ... Yep, Pablo Aimar whips in a low cross, looking for Ezequiel Garay's run to the near post. Garay gets there, too, but scoops his shot a mile over the bar. The whistle had gone for a foul (by a Benfica player) in any case.
1813: Pablo Aimar will get another chance from a set-piece. This time from out on the right...
1812: Benfica's first attack is just as disappointing. Pablo Aimar tries his luck with a free-kick from about 35 yards out, but doesn't even manage to get the ball into the box. Zenit haven't bothered with a wall, but they whack it clear.
1810: Zenit's first attack of the half is a slick passing move, well at least until it reaches Maxim Kanunnikov (who wears shirt number 99 on his back), anyway. He tries to curl the ball into the danger zone from the left-hand side of the box, but gets his cross horribly wrong and slams the ball straight out of play.
1807: KICK-OFF Zenit get us back under way.
1807: There's going to be a change for Zenit before we resume. Sergei Semak is coming on for Konstantin Zyryanov. And here come Benfica, after a half-time interval lasting almost 20 minutes.
1804: Here come the Zenit players for the second half... I think the Benfica squad is still huddled around the radiator in their dressing room.
Andrew Ross on Twitter:"Let me further clarify, yesterday I was at the ballet with the gf, I'd rather watch ballet, than football, it's THAT cold."
From Max, a Russian in London, via text: "Re Andrew Ross on Twitter: freezing in St Petersburg? Is -13C freezing? C'mon man, its just a pleasant chill! Can't wait - coming back there next week!"
1756: Some news from Manchester United's media conference ahead of Thursday's Europa League game with Ajax. United boss Sir Alex Ferguson was asked about Harry Redknapp's comments about taking Paul Scholes to Euro 2012 and said: "To go back is big, big step, it's too big a step. Barcelona talk about Xavi like we talk about Scholes."
HALF-TIME Zenit St Petersburg 1-1 Benfica
Shamoon Hafez reports:"This game is boiling up nicely after a slow start. Zenit goalkeeper Yuri Zhevnov is having a nervy Champions League debut and should have done better for the goal, but Roman Shirokov's beautiful volley keeps the Russians in the game."
1751: From Russia, with gloves... plus scarf, hat and a big coat. Hopefully.It's almost 10pm in Petersburg and temperatures could be set to plummet in the second half. Bearing in mind it was -10 °C at kick-off at Stadion Petrovski, that doesn't sound too promising.
1748: HALF-TIME Zenit St Petersburg 1-1 Benfica
1748: BOOKING A cynical one this, with Bruno Cesar pulling back Viktor Fayzuli as the Zenit man burst forward. It's been a lively old finish to the first half.
1747: A big chance comes and goes for Zenit. Nicolas Gaitan loses the ball near the edge of his own box and it is fired across the area to find Konstantin Zyryanov running in unmarked at the back post. He could go for goal himself but elects to pull the ball back, and the chance is gone. In fact, Benfica break forward and manage a shot on goal themselves, with Axel Witsel firing wide from the edge of the box.
1742: About five minutes to go until the break and the Portguese side are still trying their luck from distance. Pablo Aimar lets fly this time, but it is a daisy-cutter which is easily stoped by Yuri Zhevnov.
1740: Benfica have had a couple of sniffs in the last couple of minutes, though. Nicolas Gaitan just wasted a promising position after a lovely turn allowed him space to surge into the home side's half... and, moments later Oscar Cardozo fired straight at Yuri Zhevnov from the edge of the box. Still, worth a pop after seeing how Zhevnov failed to deal with his free-kick for Benfica's goal.
1739: This game briefly came to life when Zenit fell behind but it has gone very scrappy since they pulled level.
1735: Not Yuri Zhevnov's finest moment this. He needlessly charges from his line to deal with a ball into the Zenit box, and ends up taking out his captain Aleksandr Anyukov, who needs treatment. We are back under way now, though.
Andrew Ross on Twitter:"Just spent 5 freezing days in St Petersburg and I wouldnt be stupid enough to sit in the stands, let alone run around in shorts."
1730: Ah. I thought it was too good to be true... Rodrigo's comeback has lasted about as long as his side's lead. He hobbles off, to be replaced by Pablo Aimar.
Former Arsenal captain Cesc Fabregas on Twitter:"I can't wait for the big game tonight, two historic teams in Europe. Hopefully AFC can repeat what we did there four years ago. #1ofthebestmemoriesihave"
1728: GOALFLASH Zenit St Petersburg 1-1 Benfica (Roman Shirokov)
What a finish this is. Tomas Hubocan clips in a cross from the right and Roman Shirokov takes it in his stride, placing his first-time finish past the diving Artur and into the far corner of the net. His shot has power and precision, and it means Zenit are back on level terms as we approach the half hour mark.
1727: Another neat Zenit move sees Alexander Kerzhakov play in Roman Shirokov, but he shanks his shot off target.
1724: Rodrigo is (somehow) back on for Benfica... and Zenit have come close to levelling instantly. The Russians respond well to going behind and pile on the pressure. A dangerous cross from the right is cleared only as far as Alexander Kerzhakov, but his stinging shot is pushed away by Artur. A great stop.
1721: GOALFLASH Zenit St Petersburg 0-1 Benfica (Maxi Pereira)
Axel Witsel is fouled about 25 yards out and Oscar Cardozois behind the free-kick. He curls it over the wall and goalwards but it looks simple for Zenit keeper Yuri Zhevnov to deal with. It isn't. The ball bounces in front of him, and he can only push it into the path of Maxi Pereira, who follows up to slot home from six yards out.
Rich Miller on Twitter:"Hoping Zenit can score first but looks like a nasty fall by Rodrigo...is the pitch that hard?"
Not sure whether it was the foul, the way he fell, or how hard the pitch is... but Rodrigo is not going to be able to continue. Benfica are down to 10 men at the moment.
1718: BOOKING Our second booking follows shortly afterwards. Former Porto defender Bruno Alves sends Rodrigo tumbling, and the Benfica man looks in real trouble here. He's being stretchered off.
1717: BOOKING Our first booking of the evening. Benfica defender Luisao is late with a lunge on Viktor Faizulin, who is sent flying. Swedish referee Jonas Eriksson shows him the yellow card.
1715: Benfica get a bit further forward this time, and Zenit keeper Yuri Zhevnov has to come dashing from his line to dive at the feet of Emerson, who has latched on to Nicolas Gaitan's pass inside the box. Good defending by the home side there, because Roman Shirokov had to hold off Emerson until he knew his keeper would get to the ball first.
1710: The Portuguese side are still seeing most of the ball but Zenit are picking them off whenever they advance out of their own half. No real chances to speak of yet, but we can forgive them both for taking a bit of time to warm up, surely?
1704: Benfica have made the brighter start, forcing a couple of corners and taking the game to their hosts. Zenit's first attack sees Maksim Kanunnikov send a teasing ball into the area, but Artur is off his line quickly to collect.
1702: The pitch is like a ice rink. In fact, I think it actually is an ice rink.
1700: We are under way at Ice Station Zebra (AKAStadion Petrovski).
1659: The coldest I've ever been at a game was about 10 years ago when I was working for a local paper and I covered Stansted FC (they won the FA Vase in the 1980s) one bitterly cold January evening. I ended up having to borrow one of the substitutes' warm-up suits because I was about to get hypothermia. Oh, and I also gave a team-talk at half-time after sneaking into the dressing room to try to escape the chill. I won't be doing either of those things tonight...
1658: Both teams are out on the pitch now, jumping around to try to keep warm while the Champions League anthem is blasted out.
1657: The players are in the tunnel at Stadion Petrovski, huddled round a brazier and burning books to keep warm. Ok, I made that last bit up. They do look very cold, though.
Danny, Spurs fan, via text: "Re Oliver Campbell. Kevin Prince-Boateng winner is written in the script, actually. Once a Spur, always a Spur!"
ZENIT ST PETERSBURG v BENFICA (1700 GMT)
Shamoon Hafez reports:Valentine's Day has come and gone, but Benfica midfielder Pablo Aimar is still passionate about football, saying: "No, I don't want to stop playing. I've never said I'd quit. I love it. I love training, I love the dressing room, where there may be lads who are superstars but actually they're just normal blokes." But Zenit manager Luciano Spalletti was as not in such an affectionate mood ahead of the game. "We have a strong and balanced team, which leads the Russian championships and advanced to the knockout stage. We must win. Period."
1649: Both sides are in impressive form in Europe, as well as domestically. Zenit are unbeaten in their last 15 European matches in Russia and have won 11 of the last 13. They have conceded just eight goals in those 15 games. Meanwhile, Benfica are unbeaten in their last five European away games and have lost only one of their last nine. After digesting all of those statisics, I'm going to predict a 1-1 draw tonight. Oscar Cardozo will bag Benfica's goal too. Mark my words... (and feel free to remind me of them later when I'm proved ridiculously wrong)
Oliver Campbell on Twitter:"Thierry Henry winner is written in the script isn't it?"
In case you are wondering what Oliver is on about - if he plays, this will be Thierry Henry's farewell appearance for the Gunners before he heads back to New York. But more on that later...
ZENIT ST PETERSBURG v BENFICA TEAM NEWS
Shamoon Hafez reports:"Knee ligament damage means influential playmaker Danny misses out for Zenit for not only this game, but the rest of the season. Goalkeeper Vyacheslav Malafeyev, who kept a solid clean-sheet against Porto, is also out so Yuri Zhevnov dons the gloves tonight. Aleksandr Kerzhakov replaces Danko Lazovic up front. Benfica are without defensive midfielder Javi Garcia, who suffered a knock in training so former Chelsea man Nemanja Matic steps in. Goalscoring machine Oscar Cardoza and Nicolas Gaitan, the competition's most creative player with five assists, both start."
Zenit St Petersburg v Benfica line-ups
Zenit St Petersburg: Zhevnov, Aniukov, Bruno Alves, Lombaerts, Hubocan, Denisov, Zyryanov, Shirokov, Kanunnikov, Kerzhakov, Faitzulin. Subs: Borodin, Rosina, Huszti, Lukovic, Semak, Bystrov, Cheminava.
Benfica: Artur Moraes, Maxi Pereira, Luisao, Garay, Emerson, Matic, Witsel, Gaitan, Cardozo, Bruno Cesar, Rodrigo Moreno. Subs: Eduardo, Nolito, Aimar, Nelson Oliveira, Miguel Vitor, Saviola, Jardel.
Referee: Jonas Eriksson (Sweden)
1641: Zenit forward Alexander Kerzahkov says his side will enjoy the freezing weather any more than Benfica, despite the Portuguese players being used to warmer climes: "Not only for soccer players from the south, but also for the northern ones like us it's not very pleasant to play in weather when the air temperature is below minus 10 degrees. And, generally, the weather conditions are the same for everyone. I wouldn't say we will have any advantage."
ZENIT ST PETERSBURG v BENFICA (1700 GMT)
Shamoon Hafez reports:"It may not be tropical weather conditions in Russia but these two sides are in red hot form. Both are top of their respective leagues, and go into the game on the back of long, unbeaten runs. Zenit, who are on a winter break from domestic action, have not suffered a defeat in their last 15 games in all competitions, while Benfica have won their last 11 games since losing to Maritimo at the start of December."
1636: Zenit midfielder Roman Shirokov shook off a knock to play tonight, but he doesn't exactly sound keen, does he? "Should we play in such freezing cold?" Shirkov (pictured above) said. "I don't think so. The ball feels like a rock, you could easily break a leg."
1635: As far as the next couple of hours goes, how does all the build-up from Milan, and all the action from St Petersburg, sound to you? Good, because that's what is heading in your direction. Keep pressing F5 is my advice.
1633: ... because we are heading to Russia first. And I'd wrap up warm if I were you. The reason for this early start is that Zenit St Petersburg's game against Benfica starts at 1700 GMT. That game was in doubt until a few minutes ago because of the sub-zero temperatures which have gripped Russia all week, but the pitch passed an inspection earlier. Still, it is -10 °C at the Stadion Petrovski tonight, which makes me shiver just thinking about it.
1630: Afternoon all. Since AC Milan beat Liverpool in Athens to win the 2007 Champions League final, English clubs have knocked the Rossoneri out of Europe's top club competition in their last three attempts. While doing so, Arsenal, Manchester United and Tottenham all won at the San Siro too. Can the Gunners repeat that trick tonight? We will find out a bit later on...