Ferguson plays down talk of England return for Paul Scholes
Last updated on .From the section Football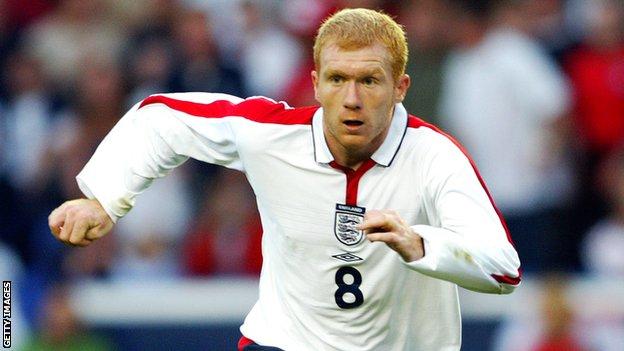 Manchester United boss Sir Alex Ferguson has played down talk of Paul Scholes earning an England recall.
Scholes, 37, has caught the eye in seven matches since his surprise re-emergence from retirement in January.
And Harry Redknapp, the strong favourite to succeed Fabio Capello as England coach, has suggested that the midfielder should feature at Euro 2012.
But, asked if that was a possibility, Ferguson said: "I don't think there's any chance of that."
Scholes called time on his England career at the age of 29, following the 2004 European Championships.
And he rejected pleas from Capello to reverse that decision ahead of the 2010 World Cup in South Africa.
But Ferguson expects the veteran to have the same attitude this time around.
"His reason for refusing last time was that it was late in the day," said Ferguson. "He felt the players who got them there should be involved.
"Two years on, to go back to play for England after seven years . . . it's a big step."
Ferguson has revealed that Scholes decided to retire last summer after being told by his manager that he could only expect to play 25 to 30 games if he carried on.
Scholes subsequently regretted that move and, after agreeing a deal for the rest of the season, returned to the United side in January's 3-2 FA Cup third-round win at Manchester City.
He has been outstanding since his return, having been on the losing side just once (in the FA Cup fourth round defeat to Liverpool at Anfield), United having won four of their last five Premier League matches, as well as coming back from three down to draw 3-3 at Chelsea.
Although Ferguson has cooled talk about a return to the international scene, he would not be surprised if Scholes carries on at Old Trafford next season, comparing the midfielder to Barcelona star Xavi.
"I haven't spoken to him yet about playing on for us next year," said Ferguson. "With the form he's showing at the moment, there's no reason to think he couldn't play on.
"It's been an amazing turnabout for us in the sense of the order and class he brings to the team. Barcelona talk about Xavi in the same way we talk about Scholes.
"It's hard to describe Scholes. Honestly, on Saturday, against Liverpool, he was unbelievable.
"I told Paul at the time he could play 25 to 30 games this season and he said that wasn't enough.
"He decided to retire after that. He didn't want to go from being a top player who's in the team all the time to a player playing only 25 games a season.
"He was approaching 37 years of age and it's difficult for players to do that at the top level.
"I was honest with Paul, though, and I told him that, if I got 25 games of quality from him, I'd be delighted. When he decided to come back I saw no negatives. I was delighted.
"There couldn't be a negative attached to it because he was training really hard in the couple of months before he made the decision to come and see me. He obviously realised he had made a mistake.
"He's come back refreshed and enthusiastic and his normal self in terms of his training performances."