Wales coach Osian Roberts hopeful over Craig Bellamy future
Last updated on .From the section Football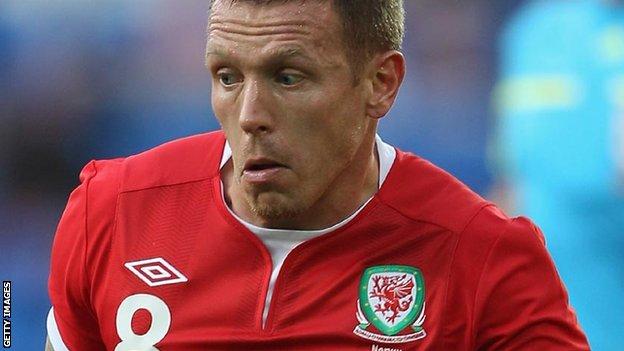 Wales coach Osian Roberts is hopeful Craig Bellamy will prolong his international career.
But Roberts, a member of Speed's coaching team, says it's vital the Liverpool striker remains a Wales player.
"I'm really hopeful he will continue to play for Wales," Roberts said.
New Wales manager Chris Coleman has had initial talks with Bellamy about him extending his international career to the end of the 2014 World Cup qualifying campaign.
The 32-year-old has scored 19 goals in 67 games for Wales since making his international debut against Jamaica in 1998.
"He's been a great servant for Wales over the years and playing for Wales means a great deal to him," added Roberts.
"He's a key, key player on the field and he's a key personality off the field. He's one of the leaders and one of the mainstays of this squad.
"Certainly in going forward we're going to need Craig Bellamy within the squad.
"Hopefully as things settle down and we get together for the Costa Rica match he'll see it's something he will want to continue to do.
"It's vital that he stays part of the squad."
The friendly against Costa Rica at Cardiff City Stadium has been arranged as a memorial for former Wales manager Speed, who died last November.
Although Coleman has been appointed Speed's successor, Roberts and Raymond Verheijen will be in charge for the Costa Rica game.
The fixture is the first of three friendly matches before Wales' World Cup qualifying campaign begins in September.
"It's not the ideal situation," said Roberts. "It's not how anybody would have preferred it to be.
"We need to get this game underway [and] make sure we get something out of the game in terms of continuing to progress and grow and making sure Chris is in a position to take things forward.
"It's a bridging job if you like in making sure what we've done over the last 12 months continues in the same vein as we progress and aim towards the qualifiers."
"It's important the game is a positive - a celebration of Gary's life in terms of the atmosphere and everything that goes around the game.
"But also it's important we make sure the players are out there performing [and] give a tribute that's worthy of the work Gary did over the last 12 months."
Wales will go into the game against Costa Rica have risen seven places to 42 in the latest Fifa rankings.
And Roberts believes Wales' dramatic rise in the rankings during the last year is a legacy of Speed's brief spell at the helm.
"We didn't talk about the rankings as anything of note really," added Roberts.
"If it's an indicator, and a benchmark, of the progress made over the last 12 months then that's great. But we know that's something that we can't control.
"We've got to concentrate on controlling the controllables if you like and that's making sure we continue to progress, we continue to perform and we continue to grow."