Roberto Mancini rejects claims he treated Carlos Tevez "like a dog"
Last updated on .From the section Football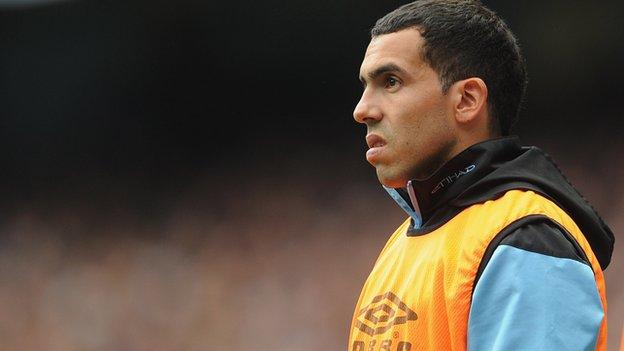 Roberto Mancini has rejected Carlos Tevez's claims he was treated "like a dog" by the Manchester City manager.
He criticised the way Mancini spoke to him before accusing him of refusing to come off the bench in the 2-0 defeat to Bayern Munich in September.
"I totally disagree with Carlos, what he said, because I never treated him badly," Mancini said.
"Maybe the opposite, I treated him too well, always."
Tevez, 28, trained alone at the club's Carrington training ground on Wednesday after undergoing brief medical tests following his return from Argentina on Tuesday.
He has been absent since the start of November and has not played for the club since falling out with Mancini after the game at the Allianz Arena, losing almost £10 million in wages, fines and lost bonuses.
Tevez has insisted that he wants to force his way back into the City side but criticised Mancini in an interview in Argentina on Monday night.
He was linked with Inter Milan, AC Milan and Paris St Germain during the transfer window but failed to secure a move away from the Etihad Stadium.
Earlier this month Mancini named the Argentine in his 25-man squad for the remainder of the season.
But he is not in the club's European squad so has been left in Manchester ahead of the Europa League round of 32 first-leg tie in Porto.
Mancini was reluctant to discuss the matter ahead of the game in Portugal, and said: "I don't want to answer the question because the game is more important than this.
"But I answer this question and then no more, because we have this game. It is an important game against a top club like Porto."
One striker who Mancini is ready to welcome back to boost City's bid for a maiden Premier League title is Mario Balotelli.
Balotelli, 21, has completed a four-match domestic suspension for an apparent stamp on Tottenham's Scott Parker.
And Mancini has urged his fellow Italian to keep his cool during the crucial run-in.
He said: "I have spoken to Mario, two weeks ago.
"I said, 'Please, we have 13 games to play and the Europa League too - try to have good behaviour on the pitch and think only of playing football'.
"I think if his head is okay in the next two months, he will be an important player."