Time for a Golden Oldie?

By Pat Murphy
BBC Radio 5 live sports reporter
Last updated on .From the section Football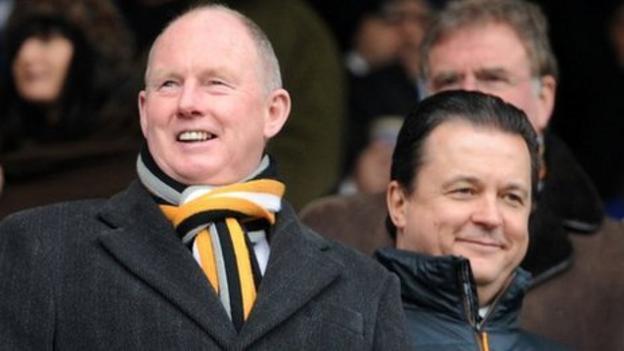 As Wolves begin the process of interviewing potential replacements for Mick McCarthy, who was sacked on Monday, BBC Radio 5 Live's Pat Murphy assesses the credentials of leading candidates Alan Curbishley, Steve Bruce and Neil Warnock.
Despite their obvious strengths, all three have caveats attached. A major plus in their favour is that they are available. It takes too long these days to prise a manager away from his current employers and time is not on Wolves' side.
And when trying to second guess the view of Wolves owner Steve Morgan, it is best to recall the words of the chief executive Jez Moxey in the aftermath of McCarthy's sacking: "It's Steve's club and he can do what he wants."
What we do know is that Morgan rates Alan Curbishley highly. He said so publicly on Monday. If Morgan's proposed takeover of Liverpool had succeeded in 2004, he would probably have plumped for Curbishley to succeed Gerard Houllier.
Two years later, Curbishley, who played his football for Birmingham City and Aston Villa among others, was interviewed for the England head coach job, so it is not as if his light has been hidden under a bushel this past decade.
He kept Charlton in the Premier League for six seasons and then steered West Ham to a remarkable escape from relegation in May 2007, winning seven out of the last nine games, the last at Old Trafford courtesy of Carlos Tevez's brilliance.
But he has been out of the game - apart from warming various TV sofas - for more than three years since leaving West Ham on a point of principle, upset over boardroom interference in signing players.
It took Curbishley another year to win a case for constructive dismissal, which may go against him in the eyes of some other club chairmen wondering whether to come in for him. That would be harsh if it was true, given that Curbishley, now 54, showed admirable strength of character to see his case through.
Steve Bruce may be seen as damaged goods in Morgan's eyes after being sacked by Sunderland in November. Yet six months earlier, he had steered Sunderland to their third best position in the top flight in 55 years and the highest for a decade.
Bruce brought players in during the summer and was not given enough time to see them bed in. Received wisdom is that he wasted a lot of money at the Stadium of Light, but he finished about evens on his transfer dealings. He ran out of luck last autumn and that scuppered him.
More relevant to the current situation is his work at Wigan. When he took over in December 2007, the Latics were second bottom. Between then and December 2008, he garnered 63 Premier League points as Wigan comfortably avoided relegation for two successive years, playing a fast, aggressive brand of football.
It was only when Bruce had to sell Antonio Valencia, Wilson Palacios and Emile Heskey in swift succession to appease the bank that he realised he had to move to a bigger club.
Bruce knows about fire-fighting, raising morale in the dressing room and grinding out results. He did that at Birmingham City for six seasons, keeping them in the Premier League for five of them, unleashing the 'dogs of war' when more talented opponents could not live with them at the fortress that was St Andrew's.
Any manager that survives working with Karren Brady and David Sullivan for all that time can look after himself away from the pitch. And he kept the battles with the board away from his players.
The 51-year-old would be popular with his players because he is a big enough character to take the flak and make them laugh with his Sir Alex Ferguson stories and homespun self-deprecation.
And his extensive contacts book reflects his great popularity among his managerial colleagues - useful when it comes to doing a deal over a player.
Neil Warnock has the hunger to relish a crack at the job. Getting the sack from Queens Park Rangers still rankles, as well as the perception that he is at his best scrapping for promotion, rather than consolidating a club in the Premier League.
Unlike Bruce and Curbishley, Warnock, 63, lacks great experience in the top flight but has the drive to confound his many detractors. He is ideally suited to the challenge of motivating an under-achieving squad but would he do this at Molineux?
There are some battle-hardened, voluble characters in that dressing room who may not take to Warnock's idiosyncratic style. They will not have forgotten the Twitter antics where Joey Barton called Karl Henry a "Sunday league player" after QPR played Wolves off the park at Molineux last September.
Warnock's passionate defence of his captain may have been understandable but it means, I understand, that he is not widely admired by the Wolves players.
Moxey made it clear that the new man has to fit in with the DNA of the club, rather than the other way round. The Mick McCarthy template. Which begs the question - why get rid of the epitome of that DNA?
But that was Monday's story and now Moxey and Morgan will start the process that will lead to an appointment by early next week. My guess is that it will be an interim appointment, with a handsome bonus if relegation is avoided, followed by discussions over a decent contract in the summer.
As usual, many names are in the frame and others may well be interviewed before the weekend. But experience is a vital factor amid the current mess.
It is hard to see past the aforementioned trio and easy to see why Curbishley appeals. Wolves supporters may hate this but Curbishley is Roy Hodgson-esque. When Hodgson took over at West Brom a year ago, the Baggies were in free-fall, with relegation a distinct bet and only 13 games left.
Hodgson steered the club to 11th by the end of the season, a product of massive experience, cool judgement, sophisticated coaching and supreme organisation. Curbishley is cut from the same cloth. Studious, thoughtful, big on detail and at his best on the training ground.
He would not be as entertaining with the media as Bruce or Warnock and may appear a tad downbeat in public, but that does not lose you football matches.
Morgan has much to ponder. It will be his first managerial appointment after inheriting McCarthy, so he will need to get it right to keep the vocal, vitriolic minority away from his door.
And he will need to take a punt on who is likeliest to galvanise a group of honest, willing players who know they let the previous manager down. It is not a job for a bright-eyed young manager, with coaching badges bulging out of his briefcase. This one is for a Golden Oldie.