Norwich City 'won't gamble' on future, says David McNally
Last updated on .From the section Football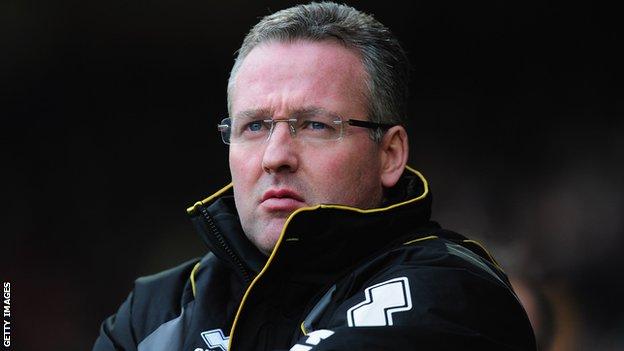 Norwich City chief executive David McNally says boss Paul Lambert will be given financial backing in the summer, but not at the risk of the club.
McNally has revealed the Canaries spent around £5m in the January transfer window on two signings.
"It's our job to back the team as much as possible within the parameters we have," he told BBC Radio Norfolk.
"We won't gamble on the club's future. We don't have the right to do that. But we'll give Paul every spare penny."
He added: "I saw somewhere there wasn't much more than £50m spent in January in the total transfer window market and we made getting on for 10% of that.
"So Norwich City spent 10% of the total January transfer funds. Now we've not said that before, I don't think."
Norwich's current position, both in football terms and financially, is in stark contrast to that of three years ago.
In 2009 the Canaries were relegated to League One with over £20m of debt.
Now they are eighth in the Premier League, have a structure in place to repay their loans and were able to afford the signings of Ryan Bennett and Jonny Howson from Peterborough and Leeds respectively.
"Let's not forget that through some difficult seasons we've not been a selling club," added McNally, who was talking at the 20th anniversary celebrations of Norwich City's Community Sports Foundation.
"And if there has been interest in any of our senior players we've knocked those offers back.
"We are focused on developing the squad, so we'll do everything we can to give Paul the opportunity to do well next season."
Norwich are likely to be building towards a second campaign in the top flight over the summer, with 14 points separating them and the relegation zone, but McNally is remaining cautious.
"We would have taken 17th this year and probably still would," he said.
"We're not concerned about anything else other than staying in the league for next year.
"What Paul and his players have demonstrated, quite simply, is that they're a very good side, who have earned their 35 points through hard work."