Kilmarnock boss pays Ally McCoist tribute
By John Barnes
BBC Scotland
Last updated on .From the section Football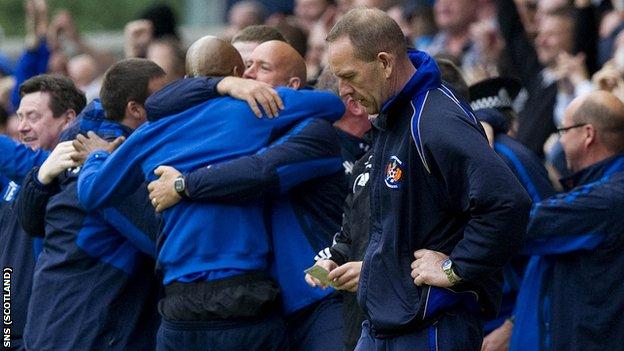 Kilmarnock manager Kenny Shiels believes Ally McCoist could be Rangers' footballing saviour during their time in administration.
Shiels, who takes his team to Ibrox on Saturday, used biblical terms to describe his counterpart's role in Rangers' period of turmoil.
"It's maybe like the man from above when he sends Jesus down," said Shiels.
"Who else would you pick? Ally's got the core principles, he's got dignity, he's a legend."
The Killie boss went on to draw further comparisons using the former Rangers boss Walter Smith as the example.
He added: "Ally's got modesty and what he has achieved in the game for that club he's a legend at Rangers.
"And now it's like Walter Smith saying there's a problem go and solve it. So you send the legend in!
"That's what Ally is and he's shown great dignity in all of this."
Shiels had nothing but sympathy for the plight of the Ibrox club and its staff.
"We all have our ideas on how this has happened, there has been malfunctioning somewhere," he said.
"I really feel for the manager. It's his first job in management - what a time to come in.
"So much happens in the football industry in such a short period of time.
"Nine months ago we had this triumphalism, winning the championship for the third time in succession down at Kilmarnock and that was on our patch.
"I've reminded the boys about that. It's really hard to take when someone is overjoyed about something and we're really disappointed. It's vivid in my memory that and we are going out to endeavour to redress it."
Kilmarnock beat Rangers in their last meeting but Shiels expects the Ibrox men to rise to the occasion in troubled times.
"We're preparing to create history by beating Rangers home then away for the first time in the SPL," he said.
"We don't view them any differently prior to this.
"There'll be a galvanisation of a siege mentality both from the stands and from the playing surface.
"Case history tells me that adversity brings people together and makes them determined.
"They've got a common bond that they're in a bit of difficulty and they have to dig in to get themselves out of it."