Artificial pitches a step closer to a return in English football
By Paul Fletcher
BBC Sport
Last updated on .From the section Football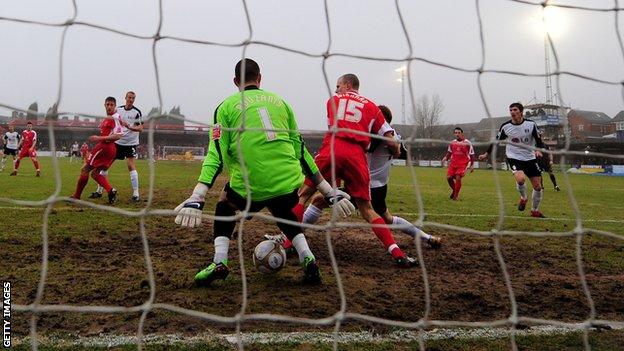 English football is a step closer to reintroducing artificial pitches after the Football League announced plans to seek opinion on their possible return.
The public consultation will run until the end of April 2012 and canvas the views of clubs, fans and officials.
The Football League's chief operating officer, Andy Williamson, said there was a "clear appetite" to reconsider the use of artificial surfaces.
BBC Sport broke the news last year that artificial pitches could return.
Support is strongest in League One and League Two, where clubs are attracted by the potential financial benefits to be gained from the installation of an artificial surface.
Williamson added: "It is fair to say the Football League currently has an open mind on the issue.
"However, it is a decision that will clearly have implications for all those with an interest in professional football. It is important that everybody gets the opportunity to have their say."
The League has released a 32-page consultation document and fans can take part in a survey on its website.
It is also set to seek the opinion of bodies such as the Football Association, the Premier League, The Professional Footballers' Association and the League Managers Association.
The FA has yet to comment on the news but Premier League rule I.29 states "no league match shall be played on an artificial surface".
Accrington Stanley chief executive Rob Heys has been a long-term advocate of a return to artificial turf and told BBC Sport the public consultation was "a good step".
"I am very pleased," said Heys. "The Football League might be one of the oldest leagues in the world but it is very forward thinking.
"It is another big step that it is being considered. The Football League has put a lot of time into the document and will also do so in gathering the results.
"There is a lot of positive feeling, not so much that everyone wants one [an artificial pitch] but there has been a definite drop in opposition to them."
The Football League clubs agreed to the public consultation at a quarterly meeting of all 72 League members, which took place at Derby's Pride Park on Thursday.
The aim is to gather as much information as possible before the League's summer conference, which is scheduled to take place between 29 May and 1 June.
Artificial surfaces were banned by the Football Association in 1988 and the last remaining one in the top four divisions - at Preston North End's Deepdale - was ripped up in 1994.
However, it is understood that advances in technology, combined with the possible financial and community benefits, has led to a rethink on the subject.
The Football League gave a presentation on the possibility of a return to artificial surfaces at a meeting in November, and there was a subsequent discussion among the clubs at divisional level.
Speaking shortly after that meeting Wycombe vice-chairman Brian Kane told BBC Sport: "I thought a move towards a return to artificial surfaces would never happen but I sense that has changed now."
And Stanley's Heys is in no doubt about the benefits lower down the Football League.
"There is an income to be gained from hiring the pitch out and money to be saved in maintenance costs and the fact that you can train on it," he explained.
"The community benefit is that you can get people down to the ground seven days a week rather than just 23 times [a season]."
However, there is less support from Championship clubs, who would need to replace an artificial surface if they won promotion to the Premier League.
Former Burnley chief executive Paul Fletcher, an ex-professional with vast experience in stadium development, is firmly against the idea.
"I hope they do not appear anytime soon," he said towards the end of last year.
Since 2004, world football governing body Fifa and Uefa, which runs European football, has sanctioned the use of artificial surfaces in their competitions.
There are currently artificial pitches in use in Italy, France, the Netherlands, Scotland, Wales, Northern Ireland, Republic of Ireland, Russia, Switzerland, Belgium and a number of other European countries.
Rugby League side Widnes Vikings also play on an artificial pitch, although the surface was criticised after their recent Super League match against Wakefield.