Europa League - as it happened
Last updated on .From the section Football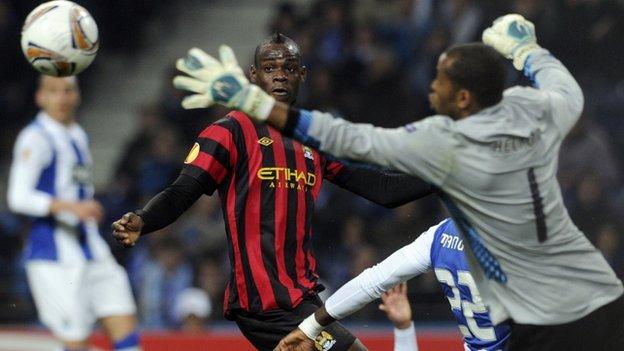 PLEASE MANUALLY REFRESH THIS PAGE
GET INVOLVED: Tweet me @mikehensonbbc using the hashtag #bbcfootball or text me on 81111 (UK). Make sure YOU PUT YOUR NAME on those texts though.
By Mike Henson
2238: Bye for now folks. Thanks for all your messages, it wouldn't have been the same without them. Hope you can keep them coming at me during FA Cup fifth-round weekend. Have a good Friday.
STOKE 0-1 VALENCIA
David Ornstein reports:"Stoke's unbeaten home record in Europe go up in flames. They're still in this, but classy Valencia will take some beating at the Mestalla next week."
AJAX 0-2 MANCHESTER UNITED
David Ornstein reports:"Their Champions League bid may be over but their Europa League charge is alive. United have one foot in the last 16 and they'll take some stopping."
PORTO 1-2 MANCHESTER CITY
Neil Johnston reports: "City will start next Wednesday's second leg as strong favourites to advance to the last 16 after a thoroughly impressive display against the holders. They remained calm after falling behind with Yaya Toure and Samir Nasri really catching the eye."
2230: Let's see what our match reporters made of tonight's contests then...
2221: Nice to Sergio Aguero taking the lead of father-in-law Maradona's coaching of Dubai side Al Wasl and sharing his footballing love around a little bit.
Infostrada Sports on Twitter: "Sergio Aguero has scored his 19th goal for Manchester City (all competitions) and it is the first not scored in Manchester or London."
Stoke's Dean Whitehead: "They're a top side and had a fantastic first half. We got among them in the second half but we're not getting the breaks at the moment. The challenge [by Tino Costa] was studs up on the shin - it could have broken my leg and I got booked for talking to him. I've seen a lot of players sent off for less. It's not right. We have plenty of confidence going into the second leg. We're underdogs but we don't mind that."
BayfordSpyro on Twitter:"Stoke have a big task to progress but no-one counted on Fulham scoring four past Juventus [in the year] when they made the final."
2221: The next installments of these encounters are coming your way in a week's time with Porto visiting the Etihad Stadium on Wednesday 22nd February and Stoke heading for Valencia on the day after.
Robeto Mancini on City's 2-1 victory over Porto: "We played very well. It's an important win because Porto are a top side. Also in the first half we had three or four chances to score but were really unlucky."
Mancini added that he did not hear any racist abuse from the crowd at the Estadio do Dragao.
BBC Radio 5 live football reporter John Murray on reports of racist abuse towards Mario Balotelli at Estádio do Dragão: "The Manchester City media team mentioned that in the first half there had been some incidents that they had a fair idea was racist towards Mario Balotelli. When Balotelli was substituted you could clearly hear it from the home fans."
Paul, via text: "Stoke will struggle. Barca went to the Mestalla twice with Lionel Messi and couldn't win. Real struggled there too."
Valencia are off to the Nou Camp this Sunday, while Stoke take on Crawley in the FA Cup. A chance for a direct comparison on the big question that has been bugging football's big brains though. Can Lionel Messi do it on a wet night in Stoke?
Gary, Manchester, via text: "Complete overreaction at half-time but where are the comments now? You'd think people want City to fail."
2209: Dean Whitehead is in the tunnel being interviewed by television and the camera pans down to the damage left by Tino Costa's tackle in the second half. It isn't pretty with the force of the tackle breaking through the shin pad and leaving two gashes across the lower half of his leg. "We have seen reds for a lot less," he says and he is right on the money with that observation.
NFFCIcCy on Twitter:"Not a Stoke fan, but would have loved them to have a run like Fulham did. Unfortunately can't see it happening."
BBC Radio 5 live pundit Kevin Gallacher after Manchester City's 2-1 win at Estádio do Dragão: "It was a fantastic performance away from home. It was professional, though not Manchester City at their free-flowing best because they weren't great in the final third. But they kept together well and never rushed things. They played patiently and got the goals when they needed them."
EUROPA LEAGUE LATEST: Steve McClaren's Twente side have beaten Steaua Bucharest 1-0, taking a priceless away goal into the second leg. Hannover defeated Club Brugge 2-1 while Wisla Krakov drew 1-1 with Standard Liege.
2200: Full credit to City for digging in and wrestling the tie back their way after a slow start, but Stoke have a mountain to climb. And it is one of those proper Alpine ones rather than than a Peak District piddler.
FULL-TIME:Stoke 0-1 Valencia
FULL-TIME:Porto 1-2 Manchester City
warmbeez1 on Twitter:"Sorry Scott from Peterborough, you were saying?"
2153: Ryan Shotton launches another howitzer of a thrown into the Valencia box but it misses its target of Jonathan Walters and bounces through to Vicente Guaita.
2151: Tempers are fraying at the Britannia and it all started with Tino Costa getting away with one as he planted his studs into Dean Whitehead's calf. Jonathan Walters earned a yellow as he snapped in on Costa in what looked suspiciously like a little bit of revenge.
GOALFLASH: Porto 1-2 Manchester City (Aguero)
A tremendous away win in the offing for City as Yaya Toure bursts through a flagging Porto rearguard and unselfishly squares the ball across the six-yard box for Sergio Aguero to side-foot home.
2145: Valencia have checked some of Stoke's gathering momentum, taking an inordinate amount of time to get Bruno Saltor off the pitch and Miguel on in his place. Eight minutes to go.
mjwilko86 on Twitter:"This ref loves a card, he might be getting one from Mancini..."
JamesSAwatson on Twitter:"These Porto players are a joke, slightest contact and they're on the floor."
2140: Manchester City look happy to see this game out and return to Etihad Stadium, needing a win of any kind to send them through. It is getting ever more tetchy out there though and Samir Nasri has become the fifth City player to have his name taken.
2138: Stoke are applying a bit of late presure and Robert Huth fires over as he reacts fastest to a loose ball around the penalty spot before Valencia keeper Vicente Guaita drops gratefully on Ryan Shotton's deflected effort.
2135: Stoke come within a post's width of falling two behind as Pablo Piatti slips in Sofiane Feghouli who darts inside Andy Wilkinson and sends a shot pinballing around the Stoke goalmouth. It finally finds its way to safety via Robert Huth's boot, the woodwork and the back of Asmir Begovic's head.
2130: Tony Pulis has thrown on Cameron Jerome in place of Peter Crouch for the final 20 minutes. Kenwyne Jones, all £10m of him, is left on the bench.
Jon, Manchester, via text: "Some poor tweets tonight. City are playing well in my book. Tough game but so far creating chances. Just need to be careful with the yellow happy referee!"
The yellow card count stands at seven in Portugal.
2130: A few gaps appearing at the back now for Stoke as they press forward looking to take something from the home leg and Andy Wilkinson has to make up a lot of ground to nip out a budding counter-attack from the visitors.
2128: Stoke are testing how the Valencia defence stand up to a traditional aerial bombardment. So far the Spanish side have dealt well with everything booted, and in the case of Rory Delap, thrown in their direction.
BBC Radio 5 live pundit Kevin Gallacher at Estádio do Dragão: "I'm disappointed with Manchester City's service in the wide areas but they've worked hard to get into those areas. Sometimes you need a bit of luck and they've got that now with the own-goal. But will they be happy or try and win the game?"
2126: Hulk sets his sights on a free-kick a good 35 yards from goal and Nigel de Jong earns the game's sixth caution as he bravely, but a little too eagerly, closes down the Brazilian's shot. From the retake, Joe Hart punches away a wickedly swerving effort from Hulk. That is his first real save of the match it has to be said.
GOALFLASH: Porto 1-1 Manchester City (Pereira o.g)
City finally land a counter punch and it is deserved on the basis of their start to the second half. Mario Balotelli looks to make something of Yaya Toure's long ball forward and his pressure is enough to draw the error from Alvaro Pereira, who nudges the ball into his own net with his shoulder.
2118: Reports from the Estádio do Dragão are suggesting Manchester City officials are investigating apparent racist chanting from Porto fans towards their players. The alleged chants are believed to have been directed at City's Mario Balotelli and Yaya Toure during the first half, according to BBC Radio 5 live's John Murray.
2117: Stoke are opened up again as Jonas and Sofiane Feghouli combine and Robert Huth has to shoot out a boot to stop the latter's low cross from whizing through the six-yard box. Tony Pulis has brought on Dean Whitehead for Wilson Palcios, but his side are still being starved of possession.
2115: Micah Richards rattles the woodwork for City as he buldozes his way down the right flank and cracks the ball towards goal. The ball rebounds to safety off the outside of the post and I think Helton had it covered.
jdl0312 on Twitter:"City need to bring on their Bosnian striker - at the moment they're Edin for defeat."
2112: Mehmet Topal shows he do canny defending as well as stunning strikes as he guides Matthew Etherington down a cul-de-sac before nudging the winger just slyly enough to ensure he fluffs his attempt to cross.
2109: Stoke and Valencia are out of the dressing rooms marginally quicker than Porto and City, but we are go in both games now.
Sa, via text: "I'm sorry, but you can no longer say the Premier League is the best league in the world. These past two days have been embarrassing for English clubs."
2105: A sobering first half for the Premier League as a whole as their two representatives are given the runaround in the first 45 minutes of the two later kick-offs. Neither Porto or Valencia look ruffled by the English sides' attempts to push the pace.
Scott, Peterborough, via text: "Man City's stars think they only have to turn up to win. They will get beat tonight and go out at the first attempt in this cup."
BBC Radio 5 live pundit Kevin Gallacher on the first half at Estádio do Dragão: "Porto are a tough nut to crack at home. But I think Manchester City are letting themselves down when they get behind Porto. Their final ball has not been good enough - they're rushing it."
2059: Stoke have been up against it with Valencia's midfielders keeping them chasing shadows at times. A lovely run, full of close control and dropped shoulders, from Sofiane Feghouli almost undid the Potters' backline again just before the break.
Forsyth7 on Twitter:"We are never going to get anywhere with the 4-5-1. Go 4-4-2 and let Aguero and Balotelli loose on this mob."
EUROPA LEAGUE LATEST: PSV Eindhoven lead 2-1 at Trabzonspor and Standard Liege are also ahead at Wisla Krakow but there are a lack of goals elsewhere around Europe.
Porto 1-0 Manchester City
Neil Johnston reports: "Don't write City off yet. They have carved out some great chances but Roberto Mancini's side have been given a lesson in the art of passing by the impressive hosts."
Stoke 0-1 Valencia
David Ornstein's half-time snapshot: "Mehmet Topal pops up with a spectacular strike to reward Valencia for a half of technical brilliance. They're not third in La Liga for no reason."
HALF-TIME: Stoke 0-1 Valencia
HALF-TIME: Porto 1-0 Manchester City
2051: Hulk slashes wildly over as he gets a glimmer of goal from 20 yards out. Plenty of oomph, but a lack of direction on that one.
kwhan23 on Twitter:"Maybe AVB wasn't so special after all. Maybe this Porto team is just excellent."
2050: City have looked busy and industrious as they go in search of an equaliser as David Silva's crafty little pot at the near post from a free-kick out wide is well blocked by Helton. City have a bit more life about them than they showed away to Napoli and Munich earlier this season.
2046: Peter Crouch almost winds the clock back to the bicycle kick beauty that he scored for Liverpool against Galatasaray a few years ago. He flings his limbs skywards and connects sweetly with Jermaine Pennant's cross, but it is a yard or so over the bar.
GOALFLASH: Stoke 0-1 Valencia (Topal)
A stone-dead stunner from Mehmet Topal who hammers a 35-yard screamer past Asmir Begovic who can only wave it on its way as it pierces the top right-hand corner of his net.
Paul, via text: "If Valencia get one goal here that's it - Stoke are gone. They'll hammer them in Spain."
2039: Stoke's appeals for a penalty are waved away as Peter Crouch goes sprawling in the box. Bruno Saltor has done little more than hold his ground there though and referee Peter Rasmussen keeps his arms by his side.
2036: Manchester City have a great chance to hit straight back as Samir Nasri springs Mario Balotelli with a great ball through. The Frenchman's pass is more than matched by a great save from Helton who claws Balotelli's effort away at full stretch. A rueful shake of the head from Roberto Mancini in the visitors' dug-out.
GOALFLASH: Porto 1-0 Manchester City (Varela)
First blood to the hosts as Hulk sends a low cross skimming into the middle where Silvestre Varela gets in front of Vincent Kompany and Gael Clichy to guide a finish past Joe Hart.
2031: Yaya Toure is booked for a body check of James Rodriguez. The Porto man made a bit of a meal of it though.
2029: Manchester City are getting something of a foothold in the game as Micah Richards and then Samir Nasri both stretch Helton with thumps from outside the box. The goalkeeper is all arms and legs behind them, but he does enough to beat both away.
2026: Jonas comes as close as anyone to opening the scoring as he bundles his way through the Stoke rearguard and then draws a good save from Asmir Begovic with a sharp shot from a tightening angle.
2025: Porto defender Danilo has been stretchered off as he tweaked his groin stretching to foul Yaya Toure. Something of a sad sight as the Brazilian is carried off with the referee brandishing a yellow card to send him on his way.
2023: City are under the cosh a bit in the opening stages in Portugal and Gael Clichy is forced into a rushed goalline clearance from Rolando's header.
2021: Jonathan Walters is within a whisker of opening the scoring for Stoke as a cross skids through just inches in front of his forehead.
2018: The news filtering through from Ferguson's press conference is that Antonio Valencia is out for four weeks with a hamstring injury. Bad blow.
Manchester United boss Sir Alex Ferguson: "I'm delighted with the scoreline. It was an ordinary performance and didn't reach any great height. We didn't play well at all and didn't have any rhythm. There wasn't any tempo to our play in the first half, but in the second half we improved. It wasn't a brilliant performance, but it's good enough. The second goal gives us a good opportunity at Old Trafford to get us through."
2015: At the Britannia Stadium, Valencia's Mehmet Topal has a bit of a wrestle with Peter Crouch as he gets to grips with the Stoke striker at an early set-piece. The tables have turned from the days in which the Spaniards had John Carew terrorising defences in Europe.
S_Anderson5 on Twitter:"Real shame the Manchester teams being in the Europa League has overshadowed the success Stoke have had in Europe."
2010: Manchester City have got off to a steadier start at the Estadio do Dragao. Joao Moutinho has been hustling round the fringes for the hosts, but is squeezed out as he attempts to get the ball in behind right-back Micah Richards.
2007: Jonathan Walters is out of the traps quickly for Stoke and fires hard, low and narrowly wide in the opening minute.
2005: We are under way in both Portugal and the Potteries.
2003: There is a bit more on the fearsome Porto frontman with a 100m euro price tag in Andy Brassell's piece for the BBC Sport website.
orientlen1 on Twitter:"Dont get Hulk angry or he'll tear City's defence apart with his ferocious shooting."
Stoke v Valencia
"Stoke make three changes to the team that lost to Fulham with Asmir Begovic, Robert Huth and Rory Delap coming into the side. Kenwyne Jones is on the bench alongside fellow striker Cameron Jerome. Valencia make six changes to their line-up having thrashed Sporting Gijon 4-0 at the weekend. Star striker Roberto Soldado, Ever Banega, and the experienced David Albelda all miss out with Argentine playmaker Pablo Piatti the biggest threat for the Spaniards."
FC Porto v Manchester City
Neil Johnston reports: "Yaya Toure's last appearance in a City shirt ended in a 3-0 win over Liverpool back on 3 January. Manager Roberto Mancini will hope the Ivory Coast international is over his African Cup of Nations final defeat. Mario Balotelli, who has not featured since scoring in the 3-2 win over Tottenham on 22 January, is also back after serving a four-game ban. No James Milner or Kolo Toure, who both travelled."
2000: Stoke and Manchester City are limbering up for their ties. With kick-off five minutes away, here is a rundown on the ins and the outs. Full line-ups are further down this page.
Manchester United striker Javier Hernandez: "This is a game of two legs and we wanted to get a great result. Thankfully we got the two goals and the victory. Ajax are a difficult team and a historical club, but we are happy and we have 90 more minutes to play. We can't say we are through."
Dunc, via text: "Why are we all writing off Ajax already? Perfectly capable of causing some Bergkamp-inspired damage in the second leg."
EUROPA LEAGUE LATEST: Klaas Jan Huntelaar has spared Schalke's blushes against Viktoria Plzen with an equaliser in the second-half. Atletico Madrid turn their tie on its head against Lazio as Adrian and a Falcao brace give the Spaniards a 3-1 lead going into the second-leg. Elsewhere, Sporting Liston draw 2-2 against Legia Warsaw and Metalist Kharkiv trounce Salzburg 4-0.
1956: If you dare to tweak fate's nose and look ahead to the round of 16, it is either Lokomotiv Moscow or Athletic Bilbao next up for Sir Alex Ferguson's side. The Russians won 2-1 at home in the first leg. A bit more from the night's other early ties now...
1954: A decent night's work from the Premier League champions after they had drawn the sting and bounce from a boisterous home crowd. Had that penalty decision at the very end of the first half gone against Rio Ferdinand, it might have brewed up into something a bit more dangerous though.
Dan, Bridgend, via text: "If United want to go far in this tournament they're going to want to do it as efficiently as possible. This looks to be a good start."
FULL-TIME: Ajax 0-2 Manchester United
1949: Ajax have got into some decent positions on the edge of the box, but, apart from Siem de Jong's zinger in the first half that brought the best out of David de Gea, they haven't really tested the goalkeeper from distance.
kkvek on Twitter:"Second goal kills tie and means young players will have second leg to gain some experience for Champions League next year."
1947: Antonio Valencia copped a whack in the build-up to the second and has hobbled off to be replaced by Danny Welbeck. Wayne Rooney attempts to wrap a curling shot around a defender for a third, but his effort wafts well over.
GOALFLASH: Ajax 0-2 Manchester United (Hernandez)
That might just be the round of 32 done and dusted for United. Antonio Valencia darts clear of a couple defenders as an Ajax attack breaks down and feeds Javier Hernandez. The Mexican swaps passes with Wayne Rooney to bypass the last man and pokes home.
Pengumile on Twitter: "Has Paul Scholes misplaced a pass yet?"
1940: Nine minutes remaining of normal time and United are inviting Ajax onto them a bit. As it stands it would represent a very solid night's work. As it stands, mind.
1935: Jan Vertonghen clearly has a bit of that Dutch Total Football heritage running through his veins. The central defender storms forward to lead a counter-attack that United only just have enough numbers back to snuff out.
1932: Paul Scholes strokes a doozy of a curling pass to Phil Jones, just a little cameo but he still has it you know. Ashley Young has given way to Antonio Valencia in United's second change.
1930: Christian Eriksen pings in another effort from 20 yards as he breaks upfield, holds off Phil Jones and has Rio Ferdinand looking uncomfortable as he comes across to cover. David de Gea pats his effort down into the turf and gathers at his second attempt.
1928: No cigar for the Dutch as United comfortably deal with Christian Eriksen's punt into the box.
1926: Ajax have responded well to going a goal behind and have free-kick in a promising position 40 yards out. Let's see how this goes...
OptaJoe on Twitter:"Ashley Young has not ended on the losing side in any of the last 20 competitive games that he has scored in. Charm."
tom_dalton94 on Twitter:"Ajax seem to be flagging now, their young goalkeeper looks a bit shaky and I think United deserve that goal."
BBC Radio 5 live pundit Michael Gray on Ashley Young's opener at the Amsterdam Arena: "Manchester United have certainly got their reward. They came out of the traps in the second half and have done all the pressing."
1923: The play switches back down the opposite end as Nani pirouettes after halting his run to control Phil Jones' cut-back. The Portuguese gets off a snap shot which Kenneth Vermeer does very well to tip over. The referee does less well, failing to spot the keeper's touch and awarding a goal kick.
1921: Fabio is caught in possession by Christian Eriksen and the ball falls for Aras Ozbiliz who sends a decent effort rattling over David de Gea's bar from the right-hand edge of the area.
1919: Paul Scholes replaces Tom Cleverley for United. Cleverley has had a bit of a subdued game on his comeback from injury.
GOALFLASH: AJAX 0-1 MANCHESTER UNITED (YOUNG)
Coolly taken by Ashley Young as Nani's cross finds its way through to him at the far post and the former Villa winger feints inside Vernon Anita, before threading a finish through the legs of Kenneth Vermeer.
1915: Siem de Jong has picked up a booking for Ajax after sweeping Ashley Young's legs from under him. It is a whole different kettle of fish from the first half, more snap in the tackles and urgency in the movement of both teams.
FC Porto v Man City
FC Porto: Helton, Danilo, Rolando, Maicon, Pereira, Gonzalez, Fernando, Joao Moutinho, Varela, Hulk, James Rodriguez. Subs: Bracali, Cristian Rodriguez, Kleber, Djalma, Mangala, Alex Sandro, Defour.
Man City: Hart, Richards, Kompany, Lescott, Clichy, Barry, De Jong, Nasri, Toure Yaya, Silva, Balotelli. Subs: Pantilimon, Zabaleta, Pizarro, Dzeko, Kolarov, Savic, Aguero.
Referee: Cuneyt Cakir (Turkey)
BBC Radio 5 live pundit Michael Gray on United's start to the second half: "The quality has been better from the flanks. Nani has got into better positions and United are getting the ball out to him."
1912: Toby Alderweireld glances a header just wide and this game is opening up nicely.
MANCHESTER CITY BREAKING TEAM NEWS: Yaya Toure, back from the African Cup of Nations, starts his first City game since 3 January while Mario Balotelli earns an automatic recall after serving a four-match ban.
1909: United are definitely looking livelier, maybe Sir Alex Ferguson has given them a blast at the interval. Javier Hernandez spins neatly from Wayne Rooney's pass, but goalkeeper Kenneth Vermeer and defender Vurnon Anita do just enough to edge him out before he can pull the trigger.
Andy, Penzance, via text: "This Manchester United side have flattered to deceive all season. Yet they are still in the title race and could go far in this Europa League."
1906: Dmitri Bulykin has a burst down the channel after being freed by a ball over the top, the Russian shanks his shot though and David de Gea calmly watches it fly behind.
1904: Manchester United immediately on the front foot as Nani whips in a cross-cum-shot that has Kenneth Vermeer shuffling across his line before tipping over. Jan Vertonghen then gets a crucial touch on Ashley Young's cross as Phil Jones shapes to crash a volley goalwards. Promising for the English side.
1901: Ajax kick off the second half.
1900: Manchester United are back out and Rio Ferdinand has taken his place in defence despite limping off after that rather untidy challenge on Miralem Sulejmani at the end of the first half.
Stoke v Valencia
Stoke: Begovic, Wilkinson, Shawcross, Huth, Wilson, Pennant, Palacios, Delap, Etherington, Walters, Crouch. Subs: Sorensen, Whelan, Jones, Fuller, Whitehead, Shotton, Jerome.
Valencia: Guaita, Bruno, Rami, Dealbert, Mathieu, Feghouli, Topal, Tino Costa, Piatti, Jonas, Aduriz. Subs: Diego Alves, Albelda, Soldado, Ever, Victor Ruiz, Miguel, Bernat.
Referee: Peter Rasmussen (Denmark)
1859: The Stoke team news is in. Kenwyne Jones is named on the bench with a front pairing of Jonathan Walters and Peter Crouch preferred by boss Tony Pulis.
Kash, United fan, via text: "Re Frustrated Manchester United fan. Give Nani a break. He's just come back from injury and playing away in Europe. Before he got injured he was our best player by miles! Hate it when 'fans' have such short-term memories."
1856: The Ajax PA system is blaring out "Ajax is on fire", a version of the Kings of Leon hit. They haven't quite been on fire, but I guess it scans better than "solidly encouraging".
EUROPA LEAGUE LATEST: Half-times around the grounds and Ajax's Dutch compatriots AZ Alkmaar lead 1-0 against Anderlecht. Lazio went ahead against Atletico Madrid courtesy of Miroslav Klose, but goals from Adrian and Falcao has turned that game around. In the surprise of the night, Czech side Viktoria Plzen are ahead against Schalke.
David Ornstein's half-time snapshot: "Two greats of European football but not a great spectacle so far. Chances for both sides, none taken. An important 45 minutes awaits."
1850: The half comes to an end with a big penalty shout for the home side as Rio Ferdinand feels his years as he attempts to get to the ball in front of Miralem Sulejmani. He arrives a little too late, but might just have made it out of the box in the process. Either way there is enough doubt in referee Gianluca Rocchi's mind and the Italian points down the tunnel rather than at the spot.
HALF-TIME: AJAX 0-0 MANCHESTER UNITED
1844: Zappy movement from Phil Jones, Javier Hernandez and Nani down the right, but the final pass from Hernandez is just off-target.
Jon, Worcester, via text: "United missing the creative touch of Paul Scholes, who has been the main driving point for United's attacks recently."
1843: Nice work from Fabio down the left as he twists into space and floats over a cross, but Nani only gets the faintest of eyebrows on it and glances well wide.
tom24hourmusic on Twitter: "That's about the fourth outstanding save by De Gea I've seen in the last three games. He can't catch but boy can he fly..."
Think Tom is referring to David de Gea's save earlier from Siem de Jong which was an absolute pearler.
1840: Christian Eriksen finds a bit of space in the pocket off the frontman once more and he gets a tasty shot away despite Michael Carrick's desparate chase to close him down. It is well struck but straight down David de Gea's throat and the goalkeeper holds on easily.
Frustrated Manchester United fan, via text: "Looking ominously like this will be one of Nani's all-too-frequent nightmare nights."
BBC Radio 5 live pundit Michael Gray on Nani's wastefulness: "Rooney just had a little look at him and said 'look, play the ball back'. It's so frustrating for strikers - you just want that better quality of ball to come into the box. When it doesn't you stop making the runs."
1835: Ajax are starting to turn the screw and it is the combination of Miralem Sulejmani's teasing left-foot crosses and Dmitri Bulykin's physical presence in the middle that twice bring expectant gasps from the home crowd.
1832: A stunner of a stop from David de Gea who strains every sinew to get a fingertip to Siem de Jong's swerving long-ranger. Worthy of former United and Ajax stopper Edwin van der Sar that one.
1831: Nani has Sir Alex shaking his head as he blazes over from a tight angle when Wayne Rooney and Javier Hernandez had taken up good positions in the middle. I imagine it is not the first time that Ferguson has been frustrated with his Portuguese winger.
1829: Ajax look menacing as Miralem Sulejmani slings over a cross that Jonny Evans does wells to clear under plenty of pressure from the towering Dmitri Bulykin. Aras Ozbiliz hammers the loose ball at goal but his shot is well blocked.
BBC Radio 5 live pundit Michael Gray on Ajax centre-back Jan Vertonghen, who has been linked with a summer move to the Premier League: "He's very composed on the ball and has a trusty left foot. He breaks from the back and looks a very good player."
1824: A neat combination between Wayne Rooney and Javier Hernandez as the England striker flicks an outside-of-the-foot ball through a flat-footed Ajax defence. Hernandez chases gamely, but Kenneth Vermeer is always favourite and slides out to claim the loose ball in front of the Mexican.
Lee Sibbert, Lancaster, via text: "The future of England's midfield and defence on show tonight in Cleverley and Jones. How have they both started?"
Cleverley has not really managed to get on the ball so far for me, but Jones has looked neat and tidy at right-back with an healthy eagerness to get forward in support of Nani.
1824: A neat combination between Wayne Rooney and Javier Hernandez as the England striker flicks an outside-of-the-foot ball through a flat-footed Ajax defence. Hernandez chases gamely, but Kenneth Vermeer is always favourite and slides out to claim the loose ball in front of the Mexican.
BBC Radio 5 live pundit Michael Gray on Ajax left-back Dico Koppers: "I've been very impressed with Koppers so far. Nani has tried to run at him a couple of times and Koppers has got the better of him. He's one for the future."
1821: Wayne Rooney digs out a lofted shot as the ball briefly gets stuck under his feet just outside the area. Nothing to trouble Kenneth Vermeer though he takes it comfortably above his head.
1819: The first sight of goal for Ajax as Jonny Evans' misplaced pass is seized upon by Dico Koppers. The left-back scampers towards a yawning gap in the United defence, but he is short of pace and confidence and his snatched shot from distance is easy stuff for David de Gea.
1816: Ajax's Russian striker Dmitri Bulykin is a fair old lump of a lad and the hosts are arrowing crosses into him on a regular basis. He could be the source of any breakthrough if Christian Eriksen fails to trick his way past the United defence.
1814: Nani gets a chance to run at Dico Koppers, but he runs straight into left-back and loses the ball.
Reni_Von_Skwid on Twitter:"Tonight's the closest we've come to playing our local rivals for years: Stoke v VALEncia! Ha!"
Nice. Stoke v Valencia is a 2005 GMT kick-off.
BBC Radio 5 live pundit Michael Gray at the Amsterdam Arena: "If Manchester United are going to break down the back four of Ajax they've got to get balls forward very quickly."
1810: More pressure from Manchester United as Jonny Evans strides forward and feeds Ashley Young who twists and turns Toby Alderweireld by the byline. The former Villa man wins a corner, but Michael Carrick's near-post flick-on is well cleared by Ajax.
Injured Manchester United striker Michael Owen on Twitter: "Looks a great atmosphere in Holland. Not the competition we want to be in but now we are in it we want to win it!!!"
1807: Nani wins United's first corner as his ambitious shot thuds off a defender and behind, it is a dog of a delivery from the Portuguese though from the set-piece.
1805: Ajax have made a solid start with Christian Eriksen floating about in front of the United defence. Michael Carrick looks to be the man best placed to try and pick him up this evening for the visitors.
1803: A great shot of Ajax boss Frank de Boer and assistant Dennis Bergkamp on the home bench. There was a suggestion from one of my colleagues that a coaches v players match at Ajax would be a pretty competitive encounter.
1801: The visitors look to take some of the wind out of this home crowd as Phil Jones knocks the ball about between himself and goalkeeper David de Gea.
1800: United get us under way.
OptaJoe on Twitter: "Excluding qualifiers, Ajax have failed to score in six of their last eight matches in European competition. Blanks."
Infostrada Sports on Twitter:"Man Utd can become fifth club to win each of the three European Cups at least once, joining Juve, Barça, Bayern and tonight's opponent Ajax."
Referring to his side's elimination from the Champions League, Manchester United boss Sir Alex Ferguson says "the disappointment is over now", insisting "winning any European trophy is significant". Striker Wayne Rooney adds 'it would be great to be the first United team to win it'. Ajax coach Frank de Boer admits 'it's a big surprise that United are no longer in the Champions League' and assistant Dennis Bergkamp concedes 'United might be out of reach'.
Will, Hampshire, via text: "Why are people so confident that United will win? Remember when Basel knocked them out? Ajax are stronger than Basel, this won't be easy."
HighBalls1 on Twitter:"Eriksen is in that group of Silva/Modric-esque wizards attracting plenty of Premier League interest, along with Goetze and others"
1755: The Amersterdam Arena crowd are up for this one. A classic big brass band sing-a-long accompanied by fluttering white and red flags precedes kick-off in the Dutch capital. The section of United fans don't look like they are joining in though.
EUROPA LEAGUE LATEST: It is half-time in the evening's early kick-off where Lokomotiv Moscow face Athletic Bilbao, and it's the Basque side who lead courtesy of a strike from Iker Muniain.
itstimcraven on Twitter: The official Manchester United 2012 calendar only has Champions League dates printed on. No Europa League!"
1748: I wouldn't want you to miss out on the latest episode in the Football Association's quest to fill the England managerial vacancy. Leading candidate Harry Redknapp has had his say on whether a manager may be able to temporarily marry club responsibilities while leading England at Euro 2012: "Part-time? In the short term I think it's possible for the European Championships. But I think in the long term it's not possible to manage a club team and manage a national team."
Barry_Gavin on Twitter:"Let's not drag it out. United will beat Ajax and beat them well. If they don't they're in more trouble than Arsenal."
1740: While we are reminising about former United goalkeepers, a quick doff of the hat to Roy Carroll. The Northern Irishman made his debut for Greek side Olympiacos last night. His very first touch for the club was a penalty save in a 1-0 win over Rubin Kazan. None too shabby that...
Ben, London, via text: "The last player to score for United in the Uefa Cup/Europa League? Peter Schmeichel in 1995 against Rotor Volgograd. STAT!"
Stat indeed. We've had a rifle through the history books, and there is no argument from this end.
patel_amir on Twitter: "I'm in Amsterdam now supporting United. Noise here is incredible. Excited to see Cleverley and Chicharito - United 2-0 Chicharito with both."
1732: Those youthful opponents include Danish creative whizzkid Christian Eriksen. You remember the 19-year-old causing England plenty of hassle in an international friendly almost exactly a year ago. Sir Alex Ferguson was just one of several managers to sniff a star of the future and the Manchester United boss will be taking more than a sideways peek to see how Eriksen gets on tonight.
Ajax v Man Utd
David Ornstein reports: "Not so long ago the idea of Ajax and Manchester United meeting in Europe's secondary club competition was unthinkable, but Champions League group-stage failure has resulted in that very scenario. While Ajax are more familiar with this tournament than a United side contesting it for the first time since 1995, Sir Alex Ferguson's men are among the title favourites and will be confident of making it past their youthful opponents."
1725: So down to business and the first item on the agenda is the match at the Amsterdam Arena.
Stuart, Portsmouth, via text: "Sad to see Man Utd and Schalke playing in the knockout stages of the Europa League, when under a year ago they were contesting Champions League semi-finals."
michael_kerr1 on Twitter:"That United team looks great. Talk about taking the competition seriously."
1720: My colleague has pointed out that, contrary to my claim at 1710, Tony Pulis is actually a little narked that his team's continental adventures have meant a series of Thursday matches followed by Sunday fixtures. Never mind, sure he'll get into the swing of it.
Former Manchester City midfielder Patrick Vieira on Twitter:"Wishing all the City boys good luck for the game against Porto tonight."
1713: So no more pining for Europe's top table. If we are going to take anything from nineties blockbuster Titanic, and where better to look for life lessons, it is that there is more fun to be had below deck amongst the hoi polloi. Get involved using the hashtag #bbcfootball or text in on 81111. Stick your name on those texts and I'll be able to share them with the class.
1710: While there has been some carping in Manchester about the Europa League being a distraction from the domestic front, Stoke boss Tony Pulis won't mind the extra fixtures. It is a long way from the third flight of English football to Europe's second club competition. The Potters have taken the trip at express pace and Stephan Shemlit has done a grand job charting their last 11 years elsewhere on our site.
Ajax v Man Utd
David Ornstein reports: "Tom Cleverley makes his first start since 29 October in a Manchester United side featuring six changes from the side that started against Liverpool on Saturday. Cleverley replaces Paul Scholes in central midfield, while Fabio da Silva deputises for Patrice Evra at left-back, Nani comes in for Antonio Valencia on the right wing, Ryan Giggs makes way for Ashley Young and Javier Hernandez is preferred to Danny Welbeck in support of Wayne Rooney up front. Phil Jones slots in for Rafael at right-back. Just one alteration to the Ajax team that which won at NAC Breda last weekend - Ismail Aissati replaces Eyong Enoch. He plays alongside highly-rated 20-year-old Christian Eriksen in midfield."
Ajax v Man Utd
Ajax: Vermeer, Anita, Alderweireld, Vertonghen, Koppers, De Jong, Aissati, Eriksen, Ozbiliz, Bulykin, Sulejmani. Subs: Cillessen, Boilesen, Blind, Lodeiro, Serero, Van Rhijn, Lukoki.
Man Utd: De Gea, Jones, Ferdinand, Evans, Fabio Da Silva, Nani, Carrick, Cleverley, Young, Rooney, Hernandez. Subs: Amos, Smalling, Park, Welbeck, Scholes, Valencia, Pogba.
Referee: Gianluca Rocchi (Italy)
1703: Second-tier competition, but top-drawer opposition then. Manchester United boss Sir Alex Ferguson described it as a 'punishment', but matches such as this little lot will sugar the pill for him and his noisy neighbours. Here's how we roll out tonight:
Ajax v Manchester United (1800 GMT)
Porto v Manchester City (2005 GMT)
BREAKING TEAM NEWS: Midfielder Tom Cleverley starts for Manchester United for the first time since October. More to come very shortly.
1700: It is almost as if Michel Platini had had enough of the sniffy comments from this side of the Channel. Come December and a set of opponents with six European Cups, 61 domestic titles and a far better average position in the Uefa's club rankings pop out of the Europa League hat for the English sides. That'll learn us Rosbifs.