Botswana coach "has no national team" after CAN debut
By Mtokozisi Dube
BBC Sport, Gaborone
Last updated on .From the section Football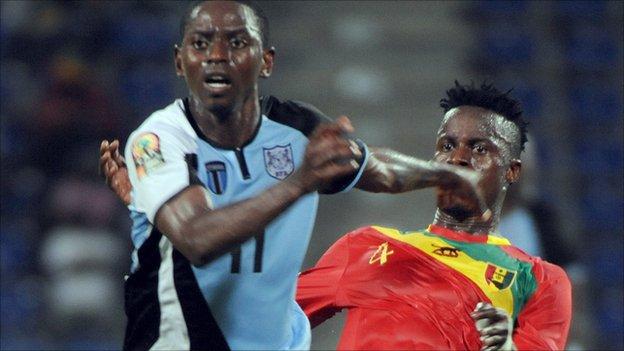 Botswana have called off a high-profile friendly with Egypt after coach Stanley Tshosane said there was "no national team" to fulfil the fixture.
The Zebras played their first ever Africa Cup of Nations recently but a number of players are now planning to retire from international football.
Egypt wanted to play the game on 29 February and were prepared to pay travel and accommodation costs, but the Botswana Football Association (BFA) has had to turn down the offer.
"The coach has told us that he is not ready," BFA technical director Sonnyboy Sethibe told BBC Sport.
"He said he does not have a national team currently."
Tshosane is presently on holiday and returns to work next week to finish off his current contract.
The indications are that there is an impasse in negotiations to extend his deal, with the coach reportedly demanding $13,000 a month - which is almost double what the association is offering him.
The coach said that several players had indicated they were quitting international football - hence he had no team to take to Egypt.
"Most of the senior players have said they are retiring from international football and as we speak we are not sure who is in and who is out," Tshosane said.
"So technically we have no team and we need to regroup and organise ourselves."
Veteran stars Dipsy Selolwane and Mogogi Gabonamong, both of SuperSport United of South Africa plus Bay United goalkeeper Modiri Marumo, BDF XI's Patrick Motsepe and the Mochudi Centre Chiefs pair of Pontsho Moloi and Tshepo Motlhabankwe are on their way out.
Moloi himself confirmed his retirement: "I'm one of the players who decided to step down after the Nations Cup."
He said his decision was partly fuelled by bonuses row that took centre stage before Botswana's maiden appearance at the tournament.