Motherwell post profit but urge caution
Last updated on .From the section Football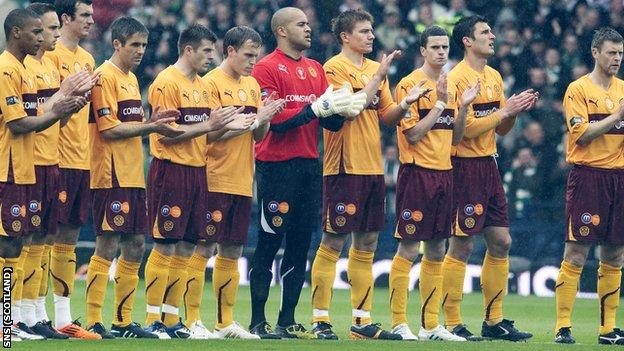 Motherwell recorded a profit of £541,663 to the end of last season and continue to operate with no bank debt.
The financial figures for the year ending 31 May are up from £18,884 in the previous year.
Operating income was £5.9m, an increase of 36% on 2009/10 while operating costs were stable at £5.6m, from £5.5m.
However, the standing down of former benefactor John Boyle leaves a "strategic reserve" of £1.5m for the Fir Park club to find.
Vice chairman Derek Weir pointed to a successful 2010/11 season for the Steelmen as the underlying reason for the healthy figures.
Motherwell had three home Europa League games, reached the semi-final of the League Cup and the final of the Scottish Cup, while recording a top-six finish in the Scottish Premier League.
In a club statement he said: "Last year was an exceptional performance period on the pitch which meant we were able to record a very positive outcome financially.
"This enabled us to maintain our commitment to fund the football department at a time of extreme pressure on all clubs.
"However, our fans, shareholders and members should note that the board position is that we have no room for complacency.
"While the club is in a strong position relative to many of our competitors, we are subject to the same cost and income pressure as everyone else.
"The continued balancing of these pressures while maintaining a quality product on the pitch and off is extremely challenging."
The statement continued: "Moreover the retirement of our major shareholder means that the club cannot rely on his generosity in managing cash flow and potential shortfalls from here on in.
"It is imperative that the club builds its strategic reserve to at least £1.5m and that we keep that target under review.
"To achieve this we will need to be successful in the delivery of the Well Society and its associated fundraising.
"We also all have to recognise that the club must be very active, every season, in the identification, development and trading of football talent.
"We want to do so on terms that suit the club and the players but we can only reach that point when we have achieved our reserve target.
"On current trading, despite the positive performance of the team and a very welcome increase in attendances, we are unlikely to record a profit in 2011/12 largely due to the lack of player trade activity in the last two windows.
"This position is not sustainable and will require close management by the board."