Manager Ally McCoist puts Rangers' woes in perspective
Last updated on .From the section Football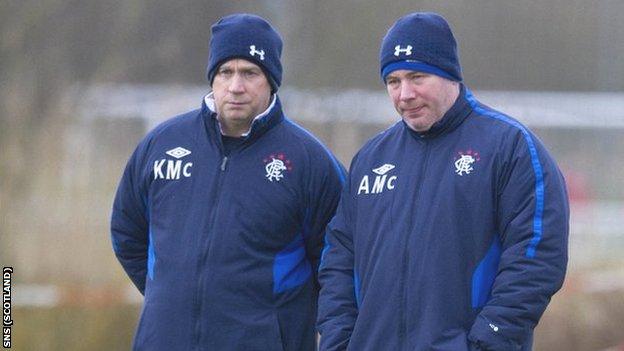 Manager Ally McCoist spoke passionately about Rangers ahead of his team's sell-out Scottish Premier League match against Kilmarnock.
McCoist said disasters at Ibrox, where people had died, put the SPL's 10-point administration penalty in perspective.
"We're extremely disappointed to be where we are at the moment but we're not going to be there long," he said.
"We're going to march right through it. We'll get through this, starting (today) - our players and supporters."
And he added: "I'm as positive today as I have been in a long time.
"Our club has come through a very traumatic time. It's probably as low as it has been.
"But we've had disasters at this club - 1902, 1961 and 1971 - where people have lost their lives, which puts everything into perspective.
"This institution has been around for 140 years and I want it to be here for another 140 years.
"You'll see what Rangers mean to so many people. We are really looking forward to the game.
"We have the best fans in the world.
"We'll come out of this, maybe battered and bruised, but ready to march forward."
The points loss, which all but ends Rangers' title ambitions, was effected when the club entered administration earlier this week over non-payment of £9m of VAT and PAYE.
Rangers chairman Craig Whyte announced on Friday that he would not be at the match against Kilmarnock.
He released a statement that said: "Although I would dearly love to be at Ibrox for the game, my priority is, and will continue to be, to assist the administrators in any way I can to bring this process to as speedy a conclusion as possible.
"Painful though it is for all concerned, administration now gives Rangers a fighting chance - a welcome breathing space - to fix major structural problems that will allow the club to grow and prosper again both on and off the field.
"So I send Ally McCoist and the team my very best wishes for tomorrow. And I will end by simply saying to Rangers fans: I know that tomorrow you will prove why you are the best football fans in the world."
Speaking at Murray Park, McCoist admitted to being taken aback by some of the news that has emerged since administrators Duff and Phelps took control of the Scottish champions on Tuesday.
McCoist, who said he had not spoken to Whyte since then, added: "I am as surprised at some of the revelations as the next man.
"The one thing I would say to you is that I'm a Rangers supporter and I want some answers, I would like some answers.
"Today probably isn't the right time to go into that in greater detail. The most important thing for everybody at the club is the game.
"But like every Rangers supporter, I would like one or two questions answered."