Motherwell's Stuart McCall plays down European claims
Last updated on .From the section Football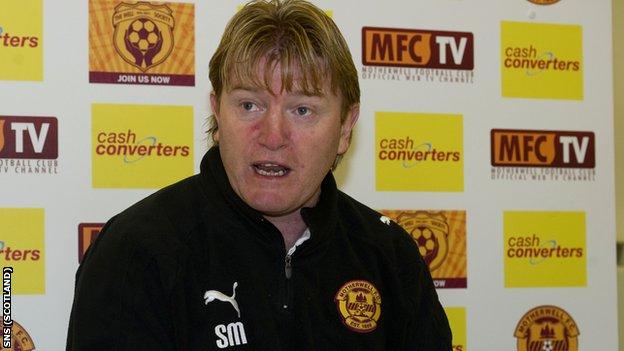 Motherwell boss Stuart McCall is refusing to get carried away with the prospect of securing a European place.
With Rangers docked 10 points for entering administration, 'Well are nine points behind in third place.
Rangers also face exclusion from Europe if they cannot produce independently audited accounts before 31 March.
"We are not getting carried away with all this Champions League nonsense, if you like, because nobody knows what is going to happen," said McCall.
If Rangers fail to obtain a Uefa licence, it is likely to mean that a third-place finish in the SPL would bring with it a Champions League qualifying place.
But McCall was firmly focused on Saturday's clash with Hearts, who trail 'Well by six points, while he is concerned by the problems at his former club.
"For the Scottish league to lose a club like Rangers would be devastating," he told BBC Scotland.
"If it came out that third place got you in the Champions League, that's what you dream about
"Our focus is on finishing third if we can, but we're in a fight with two other clubs to do that. We've got a lot of work to do and a lot of games to play.
"Saturday is our biggest game of the season," McCall said. "If we manage to win it then we go nine points clear; if they win then they claw it back to three.
"I just hope Motherwell fans turn out in numbers and in voice; it's a really big game."
McCall praised his side's consistency this season and said he was pleasantly surprised to be third at this stage of the campaign.
"Our aim at the beginning was to be in the top six but now it's to finish in a European spot - be it third or fourth," he said.
"As a group of players they've been outstanding."
McCall said he was saddened by the situation at his former club and hoped Rangers would recover for the sake of Scottish football.
"Common sense tells you that people who think the SPL can do without Rangers are talking nonsense," he said.
"I spent seven fantastic years of my life at the club and it means a lot to me.
"The two games we play them (at Fir Park) they bring the biggest support, along with Celtic.
"What's happened there and at Hearts is sad for Scottish football and no-one should be revelling in it.
"Naturally, it's only right that people will but for the good of the game it's not been right. There's been mismanagement there and they've got to serve a punishment for that.
"But I feel for the staff there, having seen what happened at Bradford City twice, and it happened here at Motherwell. People losing their jobs is really sad."