Neil Lennon ignoring Rangers' plight in Celtic title charge
Last updated on .From the section Football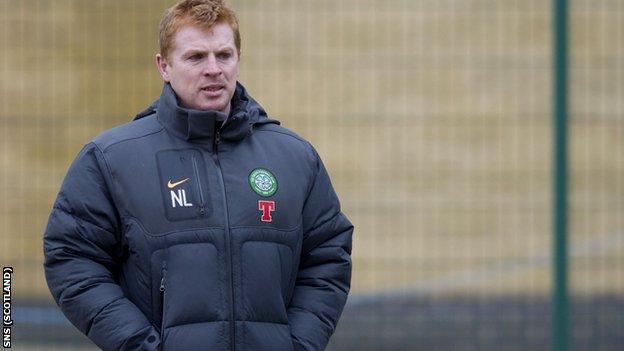 Celtic manager Neil Lennon believes winning the Scottish Premier League title this season would not be devalued by Rangers' financial plight.
"There will be no devaluing a title win, regardless of what goes on elsewhere; because it's nothing to do with our club, nothing to do with these players," said Lennon.
"My aim is to win the league."
Doubt surrounds Rangers' future after the club appointed administrators on Tuesday, with HMRC pursuing an unpaid £9m tax bill accrued since Craig Whyte assumed control at Ibrox in May.
However, speaking ahead of Sunday's game against Hibs at Easter Road, Lennon said Rangers' problems would have no bearing on his side's target of winning their first title in four seasons.
"If people want to point the finger if, and it's a big if, we win the title then I will have plenty to say about devaluing titles, don't worry about that," he added.
"It is obviously a very difficult time for the people at the club (Rangers). For a club of that stature to be in this situation is a nonsense really, absolutely nonsense.
"I have sympathy for my counterpart Ally McCoist for what he is going through at the minute. I wouldn't like to have gone through that myself, particularly in my first season as manager.
"As regards sympathy for the rest of the people who brought this on, I don't have much of that at all."
Despite enjoying a sizeable lead over their Old Firm rivals, Lennon said Celtic did not believe the title was a foregone conclusion.
"It won't be (finished) until we get across the finishing line," he added.
"As far as we are concerned we are fully committed to what we are trying to achieve here. There will be no slacking off, but there never was in the first place.
"My aim is to win the league. If we win it by one point, it doesn't matter, I will be delighted."